MiniCulture has been organising dance parties in bars, student rooms and, of course, during the 5 May celebrations. From minimal to afrobeat and dancehall, as long as it is 'for Wageningen'. 'In the beginning, we would sometimes say: It would be hysterical if MiniCulture still exists ten years from now.'
There have been some changes in the members of the club over time. Some graduated, moved, and no longer had the time because, at some point, they had to prioritise their studies, but the idea always remained unaltered. Organise parties with a group of friends: from theme to decoration to music. Resource interviews five (ex) MiniCulture members. All are male, but 'the gender distribution has always been more or less fifty-fifty, don't think we are all nerdy guys.'
The inception
Back to the beginning. Arno Timmer and Reinout Haisma embarked on their studies a decade ago and frequented open parties at the associations. Still, they found something was lacking. Timmer: 'The music in those venues is not optimal. We thought: there is room for improvement.'
The music in those venues is not optimal. We thought: there is room for improvement
During a cycling trip through Wageningen, they made a decision: they would do it themselves. A meeting with enthusiasts was set up, everyone contributed thirty euros for beer, and the first party took place in a student house above what was then café De Overkant. The music was minimal 'because this is the easiest to compose', says Timmer.
(Text continues below.)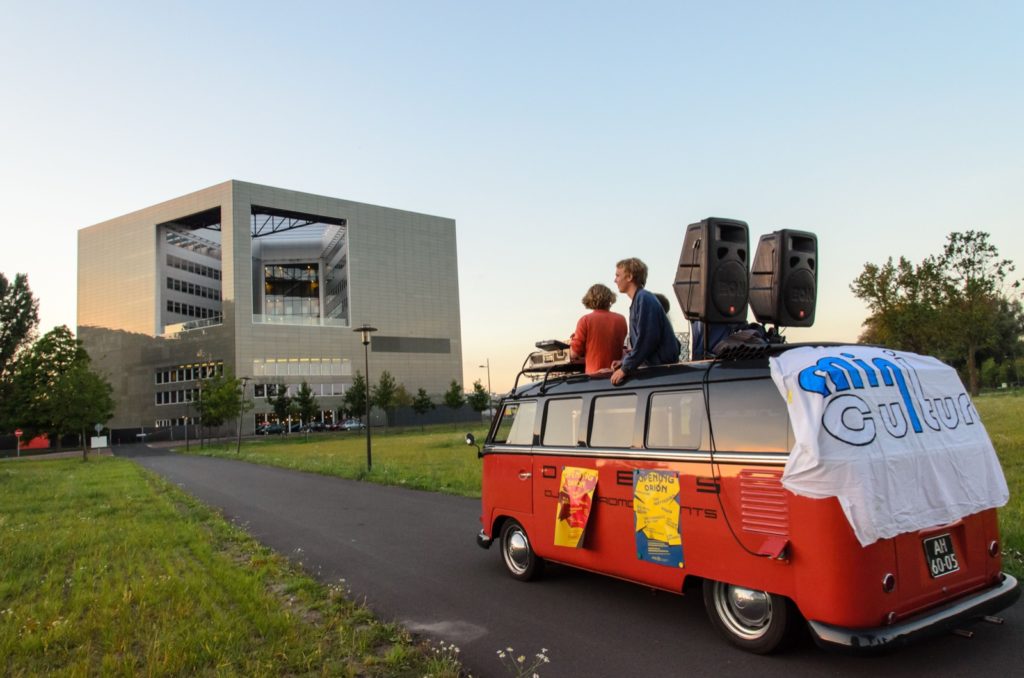 Then came the disco parties in Villa Bloem, the tiny coffee bar next to the market. Haisma: 'in the beginning, not many people came, but that was not an issue. If there were fifteen people, it was cosy.' Their brand awareness grew, as did their DJ skills and organisational abilities. Through the years, they played in and around many a student house – 'all day, until the sun came up' – but also in Loburg, de Bunker, Unitas and on the Liberation festival. They started a support act between the different performances. They ended with 'a sea of people covering half of the Heerenstraat' last 5 May.
Barn
A highlight? Timmer: 'We organised a big party in a barn at someone's home. A vagrant had lived in the barn, and afterwards, the owner dumped as much trash as he could find in the barn to prevent him from returning. We removed all the trash and organised a party for 250 people. The police showed up, so we asked whether there had been complaints and whether we had to turn down the volume. No, not at all, the cop said. Having fun? Have a great day! That was at seven in the morning.'
This Saturday, MiniCulture celebrates its ten-year anniversary with Popupop in the Junushoff, with a party and a photo exhibition. The event is sold out.
Also read: