De stemming is gesloten!
De 12-de editie van de Coverprijs is iets anders van opzet dan andere jaren. Naast de stemmen van het publiek bepaalt ook een jury mee welk proefschrift dit jaar de fraaiste omslag heeft. Beide oordelen tellen even zwaar. In het onwaarschijnlijke geval van een gelijke eindstand, is het oordeel van de jury doorslaggevend.  
Uit de berg (een kleine 300) proefschriften die jaarlijks bij WUR verschijnen, heeft de redactie tien covers geselecteerd die meedingen naar de Coverprijs. Daarbij is gelet op creativiteit, belettering, kleurgebruik en uiteraard de samenhang van omslag en inhoud. De selectie omvat proefschriften van vijf vrouwen en vijf mannen.
Online stemmen kan tot woensdag 6 januari 2021 twaalf uur 's middags Nederlandse tijd. De uitslag wordt zo spoedig mogelijk daarna online en in het eerste magazine van het nieuwe jaar bekendgemaakt.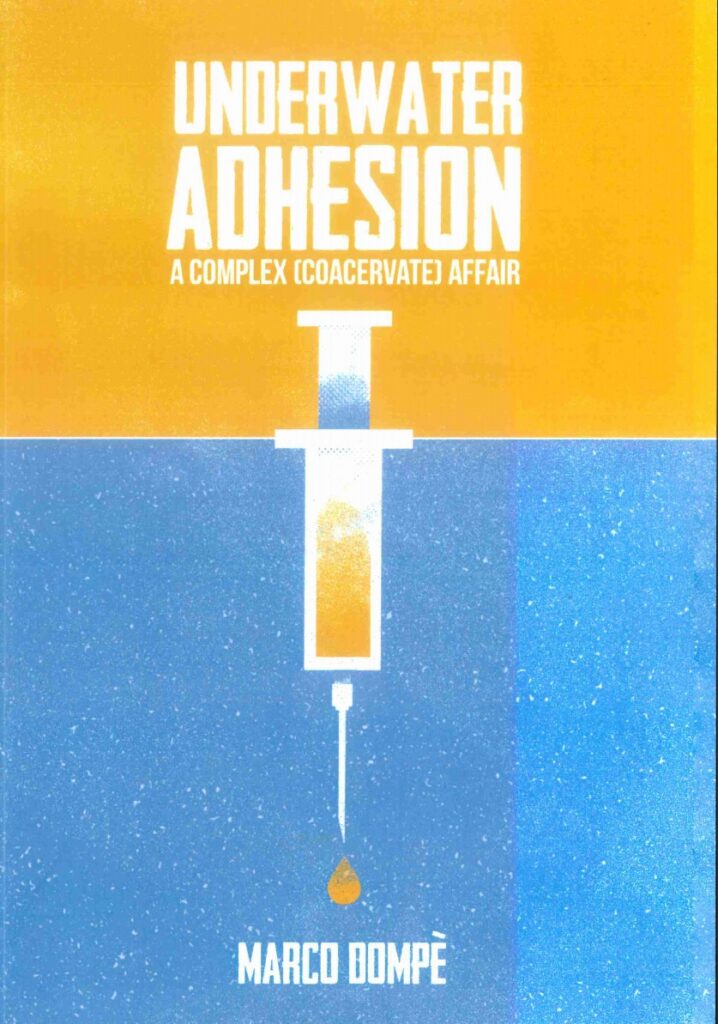 Onderwaterlijm – Marco Dompé
Gewone lijm plakt niet op natte oppervlakken. Maar wel de speciale lijm die de Italiaan Marco Dompé ontwikkelde. Hij keek het kunstje af van de zandkasteelworm. Het product is voor medisch gebruik. De cover vat beide samen: een spuit die een druppel lijm onder water aanbrengt. Let ook op de fraaie verticale lijn in het ontwerp.
Underwater glue – Marco Dompé
Ordinary glues don't stick to wet surfaces, but the special adhesive that Italian Marco Dompé developed does. He got his inspiration from the sandcastle worm. The product was developed for use in medicine. His cover summarizes these aspects, with a needle injecting a drop of glue under water. Note the dominant vertical line and reversed colour schemes.
Bekenfluisteraar – Jasper Candel
Beken laten meanderen vergt gedegen kennis. De ondergrond, de helling en de hoeveelheid water bepalen samen hoe een beek kronkelt. Jasper Candel, de 'bekenfluisteraar', doorgrondde die samenhang en ontwikkelde een geulpatroonvoorspeller. Titel en inhoud vallen perfect samen. De egale groene ondergrond symboliseert het landschap.
Stream whisperer – Jasper Candel
You need real expertise to understand how streams meander. The ground, the slope and the volume of water together determine what path the stream takes. 'Stream whisperer' Jasper Candel figured it al out and developed a way of predicting channel patterns. The title, twisting and turning across the smooth green landscape, perfectly illustrates the subject matter.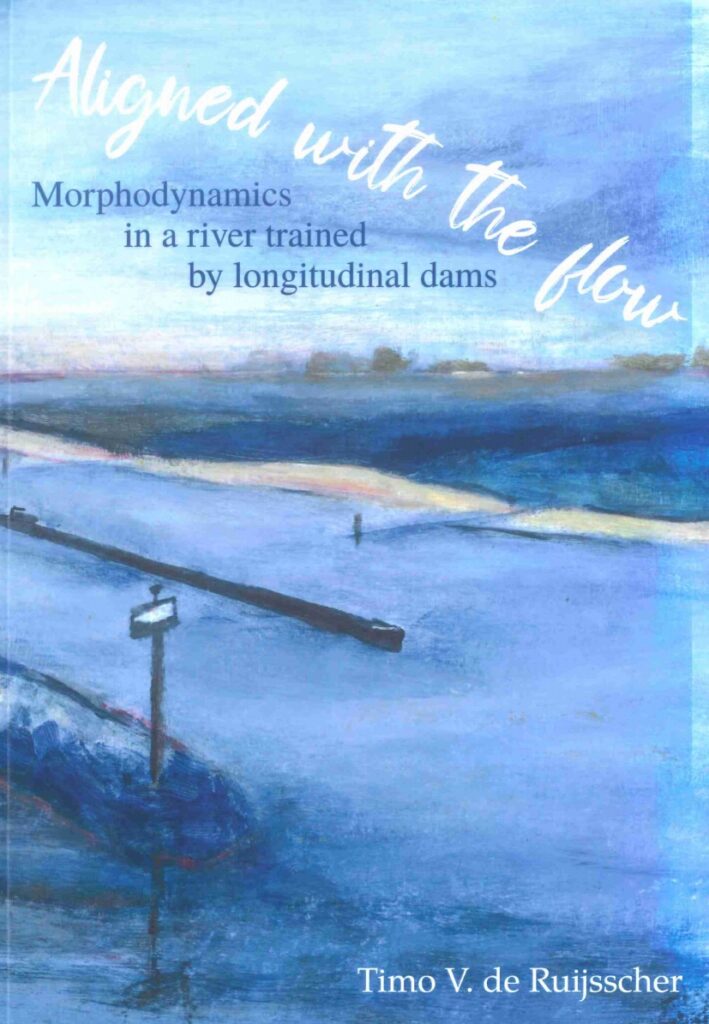 Langsdammen – Timo de Ruijsscher
Niet kribben, maar langsdammen parallel aan de hoofdstroom hebben de toekomst in de Nederlandse rivieren, toont Timo de Ruijsscher aan. Ze kanaliseren het water bij droogte en verkleinen het risico op overlast bij hoog water. De cover toont een sfeervolle impressie van zo'n dam in stemmig blauw. De titel voegt zich speels naar de stroom.
Longitudinal dams – Timo de Ruijsscher
Timo de Ruijsscher showed that longitudinal dams parallel to the main stream are the future for Dutch rivers rather than the breakwaters of old. Longitudinal dams channel the water during dry periods and reduce the risk of flooding when water levels are high. The cover dominated by blues gives a haunting impression, while the title heads playfully downstream.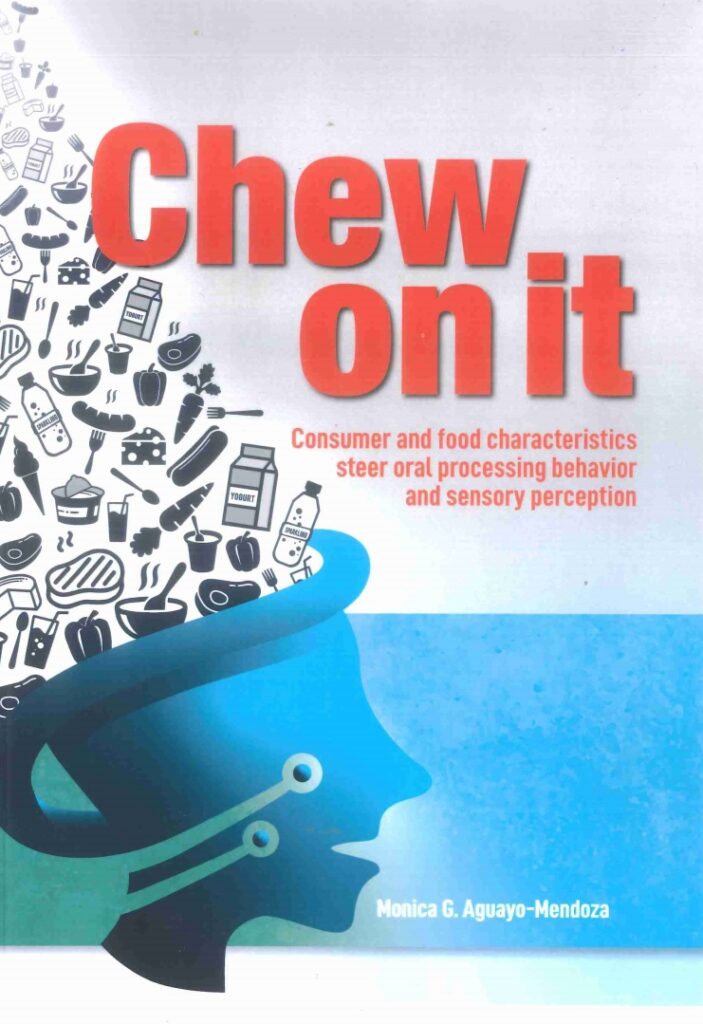 Kauwen – Monica Aguayo Mendoza
Hoe je eet bepaalt sterk de smaakbeleving, ondekte de Mexicaanse Monica Aguayo-Mendoza. Ben jij een zuiger, bijter of likker? De type bewerking bepaalt de smaak. De titel van het proefschirft is (in het Engels) briljant dubbel: kauwen en overdenken. Het gebeurt allemaal, via zenuwcentra in tong en neus, in je hoofd. Alles in een krachtig beeld gevat.
Chewing – Monica Aguayo Mendoza
How you eat has a big effect on your perception of taste, discovered Mexican PhD candidate Monica Aguayo-Mendoza. Do you tend to suck on your food, bite it or lick it? The way you process food determines your sensory experience. The title 'Chew on it', is a particularly nice touch as it is also an idiomatic expression for 'think about it'. After all it's all inside your head.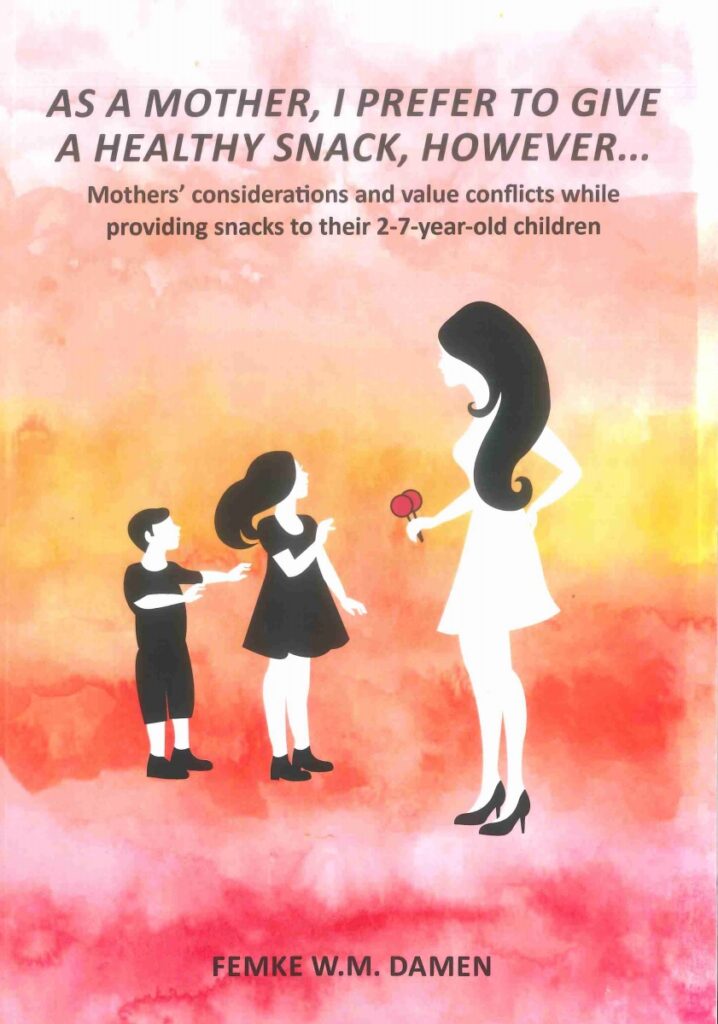 Snackgedrag – Femke Damen
Geef je je kinderen snoep of fruit? Een lastige keuze. Met obesitas onder jonge kinderen tot gevolg. Femke Damen dook in de keuze's die moeders maken voor hun (jonge) kinderen en de verleidingen, twijfels en waarden die daarbij een rol spelen. Zwart-witte dilemma's tegen een zoete zuurstokkleurige omgeving.
Snacking behaviour – Femke Damen
Do you give your children sweets or fruit? A difficult subject, with a risk of obesity among young children as a result. Femke Damen delved into the choices that mothers make for their young children and the temptations, doubts and values that play a role. Black-and-white dilemma's against a sickly sweet candy-cane pink background.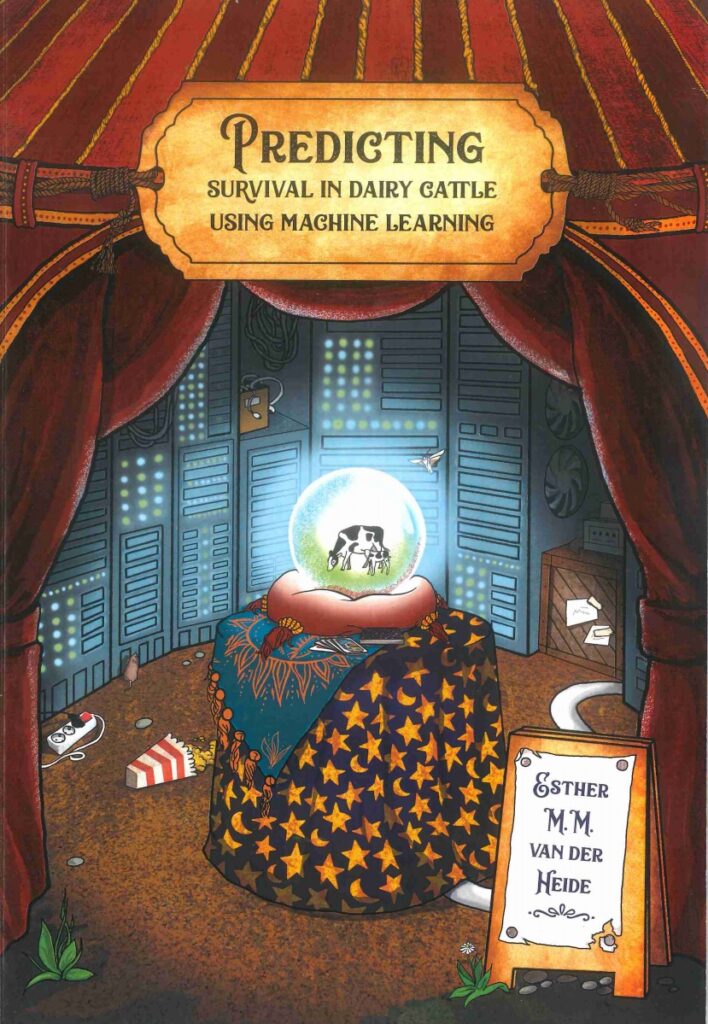 Lang leve de koe – Esther van der Heide
Welke koe heeft het in zich om lang te leven? De genen spelen daarbij een rol. Maar ook het phenotyoe, de uiterlijke kenmerken van de koe, doet er toe. Esther van der Heide onderzocht, als een moderne waarzegster, of je met computermodellen die kenmerken kunt gebruiken om de levensduur van een koe kunt voorspellen. Spoiler alert: dat valt nog niet mee!
Long live the cow – Esther van der Heide
Which cows are destined for a long life? Genes play a role but so does the phenotype, the cow's physical characteristics. Like a modern-day fortune teller, Esther van der Heide looked at whether computer models can predict how long a cow will live based on that information. Spoiler alert: we're not there yet!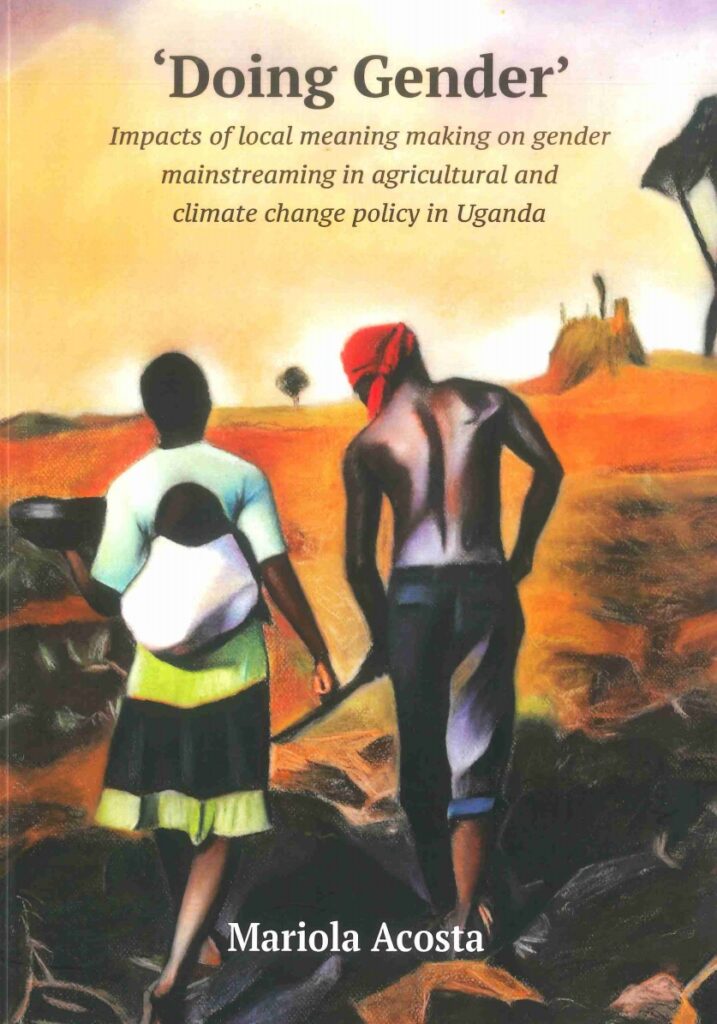 Gender doen – Mariola Acosta
Vrouwen in ontwikkelingslanden doen een belangrijk deel van het werk op de boerderij. Toch heeft veelal de man de touwtjes in handen. De Spaanse Mariola Acosta onderzocht in Oeganda hoe het komt dat genderbeleid zo moeizaam landt op het boerenerf. Een sfeervol, romantisch plaatje van een Afrikaanse boerengezin siert de cover.

Doing Gender – Mariola Acosta
In developing countries, women do a lot of the work on farms, yet men usually call the shots. Mariola Acosta, from Spain, studied gender policy in Uganda and why it has so little effect on farms. An arresting, romantic image of a young African couple and their child adorns this cover.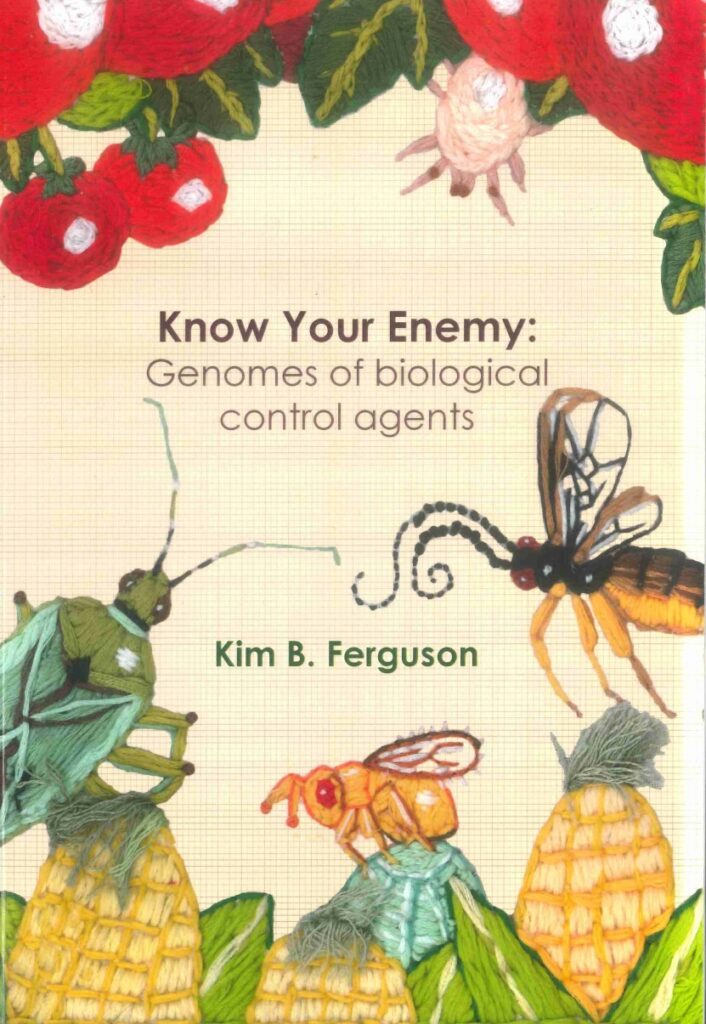 Vijandsbeeld – Kim Ferguson
Boeren en tuinders gebruiken steeds vaker biologische bestrijders om hun gewassen te beschermen. De Canadese Kim Ferguson ontrafelde de genomen van een aantal van die roofmijten, -wantsen en sluispwespen met het oog op de potentie om ze nog beter te maken in hun taak. Een kleurig borduurwerkje siert de cover.
Know Your Enemy – Kim Ferguson
Farmers and market gardeners are increasingly using biological pest control to protect their crops. Kim Ferguson from Canada figured out the genomes for a number of those predatory mites, bugs and parasitic wasps with the aim of making them better at this task. A colourful illustration frames the cover.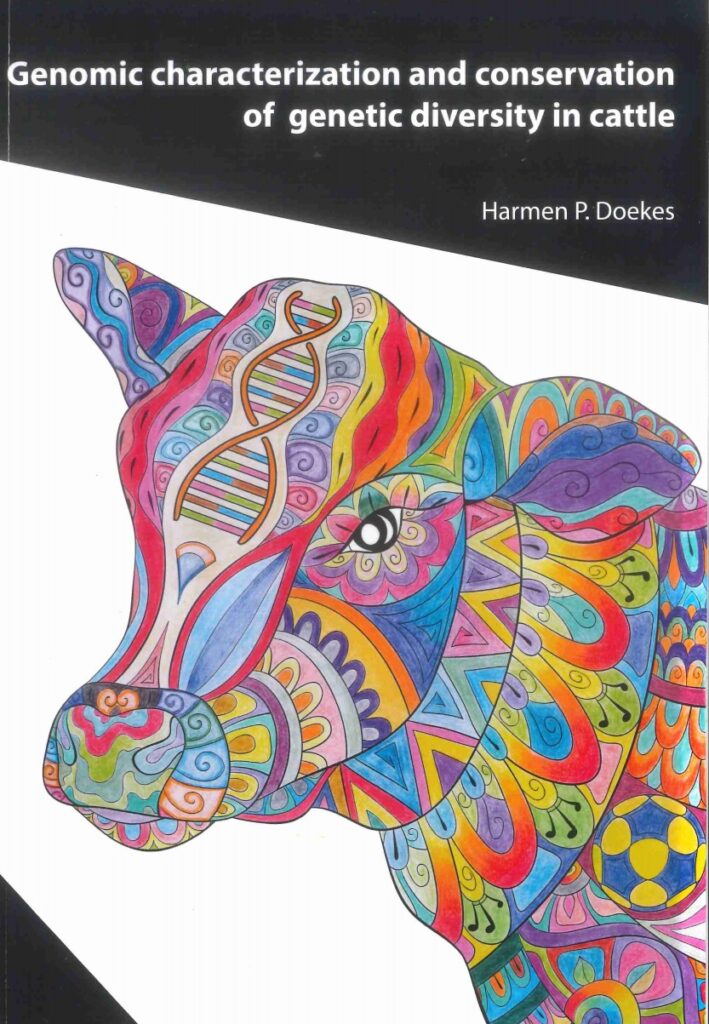 Diverse stier – Harmen Doekes
Nederlandse koeien zijn het product van een select groepje stieren. Inteelt ligt op de loer. Harmen Doekes bracht dat gevaar in kaart door de genetische verwantschap tussen de stieren te monitoren. De cover verbeeldt de gewenste genetisch diversiteit in een veelkleurige stier. Wel raadselachtig: wat doet doe voetbal daar?
Diverse bull – Harmen Doekes
Dutch cows come from a select group of bulls, which means there is a risk of inbreeding. Harmen Doekes assessed that risk by surveying the genetic degree of kinship between bulls. The multi-coloured bull on the cover illustrates the desired genetic diversity. But what is that mysterious football doing in the corner?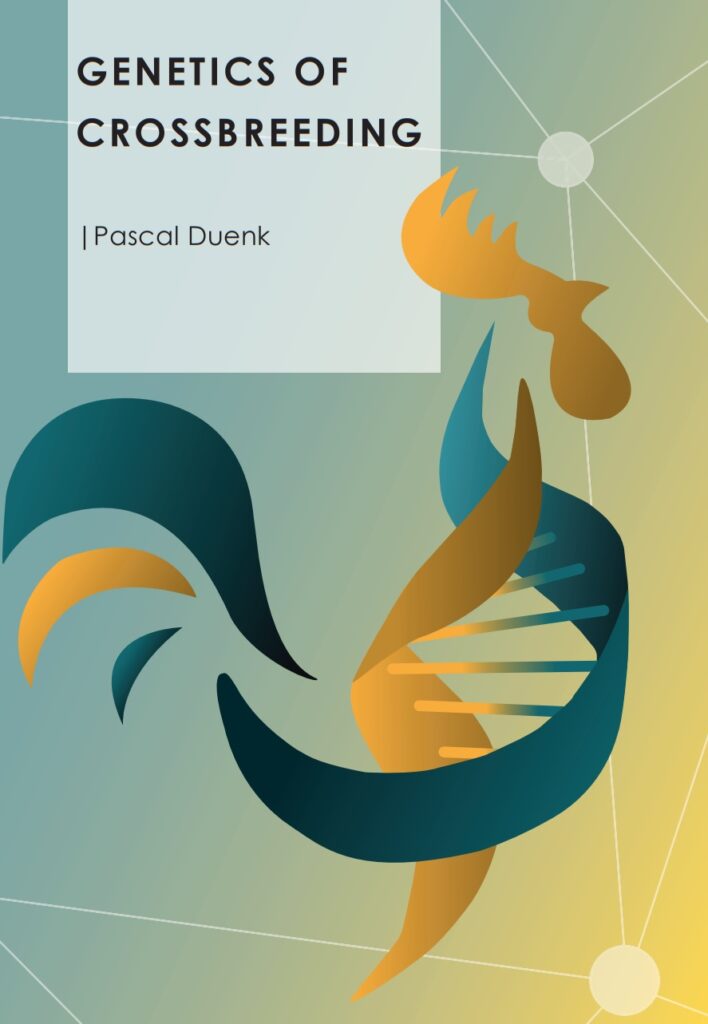 Foksucces – Pascal Duenk
Door gericht fokken kunnen kippen beter wat wij van een kip willen. Pascal Duenk onderzocht de genetica achter fokschema's en hoe je met moderne genetische technieken voorspellingen kunt doen over de uitkomsten van kruisingen. De cover toont een trotse haan. Alles draait om de genetische make-up van het beest. Is dat de ochtendzon die gloort?
Breeding success – Pascal Duenk
Targeted breeding can make chickens better suited to our purposes. Pascal Duenk investigated the genetics behind breeding programmes and looked at how you could make predictions using modern genetic techniques about cross-breeding. The cover shows a proud cockerel with a stylized DNA double helix as the central element. Does that circle symbolize the sunny future?