The Keuzegids universiteiten 2023 (the Dutch University guide for prospective students), published on 24 November, shows that WUR received 71.5 points out of 100, 1.5 points more than last year. Places 2 and 3 are occupied by the Open University (66,5) and Enschede UT (64,5). Utrecht is the best 'broad-based university, with 64 points.
According to the Keuzegids, WUR shows 'excellent results in the domains of Economics and Business, Exact Sciences and Informatics, and Technology and Design'. WUR also has above-average scores for Behaviour and Society, Earth and Environment and Health.
The number of Wageningen programmes labelled 'top programme' increased from nine to thirteen. WUR offers a total of nineteen bachelor programmes. A programme is labelled top-programme if the programme scores at least 75 out of 100 points. Last year's nine top programmes retained their status this year and are now joined by Agrotechnology, Business and Consumer Sciences, Health and Society and Nutrition and Health. Unlike some previous years, none of WUR's programmes scores over 90 points this round.
Delighted but critical
Programme director Health and Society Gerry van Nieuwenhoven is delighted by the top label but is also critical of the rating method used. 'The results fluctuate greatly, while no clear causes for the fluctuation are provided. It sometimes seems like a lottery that partially results from the rating method. Indicators such as 'continuation into the second year' and 'graduation within four years' contribute 20% to the scores, while you cannot always influence these factors. For example, in some programmes, relatively higher numbers of students currently choose to do an exchange period after their master's because this was hardly possible during the covid pandemic. This influences the efficiency.'
Paul Berentsen, programme director for Business and Consumer Sciences, is 'certainly happy': 'It is not entirely unexpected, as we have been labelled 'top programme' before and were also awarded a gold medal for the programme. But, looking at the list of all WUR's programmes, there are many plusses under content, teachers and examination. But most of the plusses are in the category of atmosphere. That illustrates how much students feel at home at WUR and in Wageningen. The small scale, accessibility of teachers, and excellent and committed study advice all contribute. These are things we should cherish and convey.'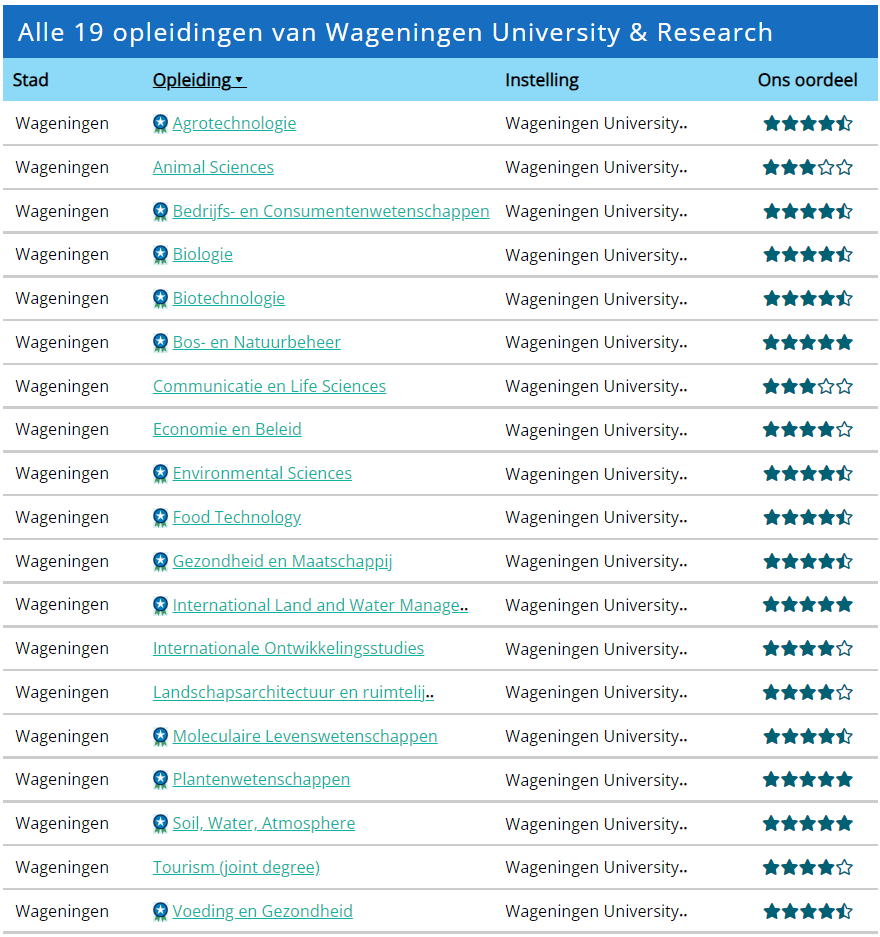 Method
The Keuzegids assesses universities using data from the National Student Survey and labour market data from the Research Centre for Research and Employment, as well as the success rates from Universities of the Netherlands. The student assessments from the National Student Survey contribute 71.4%, and the success rates contribute 28.6%. Read more about the Keuzegids methodology here.
Also read: