According to the LSVb, Wageningen has one of the 'healthiest student housing markets'. The jury report (in Dutch) stated that Wageningen excels because of its housing guarantee, which guarantees students that they will have accommodations no later than 1 May. Moreover, rooms in Wageningen (345 euros average rent) are the second most affordable in the Netherlands, following Enschede (335 euro). With an average rent of 520 euros, Amsterdam is the most expensive.
The LSVb ranked the student cities of the Netherlands on criteria beyond just the availability of accommodations and rent. There were also points awarded for collaboration between the municipality, university and housing agencies, the municipal policy and information supply.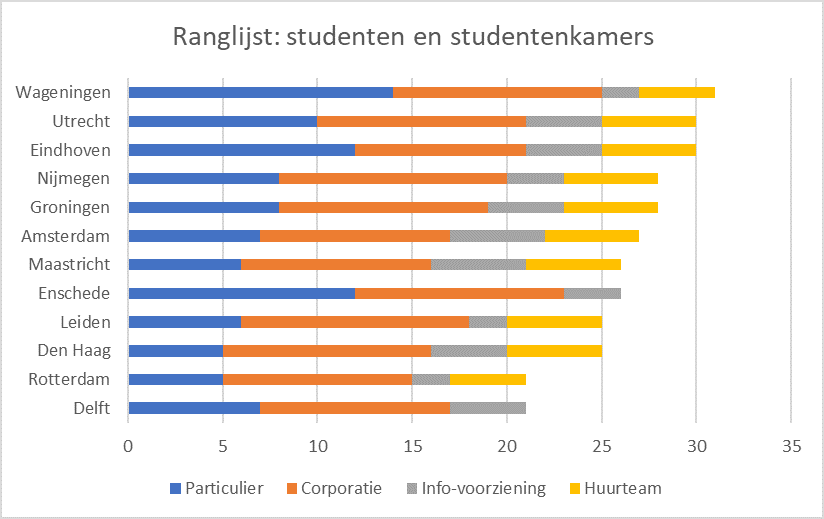 LSVb chair Ama Boahene presented the award to alderman Anne Janssen. Boahene says Wageningen takes student housing issues seriously. 'The university is involved, for example, which is not the case everywhere, says Boahene (links to Dutch). 'Moreover, temporary housing has been erected for international students. In contrast, in many other cities, international students are housed on camping sites.' Alderman Janssen sees the award as a recognition of the joint efforts of the municipality, WUR and Idealis.
With a 60 per cent market share, Idealis is the largest player in the student housing market in Wageningen. Director Bart van As: 'I am very proud that Idealis was able to contribute. We are the most affordable, and certainly the fastest, student housing agency, and it is great to see Dutch and International students living together so frequently.' He applauds the municipality for making good locations available for student housing. 'By constructing housing specifically for students, we also prevent them from seeking alternatives on the Wageningen housing market.'
Competition
The award does not mean there are no challenges in the Wageningen student housing market. This year, for example, exchange students had more trouble finding a sub-rented room. This was caused by the fact that more students opted to continue living with their parents due to the covid-19 pandemic. This group subsequently entered the housing market in 2021, applying for sub-rented rooms and increasing the competition for these rooms.
The last time the best student housing city award was conferred, Wageningen scored a shared second-last place. This was partially due to the restriction on the number of student houses per street. One year earlier, Wageningen scored much better and second place.
Watch some first reactions to the news:
Also read: