It is not off the table yet: a green pass for higher education. The outgoing minister of Education is to discuss this option shortly with institutes, student organisations and unions.
Throughout the Netherlands, including for higher education, the social distancing rule has been lifted. Moreover, restrictions for the number of people permitted to be present in lecture rooms no longer apply. Meanwhile, a green pass (corona pass) is mandatory for an increasing number of locations. Not in higher education so far, but that might change. The question is: is it necessary (this, and all other links in this article, leads to Dutch content)?
What is it?
The corona pass, internationally known as the green pass, is an access pass. The pass, which is usually a QR code on your smartphone, shows you are unlikely to be infected with COVID-19. The pass is issued if you are fully vaccinated, have recently tested negative, or have proof of immunity
Will a pass be rolled out in higher education?
It is certainly not inconceivable. This spring, there were already calls to implement it, and after the recent easing of the measures, EB president Jouke de Vries of Groningen University did not exclude the option. 'I can imagine it (being deployed, ed.)', De Vries stated before the University council.
The discussion that is to take place on the use of passes for middle and higher education indicates that it is still considered an option. The discussion is to focus on 'how passes should be implemented in education, should this be decided in the future'.
Why a green pass?
It has become clear that even fully vaccinated individuals are not one hundred per cent protected from the virus and may still cause it to spread. Hence, a corona pass is not effective unless the vaccinated also get tested, opponents say.
Not everyone agrees. People who have not been vaccinated have a 'much higher chance' of becoming infected and spreading the virus, says medical doctor and microbiologist Marc Bonten in the NRC daily paper. He feels the green pass is a way to reduce the number of infected and prevent the ICUs from overcrowding.
Isn't this discriminating?
A frequently used argument against the corona pass is that it differentiates the vaccinated from the unvaccinated: a form of discrimination. However, according to the Human Rights Committee, being vaccinated is not a 'personal trait that is protected under the law'.
If people are unable to get vaccinated for health or religious reasons, this may indirectly cause differential treatment. The committee can investigate when asked to do so.
A restriction, such as a corona entry pass, is only permitted when it serves one of the purposes detailed in the human rights treaty, which includes protecting the public health and rights of others.
Is a green pass in education permitted?
Having to test for a night on the town or day out is not the same as having to get tested or vaccinated to follow education. After all, everyone has a right to education. 'We want to prevent a negative test from becoming a prerequisite for education', Minister van Engelshoven stated in March.
Nonetheless, the 'temporary law on testing' does contain the option to make entry testing obligatory in education. If the number of infections increases rapidly, this may be quickly mandated.
Is it necessary?
Fortunately, the number of cases of corona is decreasing. Moreover, fewer people are hospitalised, and the number of fatalities caused by the disease is also dropping. If this trend continues, there will be no need to introduce a corona pass. But what will happen in the fall is anyone's guess.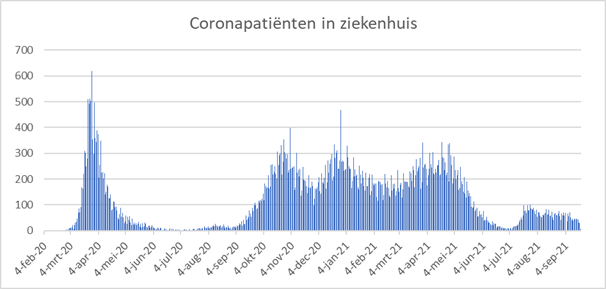 Is an entry check feasible?
You might think: if it can be done in a theatre or festival, there is no reason it cannot be done on campus. A campus, however, is open and has multiple points of entry, while theatres and festivals are designed to have everyone enter through a payment booth.
In all cases, it will cause delays and issues that are better avoided in education. Institutes could opt for random sampling: checking small samples, as is done in public transport to deter fare dodgers.
What to do about the unvaccinated?
Education is not the same as wanting to have a drink in a bar or see a play at a theatre. The accessibility of education is an important principle and requires a solution. Perhaps additional cameras so that lectures and workgroups can be attended online, or alternative assignments for those who stay at home? We have yet to hear the last of this.
Also read: