TikTok is a popular social media platform that recently exceeded the magical number of one billion users worldwide. Creators can make videos up to a minute long, users can follow the creators they like. Abbie Richards (24), Master's student Climate Studies at WUR, runs the collaborative TikTok-account EcoTok.
What is EcoTok?
'EcoTok is a collaborative environmental TikTok account. We are a group of eighteen creators who all have their own accounts on which we do environmental videos. EcoTok's team consists of creators with different backgrounds: some are high school students, others university students; others run a zero-waste business; et cetera. The thing we have in common is that we care about the environment and that we inform people about it. Everybody in the group makes their own content for the EcoTok account. By now, we have almost 90.000 followers and over 1.200.000 likes on our videos.'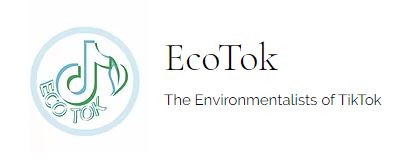 What is the goal?
'On TikTok, there are multiple environmentalist accounts. Many of them are sensationalist and clickbaity and overwhelm their viewers with problems and no solutions. With EcoTok, we really aim to inform our viewers. We try to explain different topics in short videos. Currently I'm working on a video in which I explain carbon capture, but we also have videos about ethical investing, sustainable transportation, food waste, growing your own food, reducing consumerism, making broth from veggie scraps, et cetera. When I was following a WUR-course on seaweed agriculture, I made a love letter to seaweed: a short video in which I share some amazing facts about seaweed. Our marine biologist Carissa made a more serious video about coral bleaching, just some good old fashioned science communication.'
How do you explain carbon capture in a one minute videoclip?
'That is the challenge. It is a complex topic, so the video may lack some nuance.But our goal is not to explain absolutely everything about carbon capture to our viewers. We are here to plant a seed. Many people have never heard about carbon capture before. We introduce our viewers to the topic and give them a little bit of knowledge.'
Check out EcoTok here.
You may also like: