It is freezing. Hoar frost provides nature with an air of magic. Not exactly the time of year to enjoy blooming flowers, you might think. But there are blossoms! For example, the land cress in the Arboretum, or, a little further along, winter heath. Both blooming, as is the Viburnum (known in Dutch as 'winter snowball'). And, the latter even smells good. Plant experts know all this, of course, but for laymen, a calendar is now available.
Pink snowflake
Artist Judy Leesberg collaborated on the project for three years. She started drawing in 2018. Later, stories were added, impressions and reflections she acquired during her work in the Arboretum, 'The flowers don't form a sphere at all, as the name suggests', she writes about the snowball. 'It's more like flakes. "Pink Snowflake" would be an apt name.
Fragrances add an entirely new dimension to a garden

July Leesberg, artist
Leesberg is fascinated by plants. For the calendar, she allowed fragrance to inspire her. 'Scent is important. If I walk through a garden and smell something, this changes the entire garden. I must stand still and smell it, which prompts all sorts of memories. Smelling a nice fragrance is so wonderful—fragrances add an entirely new dimension to a garden.'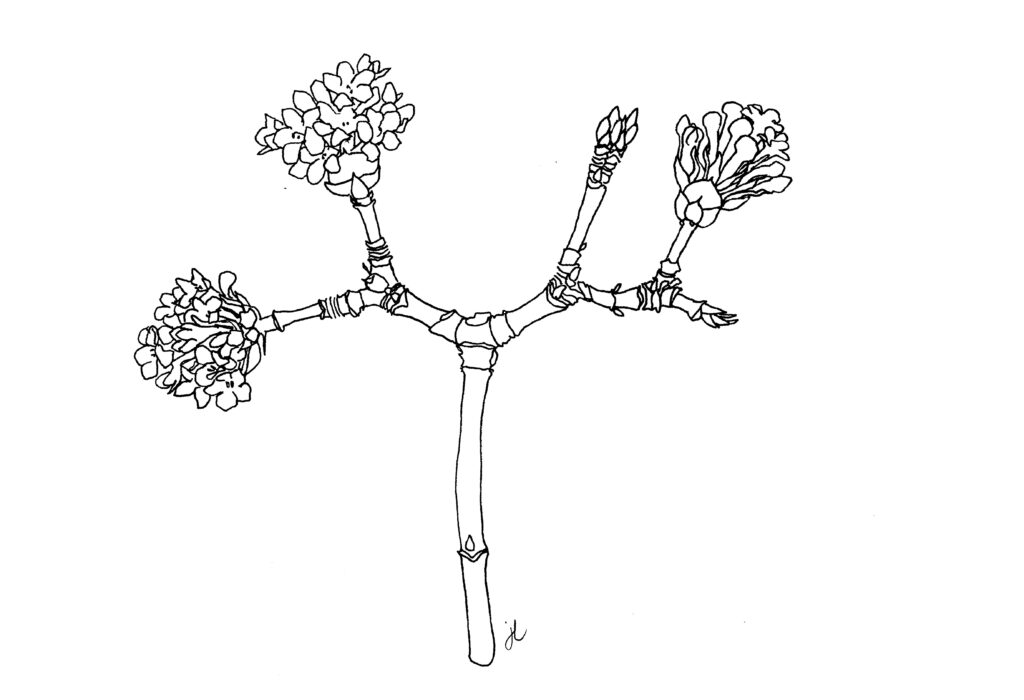 HThe Arboretum already has a blooming calendar, which can be found on the garden's website. Leesberg followed this calendar, and selected the subject of her drawings with her nose. 'I basically did what bees do: they also follow their nose.' The result is a booklet with 27 illustrations of fragrant plants. A different one every two weeks for a whole year.
Lifeforce
The drawings are in black and white. 'I attempted to reduce the plant to its pure simplicity. I try to capture the plant's lifeforce in a drawing', Leesberg explains. 'Colour is not that important.' However, it would help in determining, she concedes. But, I have described where to find the plant in detail, with a map.'
One of my goals is to have people walk here more often and feel partially responsible for the gardenn

July Leesberg, artist
Leesberg comes from a family of artists. The WUR alumnus took this step following a career in Tropical Forestry. 'I was 40 when I enrolled in the art academy and became an artist. But, there was always an urge inside me before that.' She started out with large paintings of blooming flowers, after which she redirected her focus towards industrial landscapes.
Unbelievable
But, her love for plants eventually triumphed, with the fragrance calendar as a result. Leesberg aims to promote the Arboretum. 'One of my goals is to have people walk here more often and feel partially responsible for the garden. I want to convey that this place is not just beautiful in May and June, but has beauty to offer in every season. It's almost unbelievable that Wageningen has a garden such as this.'
'Bloeikalender van het Belmonte Arboretum in Wageningen. Het hele jaar rond je neus achterna'. 64 p. 19,95 euro. Available at Kniphorst en Luucx in Wageningen and Novita in Bennekom..
You may also like:
Also read: