Text Youssef el Khattabi
Finding a place to sleep during the introduction week is quite a challenge for many AID participants. Hence, the area behind Axis is transformed into a camping site once a year. This is where many a student starts their new adventure: the camping site represents more than just a place to crash. It also represents the transition from their parent's home to the independent life of a student. Student editor Youssef el Khattabi took a look.
It is Thursday evening, and although a blanket of grey clouds hangs over the camping site, the atmosphere is anything but gloomy. Volunteers stand ready to welcome the new students, and the site quickly becomes a bustling mix of excitement and uncertainty. The students, most of whom are away from home for the first time, take in their surroundings with some awe. Some clearly have camping experience. For others, this is a first.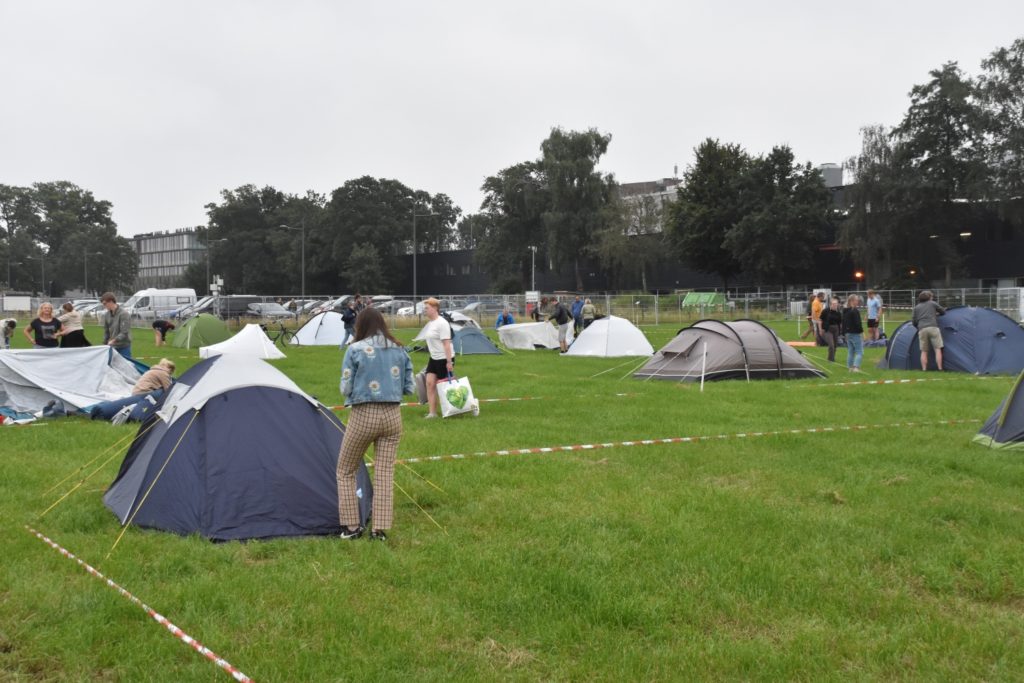 Parents can be seen everywhere helping their kids pitch tents. Some parents take the lead while their children stand back and watch. Others provide instructions and leave the heavy lifting to their children. As soon as the tents are up and beds have been made, it is time for the farewells. Parents hug their offspring; some are very emotional, while others say their goodbyes cheerfully.
Hold back
Tess and Fenne are new students from Nijmegen. Tess has enrolled in Animal Sciences. 'I had a choice between Utrecht and Wageningen, but the green environment here won me over.' While Fenne enthusiastically explains how she managed to secure a room at the very last moment, Tess opts for a more deliberate approach. 'I intend to hold back', she says. 'I want to see how it goes first before moving out.'
A short distance away is Job, a veteran as far as these introduction days go. He has volunteered on six previous occasions. 'It is not difficult,' he says with a wide smile. 'The biggest challenge is making sure there is room for all of the tents. The rest sorts itself out.' The camping guests are getting ready for this evening's bingo. The excitement is palpable, and the evening is sure to be a fun one.
Breakfast
The atmosphere on Friday morning is friendly, and everyone appears to have become accustomed to camping and each other. Groups of students are seated at tables outside, discussing what they expect from the AID. Volunteers arrive by bicycle, ready to help get breakfast going. The food is served soon, and the first day of the AID can begin.
Also read: