It is rather disappointing, but the numbers don't lie: WUR is no longer one of the Netherlands' most sustainable institutes for higher education. In the 2023 Sustainabul, WUR occupies a meagre sixth place. Van Hall Larenstein University College tops the list, followed by Amsterdam VU and Amsterdam University.
Students for Tomorrow (Studenten voor Morgen) has presented the university or university college with the highest sustainability score with the Sustainabul since 2012. The ranking is based on performance in the field of education, research, business and best practices. WUR only achieves the highest score in best practices.
Surpassed
The scores show that WUR lags mainly on sustainability in education, where it scores only 89 out of 110. VHL, UvA, VU and Hogeschool Amsterdam have considerably higher scores. The score is based on the focus on sustainability in classes, the programme as a whole and teacher training.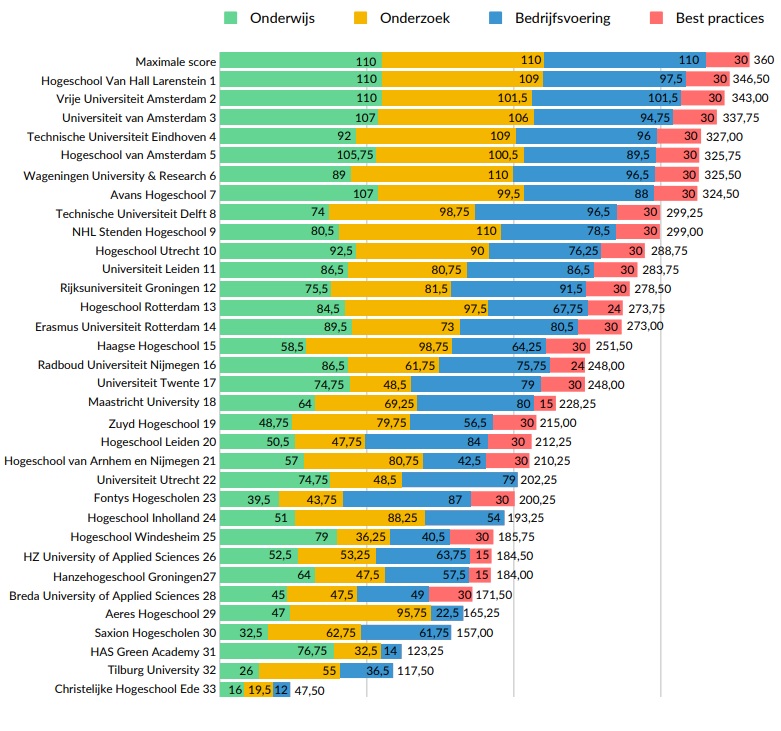 Corporate social responsibility policymaker Erna Maters says that WUR missed points in the assessment of its plans for the future of sustainability in education and the monitoring thereof. 'We failed to sufficiently illuminate that future. We must focus more on that issue.'
Others did better
In an absolute sense, WUR performed only slightly poorer than in previous years. Its lower ranking is mainly the result of the considerably improved performance of other universities. The VU, UvA and Hogeschool Amsterdam made major improvements in education.
Also read: