A group of some 25 students held a protest on the Unilever stairs on Wednesday afternoon. Their message: Transparency for WUR and autonomy for students and employees. A speech in front of the building was followed by a march through the Orion building.
A clothesline with green and white coveralls was hung in front of the façade of the Unilever building to represent the Extinction Rebellion Wageningen protesters' criticism of the influence that multinationals such as Unilever are thought to have on WUR's research and policies. 'With this clothesline, we start our own greenwashing', student Niels (whose full identity is known to the editor) explains. Some 25 students support him on the Unilever stairs. In his speech, he states that students and scientists are perfectly capable of deciding what research to conduct and how best to address the climate crisis without the help of businesses. Each statement is greeted by cheering.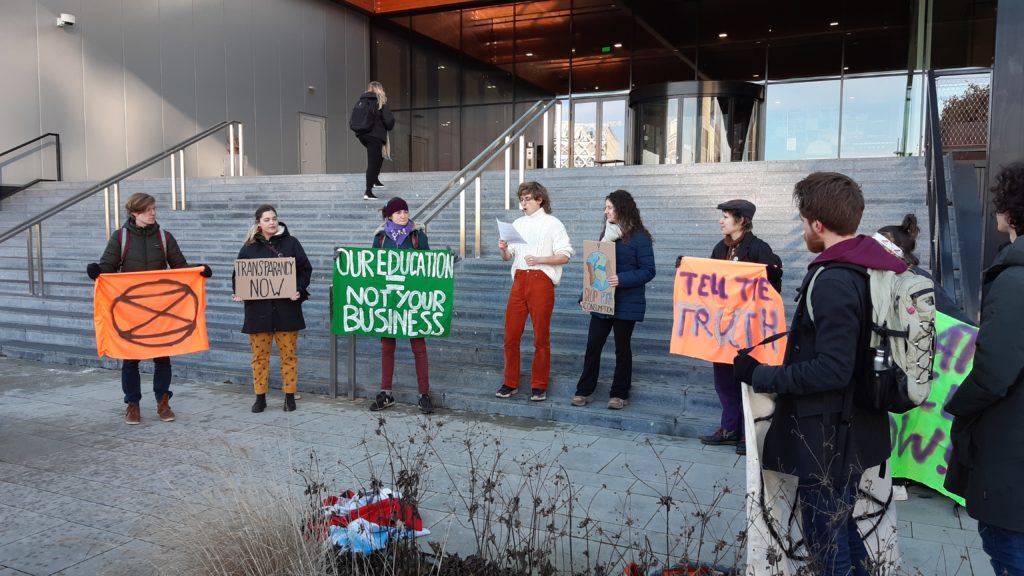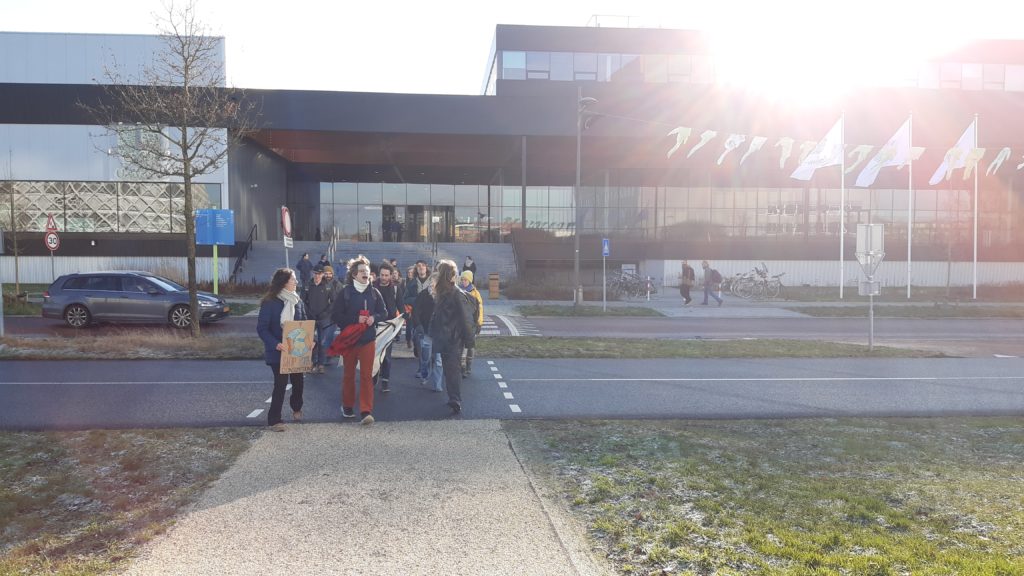 Hoping for more support
'We call for more self-governance,' Niels clarifies. 'This means that scientists and students should be the ones to determine what happens within the university.' He refers to the example set by the University of Bremen, where an academic senate made up of students and staff, rather than a supervisory board, is the highest decision-making power. This requires a culture where students and staff feel free to express their knowledge and concerns. Niels hopes that this protest will inspire more students to join the movement. 'In the supermarket, you can choose how you want to spend your money, but here, you can decide how WUR spends its 0.7 billion in research funds.'
Through Orion
Two more speeches are held after Niels' address. One on plastic pollution, and one calling on WUR to sever its ties with polluting businesses. 'No more lies, cut the ties!' echoes through the street. 'What do we want? Climate justice. When do we want it? Now!' The group makes its way to Orion, and through The Spot, chanting slogans. Security and students look on in bewilderment. On the other side of the building, a security official escorts them out.
The protest was held two days after the Binnegasthuis of the University of Amsterdam was occupied by protesters from the UvA University Rebellion, End Fossil Occupy NL and squatter's organisation Mokum Kraakt. That protest was abruptly stopped by the mobile police force. Niels says the protest in Wageningen is not linked to those events.
Also read: