Students of the Academic Consultancy Training (ACT) course tested the effect of information on the willingness of students and employees to pay the true price for food and beverages.
For two weeks in October, Aurora caterer Hutten offered students and staff a choice: they could pay the usual price for food and drinks or pay a surcharge for the environmental costs — reflecting the 'true price'. The trial was set up by five Master's students as part of their Academic Consultancy Training (ACT), in an assignment commissioned by Hutten caterer. It is part of an overarching project funded by the Ministry of Agriculture, Nature and Food Quality that aims to make the catering sector more sustainable.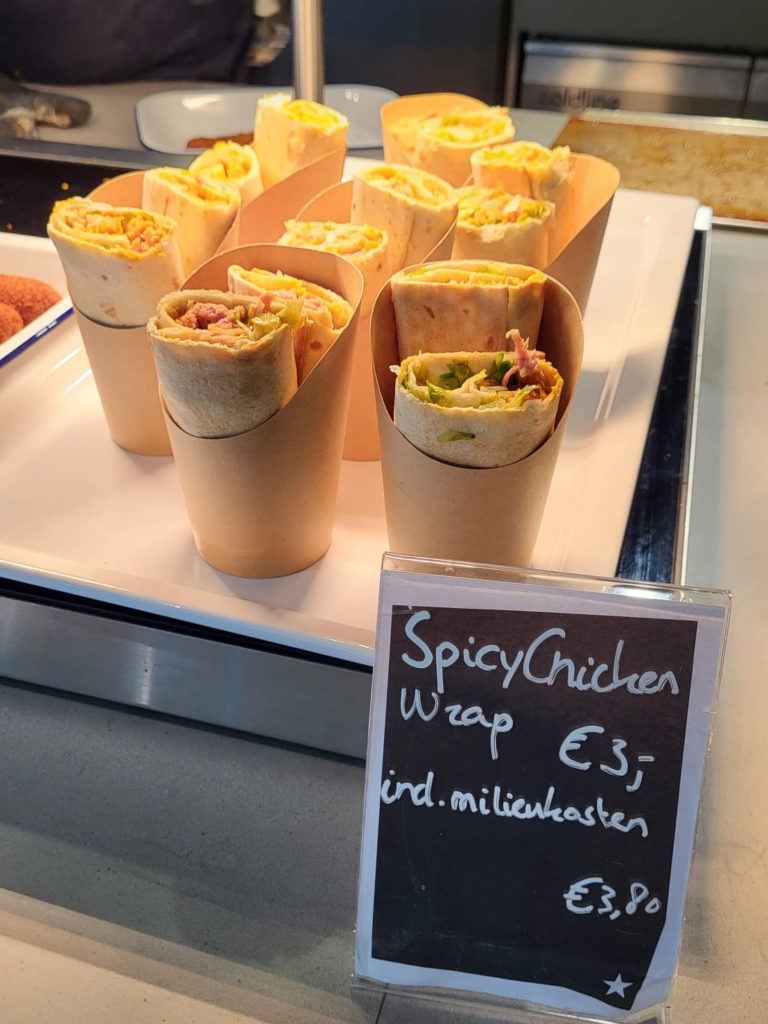 Dairy and meat
The true price includes the environmental costs of food waste and greenhouse gas emissions. The CE Delft Consulting agency calculated the environmental costs for almost all of Hutten's range of products. The price difference per product varies, says student Christa Sierink (MSc International Development Studies): 'Dairy and meat products contribute more to the calculations, while the difference is smaller for a vegetarian sandwich. The price difference ranges from fifteen to eighty cents per product.'
Customers were given a choice of whether they wished to pay the regular price or the true price, which included the surcharge for environmental costs. During the first week, they were given hardly any information about the price difference and what would happen with the surcharge. During the second week, information on the pricing structure and the extra proceeds was provided through information flyers at the counter and tables. 'We studied the effect of our communications strategy on the customers' buying behaviour', says Daphne Louws (MSc Nutrition and Health). The ACT group conducted the experiment on two of Hutten's catering locations: in WUR's Aurora building and at the BDO Accounting firm in Amstelveen. The students also conducted surveys and interviews among customers.
Location-specific
The amount of information provided did not affect buying behaviour. WUR customers were more willing to pay the true price than those at BDO, and the extra information provided during the second week had hardly any effect (at WUR, the percentage dropped from 26 to 22 per cent). BDO showed a significant decrease in willingness to pay the surcharge during the week with additional information, from 17 to 7 per cent. The customers' reactions varied strongly depending on the location. 'At WUR, the customers were eager to receive more information than they were given', says Louws. 'At the same time, the BDO employees frequently did not read the information at all or did not have the time to do so.' The ACT group, therefore, recommends that the communication strategy matches the target group, taking previous knowledge and willingness to pay more into account.
Next spring
Annet de Haas, head of Location Facilities and in charge of WUR's tendering, acted as a client in the ACT project. What WUR will do with the results is to be decided next spring. 'The project is part of a long-term project by CE Delft commissioned by Hutten. If they decide to implement true pricing in their catering, we will see how we can implement it on campus. It matches our view on sustainable tendering.'
Also read: