What did orca IB6 Gala that was stranded near Cadzand on Saturday eat? What will the contents of her stomach reveal about the quality of her food, and will it provide any leads as to the reason she was stranded and eventually died?
Marine biologist Mardik Leopold and his team started the dissection of the stomach of this 5.17 metres-long orca this afternoon. Resource was present for an extensive report in the next edition of the magazine (available in the dedicated bins on campus on 3 November).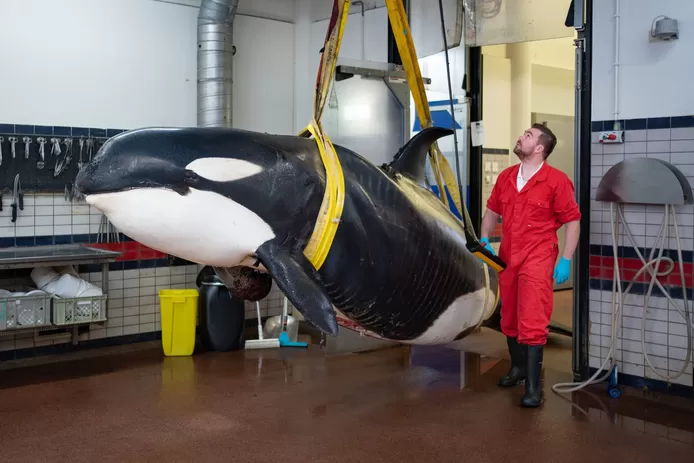 Unique
For Wageningen Marine Research, having an orca stomach on the dissection table is unique. Orcas rarely run aground in the Netherlands. The most recent stranding was in 2010, and that orca, the deaf Morgan, it later transpired, survived. The last time an orca perished on Dutch shores was in the sixties.
Orca IB6 Gala was transferred to Utrecht University on Sunday morning, where the Veterinary Sciences faculty immediately started an autopsy. Wageningen Marine Research is to conduct the study of its stomach and the contents thereof. The first findings will probably be divulged tomorrow, so keep an eye on the Wageningen Marine Research and Utrecht faculty of Veterinary Sciences social channels.
The orca was identified by its appearance on Monday evening by the Spanish Projecto O.R.CA – Cádiz. The animal is registered as IB6 Gala in their database. The orca was seen mainly around the Iberian peninsula.
Also read: