The terrain of the former Vada printing business next to the Hoogvliet supermarket was squatted last Saturday. The initiative arose during a reunion of former squatters in Wageningen, who decided to occupy the location and hand it over to the younger generation. They claim the housing shortage has only increased since the eighties.
The Vada printing company was torn down in 2012, and the land has remained vacant since. Since last Saturday, a number of people have set up camp, among whom three students. They sleep in vans and tents, while an old army tent serves as a kitchen. There is no water or electricity, but a number of solar panels provide a limited amount of electricity.
The squatters hope to stay put for at least two years. 'The current owner, real estate developer de Steenvlinder, aims to construct a neighbourhood with housing for senior citizens and low-rent homes. But construction is set to start in 2023 at the earliest. We hope to be able to live here until construction begins,' says master's student Chip, who has settled on the terrain with her camper.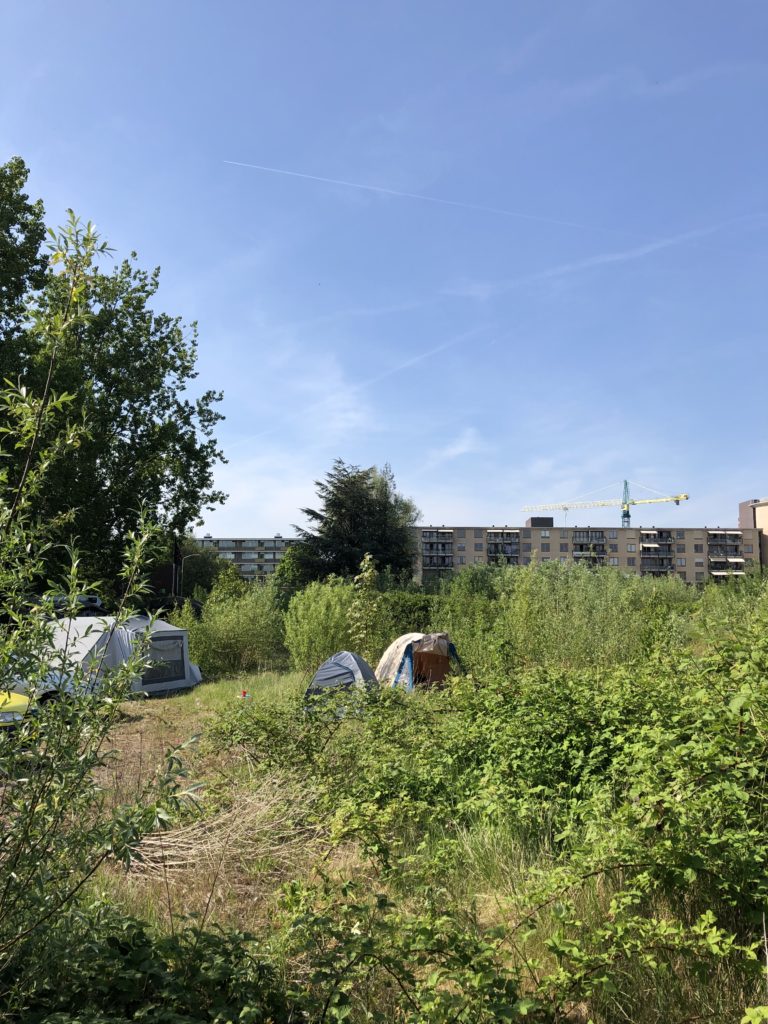 Signal
Wageningen Deputy Mayor Leo Bosland spoke to the squatters on Monday afternoon. He indicated he will condone the actions until the protest group has spoken to de Steenvlinder. He said he understands the protest since the terrain has been vacant for over a decade while there is a grave housing shortage. He sees it as a sign that 'we must make haste in developing houses on all vacant spots in Wageningen.'
The timing, however, is somewhat suspect, according to Bosland: 'Ownership of the terrain was recently transferred to de Steenvlinder. This developer is expeditiously working on construction plans in consultation with the municipality. Just two weeks ago, a proposal was submitted to the municipal council. If all goes according to plan, construction will start in one or two years, and houses will be ready in three.'
I know people who share a single room because they cannot afford their own

Protester Chip
Squatter Chip says many students and starters have trouble finding suitable accommodation or are unable to afford the rent. 'I know people who share a single room because they cannot afford their own. Temporarily occupying land that is not used for other purposes could provide a solution. I do understand that squatting is not everyone's cup of tea as there are many uncertainties, and a decent level of knowledge of the Dutch legislation is required. Moreover, living outdoors is great in the summer but challenging in winter.'
Chip has been living in her camper since the start of the academic year. 'I have a huge student debt, and I don't want to add to it unnecessarily.'
Also read: