Every Tuesday from 18:00 to 20:00, a group of volunteers helps WUR-students fix their bicycles in the basement of Forum. This group, known as the Student Bike Workshop Wageningen (SBWW), recently celebrated its tenth birthday. However, as the more active members are all on the verge of graduation, the continuation of SBWW is on the line.
'The concept is simple', says Pedro Teixeira (32), an MSc student of Earth & Environment and an active SBWW-member from Brazil. 'Students who want to fix their bikes come to the Forum basement on Tuesday evenings. We ask: do you want to fix your bike yourself with our supervision? This can be handy as we sometimes fix more than twenty bikes in one evening with a small crew. Some people are too afraid to try it, and then we fix everything. Others show up for multiple sessions to really learn how to fix their bike. We work for free, so the student only pays if we need to buy parts.'
Right now, there are about four core members that show up every week, says Teixeira. 'If we were a student association, which we are not, this core group is like the board. Besides us, about five other volunteers help now and then. It is a diverse group, with international and Dutch and Bachelor's and Master's students. The issue is that all the core members will graduate this summer and leave Wageningen. To keep the workshop going, we need replacements. Maybe one or two of our regular volunteers can take this responsibility, but it would be better to have a core team of four or five people.'
Birthday party
Recently, SBWW threw a birthday party in the International Club. To celebrate the anniversary, but also to find new volunteers. Teixeira: 'We are looking for new members who know or want to learn how to fix bikes and help their fellow students on a regular basis. People that are interested in showing up frequently and taking care of the stuff that needs to be done to keep the workshop running.'
Normally, volunteers learn how to fix bikes while on the job. We wouldn't really organise a training but just show how to fix things when problems came up', says Teixeira. 'The new volunteers will be properly trained, however, as there is little time.'
Expansion plans
Each person has a different reason to join SBWW, says Teixeira. 'For me, I started studying here during the corona lockdowns. I was inside the house a lot, and I wanted to keep busy. My bike needed fixing, but when I texted the Bike Workshop, they were still closed. Aart, one of the members, came by my house twice to help me fix my bike. After that, I started fixing my bike by myself, and when Forum opened, I joined the Bike Workshop team. It is really nice to help people and work with your hands for a change, instead of with your head. You meet a lot of people while doing bike repairs. I fix around three to five bikes per session and  have a chat with each person.'
While the search for new volunteers continues, the current core team plans to go out with a bang: expanding their workshop to Orion. 'We are going to put bike repair stations with lifts there, so you can hang your bike up high while working on it. This spot will be more for do-it-yourself bike fixing throughout the week. We have permission to do it, so the next step is to ask for funding.'The expansion plans do not mean the end of the Tuesday evening sessions in Forum, says Teixeira. We want to continue those as well.'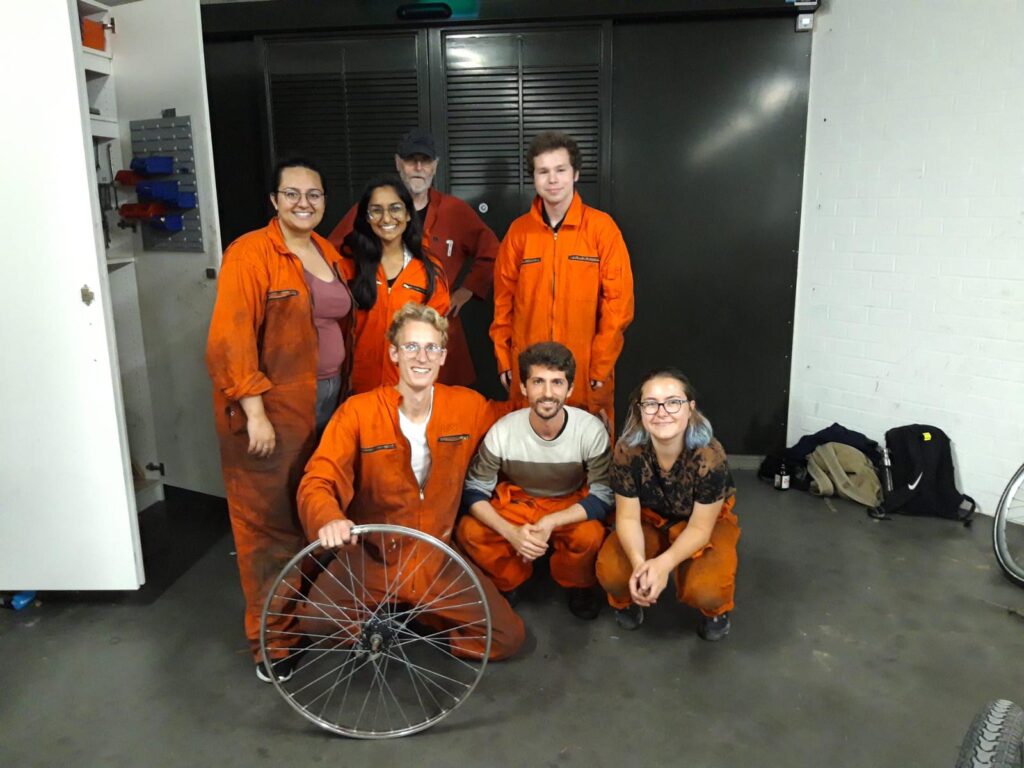 Interested in learning how to fix bikes and helping your fellow students? Contact SBWW via their Instagram.
Also read: