The museum in the city centre has dedicated a room to recently acquired works by the Wageningen sculptor August Falise. Added to these works are pieces that the museum already possessed or has on loan. The prototype of the WUR-symbol the Zaaier has also been loaned to the museum by WUR's Special Collections department.
That painted plaster sculpture is much smaller than the real thing that adorns the entrance to the Atlas building on the campus, and that was chiselled from limestone. The campus sculpture was, incidentally, not made by Falise himself but by Hendrik Hagedoorn in his workshop in Scheveningen. It was donated to WUR in 1926 to celebrate 50 years of agricultural education in Wageningen.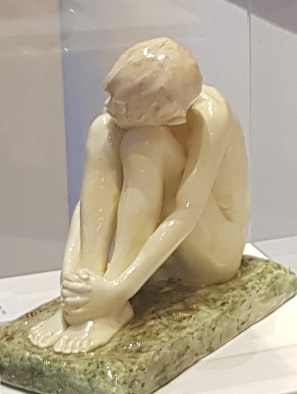 The newly acquired works include a terracotta sculpture of a man holding an infant in one arm and a cone in the other. The sculpture was delivered in pieces and has since been fully restored. The Holy Heart is another such sculpture. Falise was commissioned to make many such works by the Catholic churches, curator Saskia Werner explains.
I really want to place August Falise in the spotlight again

Saskia Werner, curator De Casteelse Poort
Werner is studying Falise's work. The museum has committed to collecting his works. How many there are, is unknown. Werner: 'I have a list of eighty busts, Holy Heart sculptures and monuments that are currently on exhibit in (semi) public spaces throughout the country.'
That list was obtained during a previous exhibition of Falise's work in De Casteelse Poort in 2010. Werner aims to add at least some of the works on that list to the exhibition. Primarily works that are available in and around Wageningen. 'But I have not gotten very far yet. I really want to place August Falise in the spotlight again.'
Plasterer
There is likely much more to be found in private collections. One Falise-collector is former Wageningen resident Dick Pepplinkhuizen, who loaned work for the exhibition. Falise was born into a family of plasterers in 1875 and died in 1936. The family made embellished ceilings and outdoor ornaments.
Falise has no heirs. However, according to Werner, a grandson of Falise's sister has come forward. Werner is to meet him soon. The Falise family did not originate in Wageningen. August Falise's grandfather moved to Wageningen from Belgium around 1824. He, too, was a plasterer by trade.
Also read: