The wooden cabin has been around for some three weeks, but has not been used much yet. It stands hidden among the green along the Zodiac Pond. It looks somewhat like a tiny house. But it is, in fact, an outdoor workspace to be used by groups or individuals to work or study.
The workspace is designed like a birdhouse (note the round 'pigeon hole' at the back) and is part of a series of displays that are to make WUR's sustainability profile visible. WUR won the title of the world's most sustainable university for the fourth consecutive year. The reasons for this award, however, remain obscure.
From damaged trees… to happy birds

Up to go, WUR's sustainability campaign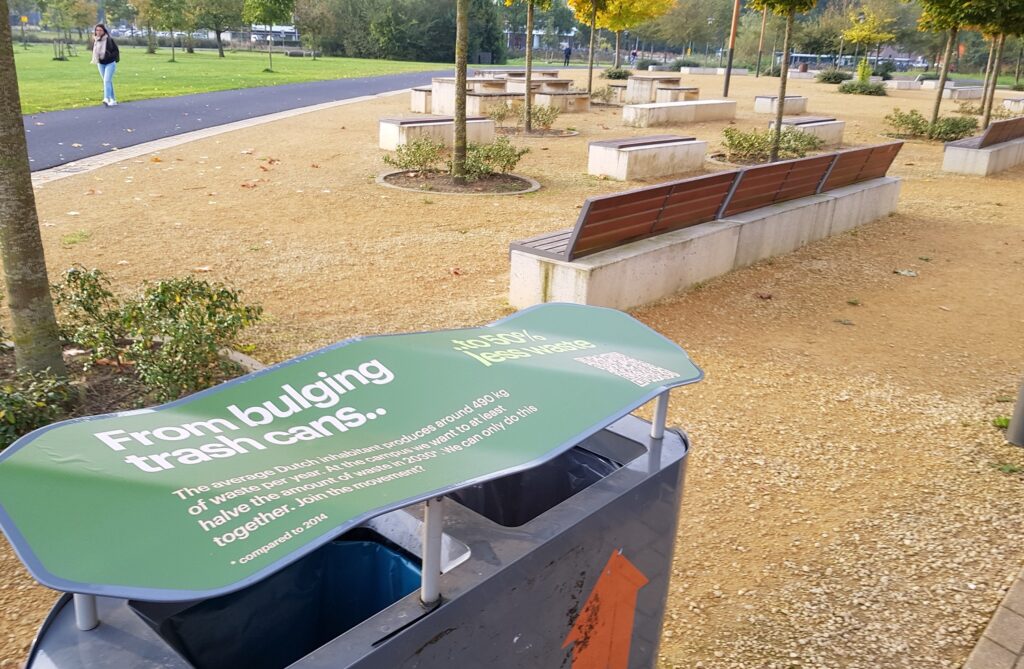 'What WUR does in terms of sustainability is not sufficiently visible', says Joris Fortuin, head of Integrated Facilities Management. 'Thus, the MVO (Dutch acronym for socially responsible entrepreneurship) group brainstormed on how to change this.' This was no simple process. Sustainalize Consultancy Agency was enlisted, and the Van de Jong publicity agency came up with the WUR Up To campaign and a series of displays.
Astute eyes may have seen several of these displays. The birdhouse is part of the one hundred nesting boxes that have been placed on the campus. These nesting boxes are to house tits that have been deployed to combat the processionary caterpillars. From damaged trees … to happy birds is the accompanying motto.
QR-code
The birdhouse workspace refers to the small nesting boxes. 'Moreover, it aligns with the desire to have more outdoor workspaces', Fortuin declares. A QR code that leads to a website with background information on the campaign is to be applied to the cabin.
This approach has been copied for several objects on the campus: the trash cans, the visible heat/cold storage points and coffee machines have similar displays. The largest is the slogan on the outer face of the windbreaker screen along Orion's outdoor square. This screen boasts the slogan From carbon energy to carbon neutral in large green letters. The slogan refers to WUR's carbon-neutral energy consumption.
More is to follow. 'We will gradually expand the number of displays', Fortuin says. 'The concept is the same; the message varies.'
Also read: