Everything you eat has some kind of effect on the climate and nature. Artist Remco de Kluizenaar developed a computer game in which you can see the effect of your dietary choices on your ecological footprint straightaway.
Remco, you're going to be artist in residence at WUR for the next six months. What does that involve?
'My brief is very free. The only requirement is that for six months I set aside one day a week for getting inspiration from WUR's work on the protein transition, and that I then involve the general public in it. The computer game is the first substantial project to come out of that. The aim of the game is to try to get enough protein without letting your ecological footprint get too big. The game is based on scientific research about the CO2 emissions from the various sources of protein.'
What do you hope to achieve with the game?
'The game is quite simple, and you only need two knobs with which to turn left or right and gather or perhaps actually avoid kinds of food. But the two knobs are so far apart that you can't play the game on your own. I hope that will lead to conversations about the bigger and smaller environmental impacts of different protein sources. We also know that 'serious gaming' works well for learning new habits. I notice myself that, having played the game a lot while I was developing it, I now find it easier to make sustainable choices in the supermarket.'
As artist in residence at WUR, I would have expected to find you on the campus, but the game can be played in Thuis, the town 'living room'. Why is that?
'I am keen to get the people on campus into the town centre, and to get Wageningen residents who don't have anything to do with the university to the campus. If you walk across the campus, you don't have any idea what goes on there, you just see tall buildings with big windows that someone walks past occasionally. What is that person working on? I want to bring that alive.'
Does the theme of the protein transition mean a lot to you personally?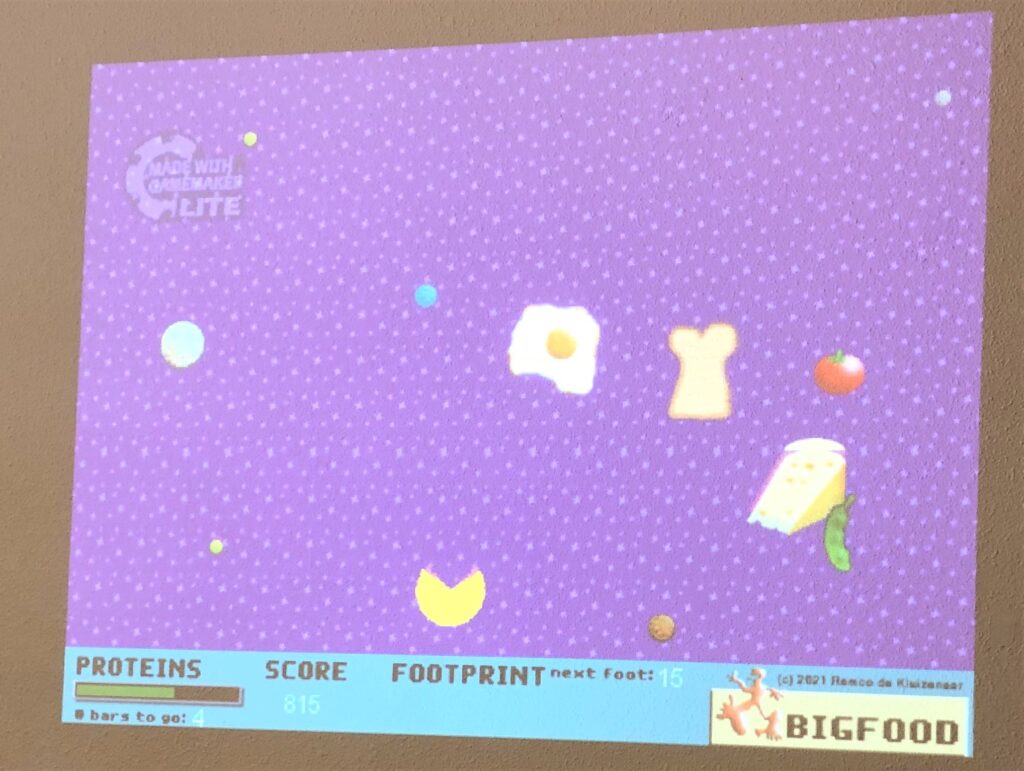 'Yes, it's a subject that's close to my heart. Before I became an artist, I did the first year of the Biotechnology degree here in Wageningen and the thing that really stuck with me was the course called 'Orientation to sustainability.' It was a very short course in those days – the subject was still new. But I found it fascinating. When I first heard about sustainability, I thought of it in terms of wind turbines and solar panels. But I realized that everything you eat also has an impact on energy consumption, CO2 emissions and transport. It's good to pay attention to that as well. This is my first project, and later this year there will be an audio guide to the campus, with fragments from interviews I'm doing with researchers, and sounds from places like laboratories.'
What is your favourite source of protein?
'Haha, er – cheese, I think. I don't eat much meat, but I find it hard to find a good substitute for cheese, especially on bread. But I look at it differently now I know that the emissions for cheese production are higher than those of chicken production.'
Is 'De Kluizenaar' (the hermit, ed.) your real name?
'Yes, that is my real name. A lot of people think it's my artist name, but it isn't. There are very few people with this surname, and most of them are members of my family.'
The game BigFood can be played at Thuis, Stationsstraat 32, until 30 July at least.
Also read: