WUR employees have been able to adjust furniture to their personal preference or ergonomic requirements for some time. Tables and chairs can be adjusted. Students did not have these facilities yet. At the start of the new academic year, however, this will be a thing of the past. In the coming weeks, 5517 new tables and chairs will be set up.
Tomorrow in Orion, to begin with. The furniture is being assembled in the Agrotechnion on the Dreijen. A team of four students and two employees of Presikhaaf Meubelen in Arnhem are using the storage hall to assemble the furniture. On location, which is the most sustainable option, says project manager Mohamed el Bouziri.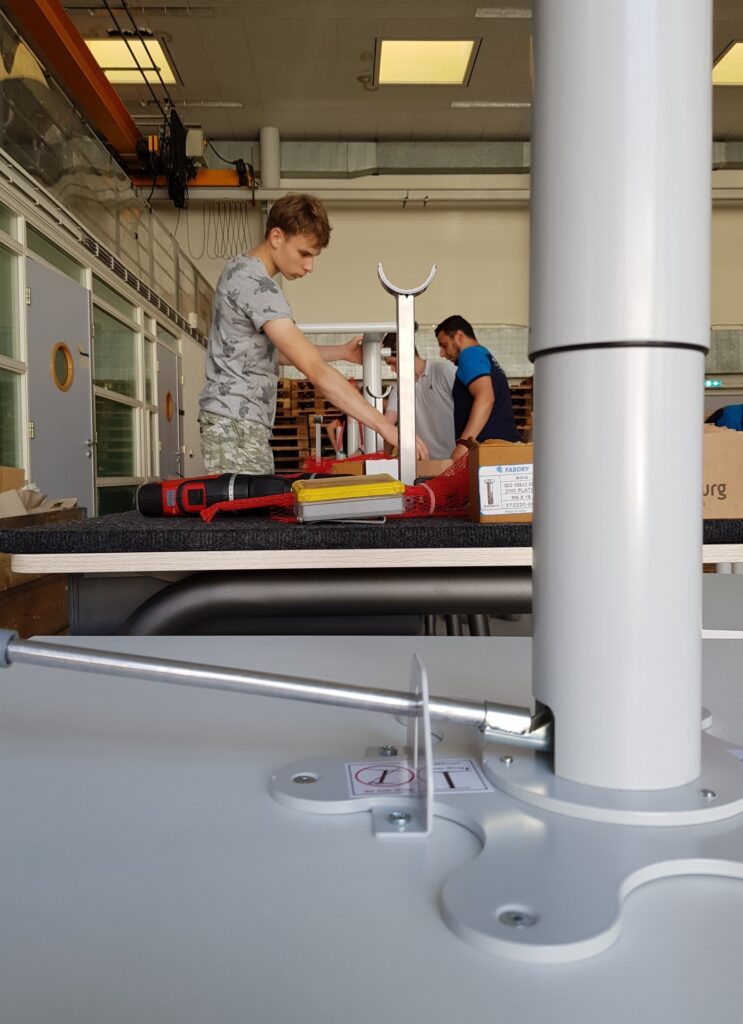 Assembling
'The materials were ordered in June, and in the ideal situation, everything must be completed by the start of the new academic year', he explains. 'The question was, how we could organise this as efficiently and sustainably as possible.' The solution? In Wageningen, this prevents a lot of cargo traffic. Parts take up less space than fully assembled tables.
The furniture is still good; it just no longer meets our requirements

Mohamed el Bouziri, assistant location manager
During this week and the next, 2150 tables are to be assembled. The remainder will follow at the beginning of August. The materials are supplied by Presikhaaf Meubelen, for whom this order from WUR is the largest they have ever processed. The business is a subsidiary of the well-known office furniture supplier Ahrend, located in Sint-Oedenrode. Ahrend won WUR's tender.
Wheels
The new furniture is to be placed in the lecture halls and PC areas of the education buildings. The tables are a manageable size (65×80 cm) and easy to move through the wheels on two of the legs. This allows the setup to be changed easily. The table height is adjusted through a lever and powerful spring mechanism.
Reuse of the old furniture was included in the tender. The old furniture will be repurposed. El Bouziri: 'The furniture is still good; it just no longer meets our requirements. It would be perfectly suited for schools, for example.'
You may also like: