Universities and unions protested against a 149-million-euro austerity measure for secondary vocational education and higher education in The Hague today. A group of students demanded a refund of their tuition fees and handed over a petition with 52,000 signatures.
Today, the House of Representatives extensively discusses corona, senior secondary vocational education (mbo) and higher education with Minister Van Engelshoven. This prompted the two demonstrations. The universities and unions oppose the 149-million-euro budget cuts and demand extra funding in the amount of 1.1 billion euros annually. That would put them at a 'normal academic level', they say. They hand out bottles of water, symbolising the Normal Amsterdam Peil (NAP), which is the nationwide zero elevation level for water, to which the slogan refers.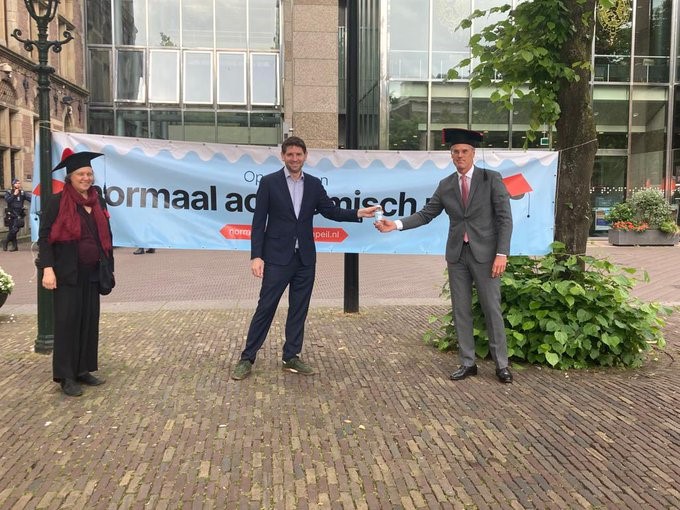 Technical
The 149 million in cuts are spread out (links to Dutch content) over multiple years. Half of the cutbacks affect the universities. Earlier, the minister claimed (links to Dutch) it is merely a 'technical' measure, and there are no actual austerity plans.
The money is needed to fund corona relief measures for students. Part of the students will retain the right to student funding for longer, as well as their OV-card. That support is not entirely covered by the 8.5 billion available to ease the effects of corona on education.
Petition
Simultaneously, a group of students handed a petition with almost 52 thousand signatures to the House of Representatives. First online, and later on site. They demand 'full compensation for tuition fees that have been paid during the pandemic'. The protest group CCN (Compenseer Collegegeld Nu, Compensate Tuition Fees Now) is supported by some local student unions and the SP youth. The national student unions ISO and LSVb are not part of this initiative.
Also read: