The annual Excellent Education Awards were granted on Tuesday, 22 June. There were two winners in the Basic courses category, and there we four extra awards for courses taught in periods five and six of last academic year, when education was suddenly moved online due to the corona pandemic. Thus, nine courses instead of four received an award this year.
Basic courses: Forest Resources en Fundamentals of Landscape
There were two winners in the category basic course: Ute Sass-Klaassen's Forest Resources and course coordinator Cathelijne Stoof's Fundamentals of Landscape. Forest Resources was commended for remaining a coherent course in spite of its broad scope and variety of topics, teachers, guest lecturers and teaching methods. The course Fundamentals of Landscape was praised for its multidisciplinarity. Stoof: 'This pre-masters course is actually a crash course in soil, hydrology and ecology. It is the first course for many international students that have arrived in Wageningen from across the globe. They appreciate the structure of the course and the fact that they can really bond with their fellow students.'
Advanced courses: Social Justice, Technology and Development
This course, coordinated by Birgit Boogaard, stimulates students to think critically, the jury report says. Students feel safe in the lecture room, and there is plenty of interaction. According to the students, the only drawback is that the course is not compulsory for the entire university.
Specialized courses: Empowerment for Sustainability
Course coordinator Valentina Tassone's course Empowerment for Sustainability is hailed for the creative teaching methods that are used. Tassone: 'We use theatre, role-playing, art and more. Students are challenged to use their storytelling skills to sketch the role of sustainability in their personal lives. We then learn to understand these stories using the concepts they have learned during the course.'
Large courses: Ecological Methods
Course coordinator Fred de Boer won the 2019 Teacher of the Year award. 'I want to thank the students; it's a pleasure to work with them. Time and again, it is a pleasure to teach this course to 150 new students. We look forward to seeing each other again on the campus from mid-September.'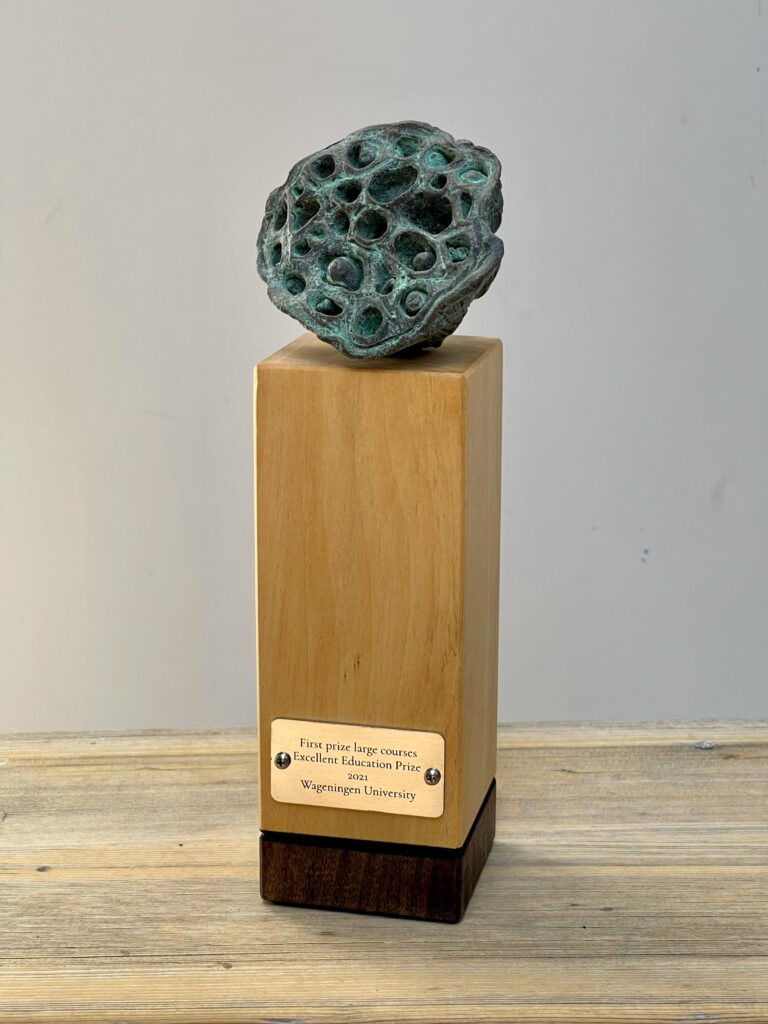 The first corona courses
This year, awards were also given for the 'first corona courses': courses that took place in periods five and six of the last academic year. These are the winners and the quotes from the jury report:
Basic courses: Political Sociology for Development – Jessica Duncan
'Teachers were truly concerned with the students' mental health during the start of the corona crisis. Through a variety of teaching methods, group work, and polls, students stayed focused during lengthy lectures. The fact that an open-book essay was used to assess the students, rather than a proctored exam, met with approval.'
Advanced courses: Methodologies for reading sustainable foodscapes – Vivian Valencia
'Having a course taught by eleven teachers and still be coherent is impressive. A very committed team, variety of teaching methods and an excellent week structure.'
Specialized courses: Ethnobotany – Tinde van Andel
'Students were able to do home practicals, which prevented them from missing out on practical skills as a result of corona.'
Large courses: Structure and Function of Plants – Henk Hilhorst and Hannie van der Honing
'The fact that the teachers replaced the practical sessions with video's made in such a way that it almost feels as if the students are conducting the experiments is considered extraordinary by the jury.'
Also read: