The art piece concerned is the stone sculpture by landscape architect Blaauboer. It was designed in 1971 to soften the contrast between the modern Transitorium and the square in front of it. The piece consists of a variety of elevations and depressions in the paving, stretching out to the right and left of the building's entrance.
Monumental
The four eight-metre-high hardwood posts, of which one has been torn down, are also part of the artwork. The posts appear as sentries. The entire structure accompanies most of the building's face and is about 60 metres. It is the first design Pieter Blaauboer, who studied landscape architecture in Wageningen, made in the monumental design genre.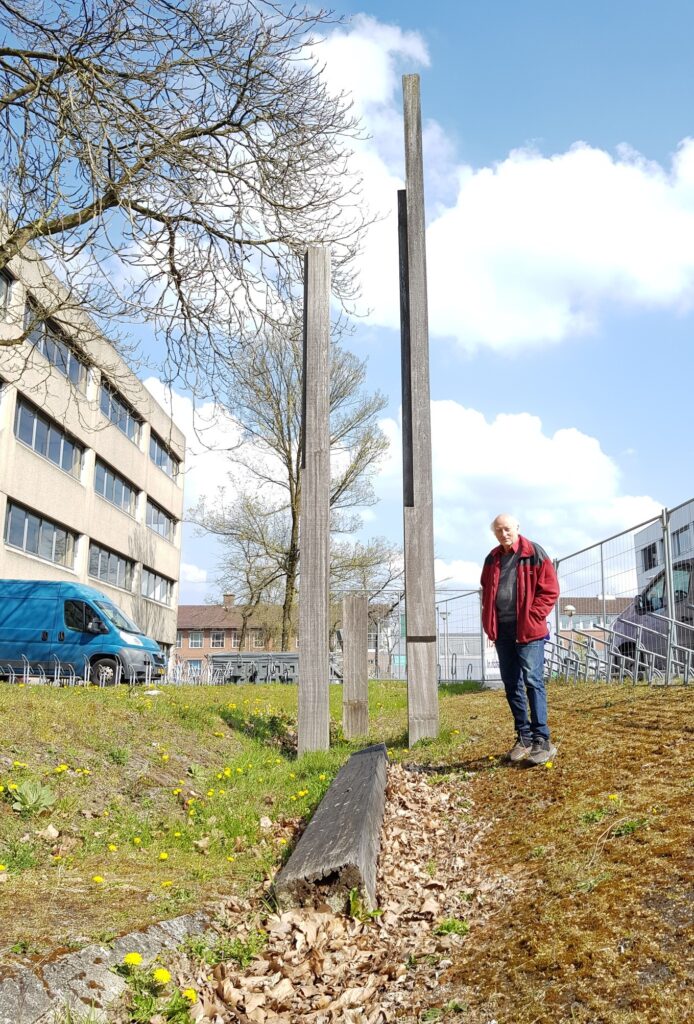 The work is large and monumental but will now likely disappear. The Transitorium is set to be torn down soon. WUR spokesperson Eddy Teenstra explains that the building was transferred to the demolition company today, which is currently making preparations in the form of fences and cameras. Anyone wanting to see the art is advised to be quick.
Plea
Last week, landscape architect and videographer Rita van Biesbergen (Mugmedia) endeavoured to have the art preserved. On LinkedIn, she called for ideas to have the piece relocated. 'I have an affinity with this installation. I pass by it every day on my way into town', she explains. 'Someone must rise up. With my plea, I want to see if there is support for preserving it.'
Artist Laurens van der Zee agrees. 'We already have very little landscape art in Wageningen. This is the only Blaauboer piece the city has.' Van der Zee added the installation to the website 'Sculptures of Wageningen', which he manages. Blaauboer was not only educated in Wageningen, but he also had his business here.
We already have very little landscape art in Wageningen. This is the only Blaauboer piece the city has

Laurens van der Zee, artist
Much of the art on De Dreijen was relocated to the campus. According to former art committee member Liesbeth Missel, this was not an option for the Blaauboer relief. 'Blaauboer designed this specifically for that spot. The piece is related to the Transitorium. That effect is lost elsewhere. Moreover, it is in bad shape and would have to be rebuilt if it were relocated.'
Students
According to Van Biesbergen this is not an issue. She spoke with Jos van de Lindeloof, a former employee of Blaauboer, who made the blueprints. 'He knows how the piece is constructed. Add some Landscape Architecture students, and it can be reconstructed easily.' However, they will have to move fast.
You may also like: