In times of corona, teachers often find creative solutions to safeguard the quality of their remote teaching. Resource highlights two solutions in a two-part article. This is part one: Vlogging with fish.
During the course Aquaculture Production Systems, students learn how to care for fish and manage aquaculture systems. Assistant professor Fotini Kokou teaches the course with Ep Eding. 'Normally, students would manage the systems themselves, maintaining a correct water quality and feeding and caring for the fish. Corona made this impossible this year, as this would cause too many students to be present in the Aquatic research facilities.' Kokou, Eding and Geert Wiegertjes (professor of the Aquaculture and Fisheries Group) asked WUR's Education Support team whether there was a way to have students care for the fish from a distance. Kokou: 'The idea of live vlogging arose.'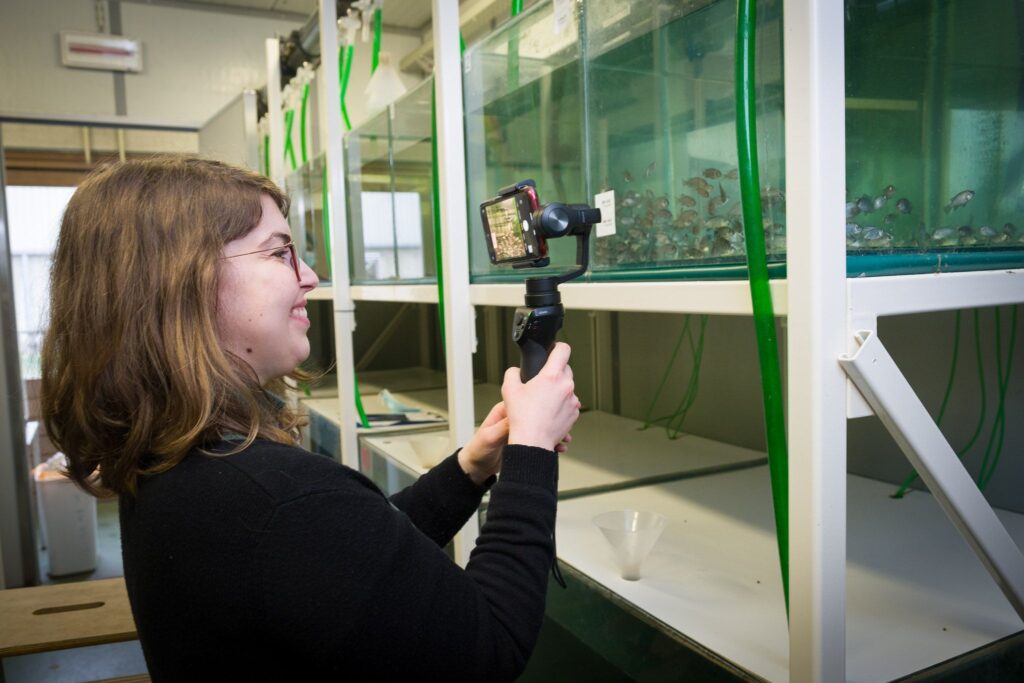 Eyes and hands
Research assistant Taofik Momoh was issued a vlogging camera and became the students' eyes and hands. Kokou: 'Taofik used the camera to show the students live footage of their fish tanks during a Microsoft Teams video call. Thus, the students were able to evaluate the well-being of their fish, their eating behaviour and assess whether the tanks needed cleaning, etcetera. Based on these observations and data from the water quality measurements, the students were able to make decisions in consultation with the teaching staff, after which Taofik would perform the required actions live. He would also conduct the management and maintenance of the tanks.'
Vlogger Momoh followed this course as a student two years ago. 'As a student, I already learned much during the course, but this year, I learned even more. Different groups of students encountered different issues. As a teaching team, we engage with the students to consider different causes and solutions for the problems. All-in-all, it was a great experience.'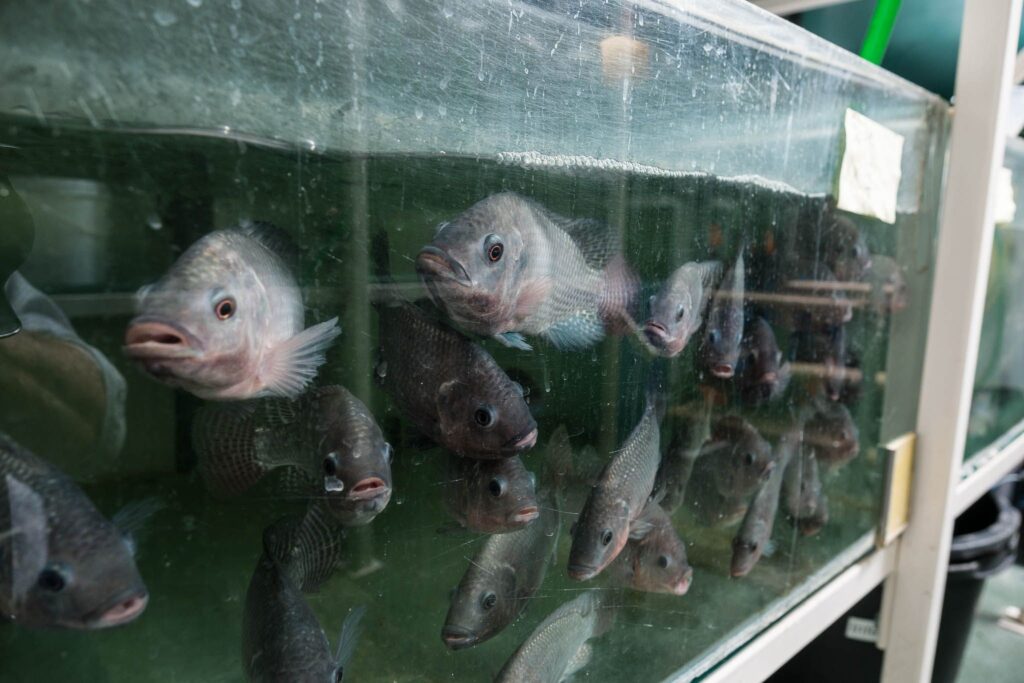 Excellent alternative
Masters Biotechnology Vera van der Niet (22) followed the Aquaculture Production Systems course. 'By video calling Taofik, you were able to see how the fish were doing. Students could ask: have the values changed? Can you check the filter? Etcetera. Taofik would take action live on camera. He would also show how the fish behaved, and how they responded to feeding, for example.'
'I thought it was a good alternative to the practical', Van der Niet says. 'Being able to go to the lab ourselves would have been more fun, but this option still provides an excellent learning experience. You still do all the thinking yourself. It's just that someone else does the practical things.'
Studying has become less fun since corona, says Van der Niet. 'The quality of education is good, but you miss social contacts. In other courses, practicals are sometimes cancelled entirely and replaced with literature assignments. But, reading how something works is different from gathering data yourself, taking decisions and learning to understand. That makes this such an excellent solution: you still get to care for the fish remotely, which keeps you more involved in the course.'
Are you a teacher searching for more inspiration? Check out the showcases on Brightspace.
You may also like:
Also read: