Job satisfaction suicide
To quit your PhD is career suicide?! In my view, carrying on puts you at risk of 'job satisfaction suicide'. I believe people flourish when they love, or at least like, what they do. Don't quit after just a week of course, but if a job doesn't give you any fulfilment or joy I would encourage anyone to look for something else. If you can afford it, put job satisfaction above prestige, salary or even your educational qualifications. However, my view may be a privileged Western/Dutch perspective…
Maartje van der Knaap, Lecturer in the Environmental Policy Group
Alternatives
'Most PhD students feel like giving up sometimes. If you are permanently fed up, it could be because of your topic, or because doing research doesn't suit you or you have annoying colleagues or a difficult supervisor. You could adjust your topic or ask for an additional supervisor. And of course, you could stop too! If you have a passion for research, you will certainly stand a good chance of getting a different PhD position. And there are plenty of nice jobs outside academia too. Also, all the graduate schools offer support for PhD students. If you're in WIMEK, you can get in touch with me or Peter Vermeulen.'
Judith Westerink, WIMEK PhD mentor
Talk about it
'My advice is to ask yourself why you are not enjoying your work. And talk about it with people you trust, like a good colleague or your supervisor. They might see possibilities you haven't thought of or offer you a new perspective. And it's important to realize that stopping is not the same thing as failing. With every step along your career path, you learn something about yourself.'
Etske Bijl, assistant professor of Food Quality and Design
Does it suit you?
'I advise you to discuss your problems with your supervisor. If that's too daunting, you could also confide in a friend or someone else at WUR. Someone who has experience with PhD students, for instance. If it turns out that PhD research doesn't suit you, I think it would be sensible not to go on with it.'
Wijbrand Ouweltjes, Animal Welfare and Health researcher
Long-term happiness
I would advise you to reflect on what aspect of the PhD you dislike exactly. Perhaps your problem could be fixed by making a few changes. Otherwise, try to figure out what kind of work, topic or atmosphere would make you happy and what kind of professional future you envision. Quitting your PhD may help you to invest your time in something that will benefit your career and make you happy in the long term.'
Ixchel Gilbert Sandoval, PhD student of Toxicology
Next WURry: dissapointing comments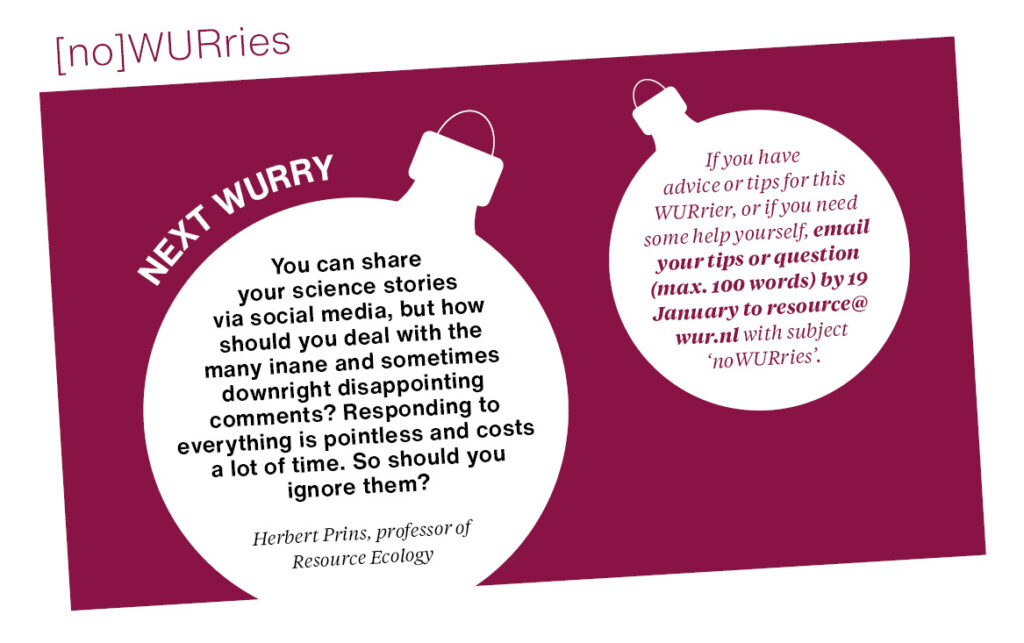 If you have advice or tips for this WURrier, or if you need some help yourself, email your tips or question (max. 100 words) by 19 January to resource@wur.nl with subject 'noWURries'.
Lees ook: