New traditions
It's not just international staff and students — lots of Dutch people won't be seeing their friends and family during the festive system either. We're basically in the same boat. That gives me comfort and also offers opportunities to create new traditions. For instance, you and all your colleagues could order a meal from the same restaurant and enjoy an online dinner. Or invite an international colleague to celebrate Christmas with your family. And send loads of cards and presents to your friends and family. That way, you feel connected to one another.
Lin Batten – Law group research assistant
Progressive dinner
At the moment you can have three guests as long as you all keep 1.5 metres distance. That's perfect for a 'progressive dinner' where you go from house to house and everyone serves one course. Meet up at the home of the person doing the aperitif, then walk to the house of the person serving the next course and so on. You won't spend too long in badly ventilated rooms, you get some fresh air, and the exercise will help you work up an appetite. That will make for a varied, sociable evening with delicious food. Enjoy!
Sanda Lenzholzer – professor of Landscape Architecture and Spatial Planning
Calling on WUR
This is a problem many international students and staff members face. I would therefore like to call on WUR to take care of its internationals and organize an online event where we can celebrate Christmas and count down to New Year together.
Yosapol Harnvanichvech – PhD student in Biochemistry
Creative energy
As an international, I'm happy to share three of my Christmas plans with you. I hope they will give you some inspiration. During the holidays, I will bake cakes for my colleagues who have been very supportive during the coronavirus pandemic. I will also enjoy a walk through Sonsbeek Park or the Veluwe National Park and finally I will sit down with a hot drink and pour all my creative energy into a new painting. A little tip if you are not so creative: you can always buy a paint-by-numbers kit.
Yu Lei – PhD student in Environmental Technology
Next WURry: Career suicide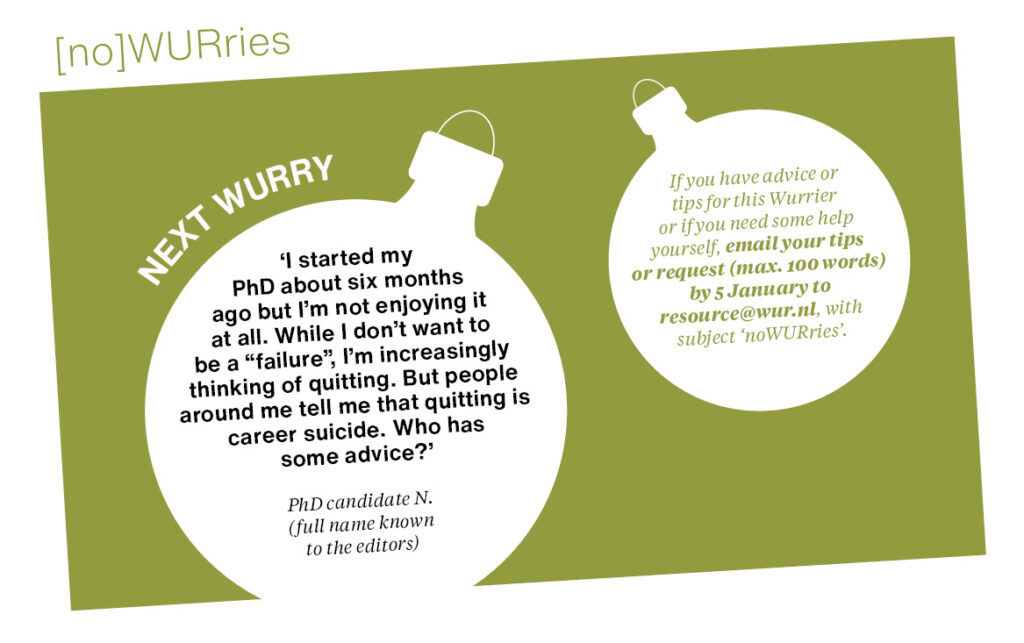 If you have advice or tips for this Wurrier or if you need some help yourself, email your tips or request (max. 100 words) by 5 January to resource@wur.nl, with subject 'noWURries'.
You may also like: