The strip of vegetation will be 40 metres wide near the new developments along the Houtwal and run southward where it is reduced to 15 metres wide. This is the most important concession WUR provides the neighbouring inhabitants in the plans for the new business park. Previous plans did not make it through the municipal council precisely one year ago, following vehement protests from the neighbourhood.
80,000 m2
The protest was mainly directed at the scope of the construction programme. With a planned 80,000 square metres, it was twice the size previously agreed to. WUR, the province and municipality claim this area is needed to match the demand for business space near the campus in the coming decade. The area will not be diminished.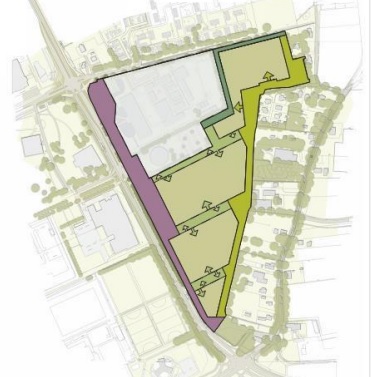 The wider strip will place the buildings further from the properties along the Houtwal and Grintweg. To still achieve the desired 80,000 m2, the height of the buildings along the Mansholtlaan is to be to 32 metres, 5 metres higher than previously projected. Towards the strip of green, the maximum height is gradually lowered to 12 metres.
Cars will be parked out of sight as much as possible. A collective parking garage will be erected behind the NIOO facility and along Droevendaal, holding up to 800 cars. A strip of vegetation of at least 12 metres wide forms a barrier between the NIOO site and the student housing at Droevendaal. The projected parking facility is available for the businesses of Born-East, and not for the campus.
Student rooms
A debated issue is the planned student housing complex along the Mansholtlaan next to restaurant 't Gesprek. Idealis aims to construct a building (measuring up to 22 metres on the side facing the road) with 250 student units. The neighbours prefer this plan to be cancelled. The plans will be discussed by the Wageningen politicians on Monday evening, a decision is expected in December's council meeting.