At the start of the lockdown, the caterers on campus were done for. They were forcibly closed. The few still working on campus were expected to bring their own sandwiches. For a few days a week, the handmade fries available on campus plaza brought relief, everything else was shut. On Plaza, everything except AH To Go has meanwhile reopened.
Blows
At the start of the new academic year, the caterers have reopened. But they have taken some blows. Good Food Catering, the organic caterer in de Leeuwenborch has gone belly up. Sodexho (Impulse) has stepped in. This caterer won the tender.
The 11 man team of Sodexho on campus is still intact, but whether it can stay that way, remains to be seen. According to an employee, the company is currently reorganising, and 800 out of the 3000 employees are expected to become redundant. Fourteen of the twenty-five employees of Cirfood (previously known as Cormet) in Forum have disappeared, and OSP (Orion) was forced to let go no less than 19 out of 25 employees.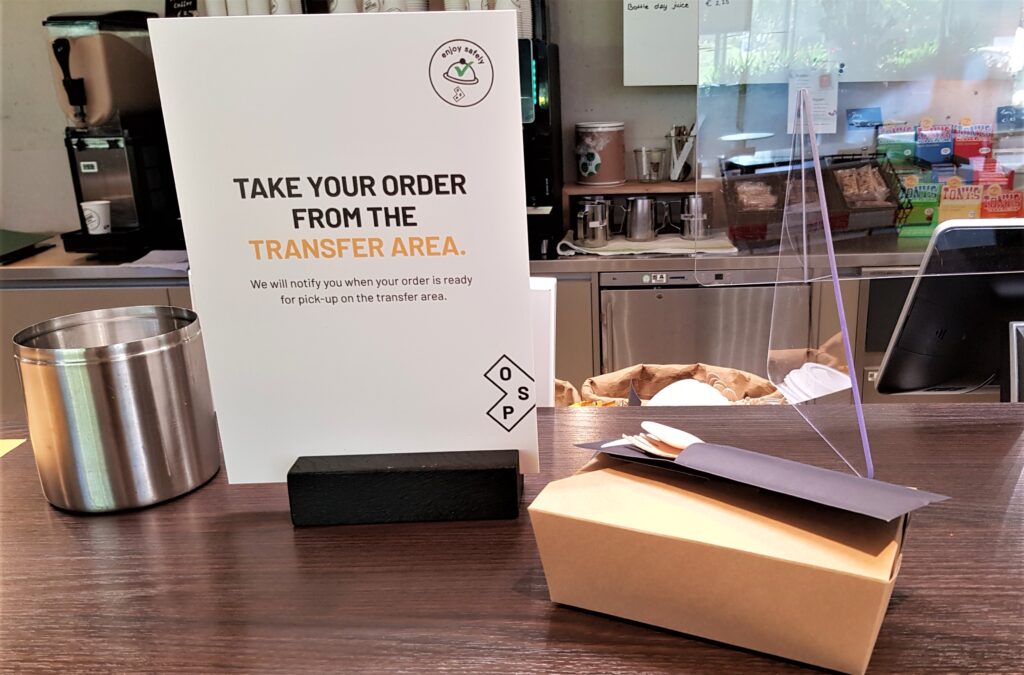 On the upside: the caters are open again. But gathering your own lunch in the cafeteria is no longer permitted. The safety measures disallow it. Those who want lunch must order. At Sodexho, orders must be submitted online. After registering (order.bysodexo.nl) lunch must be ordered before 10 am, and can then be picked up in Impulse or the Leeuwenborch at a time of your choosing.
The Cirfood Grand Café in Forum is temporarily transformed into the restaurant. The actual restaurant, located on the first floor, cannot be made corona-proof, says manager Ron Nagtegaal. Lunch must be ordered at the register and picked up further along the counter. The cafeteria is open from 10.00-14.30 hrs. The menu is extensive, considering the circumstances, but does not (yet) include a hot meal. 'If there is sufficient demand, we may add this,' Nagtegaal promises.
Many students and employees are not yet aware that we have reopened

Menno Barten, location manager OSP (Orion)
OSP in Orion is currently the only caterer to offer hot meals (meat and vegetarian), in The Spot. Lunch is limited to soup, sandwiches, a wrap and small snacks. Orion is opened from 09.00-16.30 hrs. Opening in the evening is not an option at this time, says location manager Menno Barten. 'And even during the day, we are not yet turning a profit. That would require at least two to three times the current number of guests.'
Slightly better
'There are now some 50-100 lunch guests',  says Barten, scanning the café. 'That is about 10-15 per cent of the numbers we had before corona. But, it's getting slightly better day by day. Many students and employees are not yet aware that we have reopened. I hope it will get more crowded.' In addition to the cafeterias, the three caterers are also available for banqueting at events and meetings.
You may also like: