text and photos Cathy Chen illustration Paul Gerlach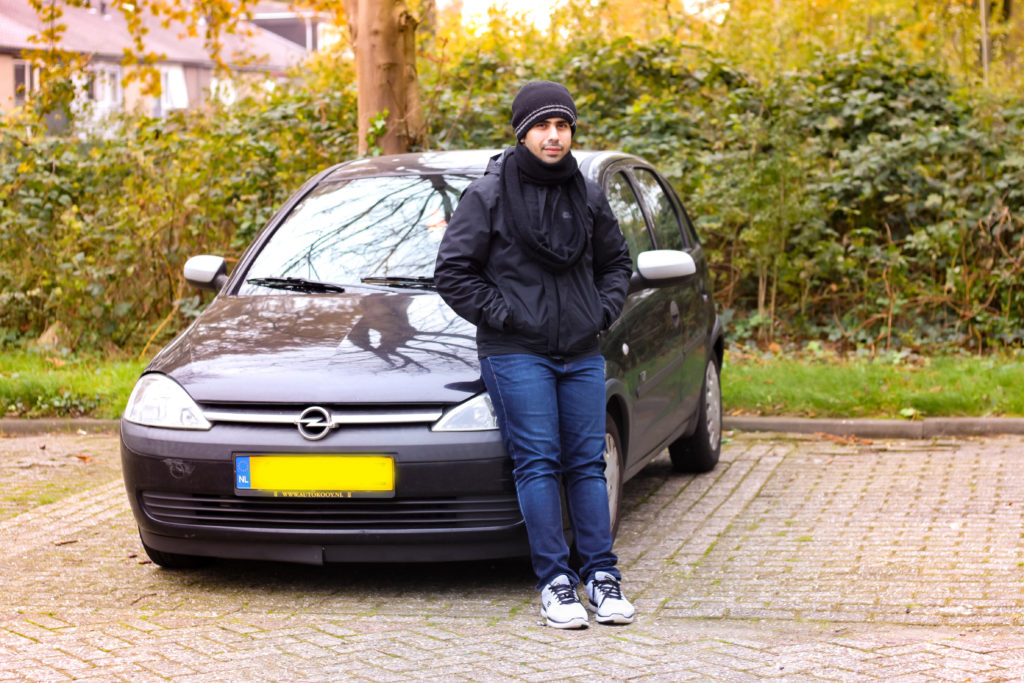 Ahmed Alhusays
Master's student of Plant Sciences from Saudi Arabia, drives an OpelAhmed Alhusays used to be an assistant lecturer at his home university in Saudi Arabia. He saved up for his degree programme in the Netherlands. He bought the car from a friend of his right at the beginning of his time as a student here. To Alhusays, buying a car is much easier in the Netherlands than in many other countries where he has lived. 'You only need to find a seller and go to the municipality to register the car under your name.' He was very happy about the deal. 'The seller was Saudi Arabian too, and he gave me a good price.'
For Alhusays, having a car means a convenient life and less stress from the need to find a room near campus. 'It was too hard to find a room here in Wageningen, so I lived in Ede first. With my car, I could always drive to class instead of taking the bus', says Alhusays. Once he got a room in Bornsesteeg, he could move all his furniture with his own car. And in winter, when he finds it too cold to cycle, he will drive to various supermarkets with his classmates after classes or at the weekend.
Having a car also enabled Alhusays to deal promptly with an urgent medical problem. A few weeks ago, he had a severe allergic reaction to a plant and he had to go to the emergency post at the hospital at midnight. 'If I hadn't had a car, I would have had to order a taxi. It would have been quite expensive and I would have had to wait for it.'
Driving in the Netherlands is a joy for Alhusays, apart from one thing. 'Sometimes elderly Dutch people drive a bit too slowly.'
Sometimes elderly Dutch people drive a bit too slowly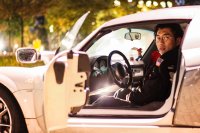 Daegeun Choi
Master's student of Plant Sciences from South Korea, drives a VauxhallAt home in South Korea Daegeun Choi studied English literature, owned a small company selling sweet potato products, and was a car racing driver. 'I decided to come to the Netherlands as I received a lot of feedback from my customers, which encouraged me to go to university,' says Choi.
At first, his parents were not very positive about his decision to study abroad and he didn't get any financial support from them. So instead he sold his car in Korea to pay for his tuition fees and rent in the Netherlands. He did his first degree at Van Hall Larenstein University of Applied Sciences and now he is going for a Master's degree at WUR.
Choi bought a car in The Netherlands because driving is one of his biggest hobbies. 'It helps me to relax when I'm stressed from studying. Sometimes I drive with my friends to grab some fast food at KFC during the lunch break. Sometimes I just drive somewhere else in the weekend. It is my way to unwind.'
Driving helps me to relax when I'm stressed
Buying the Vauxhall II was like a dream come true for Choi. He had already been looking for that car when he was still in Korea. However, this model was only sold in Europe. He considers the purchase of this dream car as a reward for studying hard. Also, he sees the car as a monument to his independence from his parents. In fact, the Vauxhallis so special to him that he has decided to ship it back to South Korea when he finishes his studies.
Tea Stojanovic
Master's student of Business, Economics & Consumer Studies from Croatia, drives a VolkswagenTea Stojanovic got her car from her parents, who used to work in Germany. They wanted to trade in their old car for a new one, but they were not offered a decent price for it. As Tea had finished her degree in the US and was to go on to a Master's in Wageningen, they decided to give the car to her. 'The car is officially registered in Germany, so I can use it in the Netherlands. My parents pay the insurance and tax for me.'
Having a car has definitely improved Stojanovic's life as an international student. 'When I go out to student parties downtown, I will drive if the weather is not really good. Also, I sometimes help my friends to move house. And when they have to buy a lot of things from the supermarket, I help them to bring it home.'
I sometimes help my friends to move house
Having a car enabled Stojanovic to discover new places in Netherlands cheaper and faster. 'I visited Giethoorn, the Dutch Venice. If you go there by train and bus, you might not make it back the same day. By car it is about one and a half hours each way.'
Sometimes Stojanovic will drive to campus, but she is quite concerned about the lack of parking space. 'I like that it is free to park here, but there are too many cars. Especially as Unilever is building a big company here now, I don't know how they will fit all the cars in, in the future.'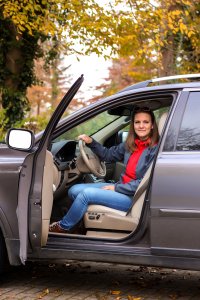 Tyna Novotna
Master's student of Biotechnology from the Czech Republic, drives a VolvoChristina Novotna, known as Tyna to most of her friends, is from Prague, the capital of the Czech Republic. She has found herself a part-time job at a training company in the Netherlands, which comes with a company car. She uses it to bring the trainees from the airport to the company. The company gave her permission to use the car outside working hours as well. The insurance and taxation are taken care of; Novotna only pays for the petrol she uses.
She is a big fan of driving life, she got her driver's license back when she was a Bachelor's student in her hometown. 'Having a car has definitely made my life much easier here. I can go anywhere I want to.' She is a safe driver with a lot of experience of driving long distances; she always drives home to Prague from Wageningen during the holidays. Sometimes she takes her Wageningen friends to Amsterdam at the weekend. They share the costs of petrol and parking. This is more efficient and cheaper than using public transport.
Novotna used to drive everywhere in her home country, but these days she only drives when it is necessary, because she is strongly influenced by the idea of sustainability promoted on campus. She only drives to university in the winter when she knows she will come home late. 'I live at the Haarweg, and I heard about a mugging that happened nearby. It is not really safe to bike around at night in winter when it is dark all the time.'
Novotna really enjoys her driving experience in the Netherlands. 'It is fun to drive around the highways in the Netherlands; there are cows next to the highways.'
There are cows next to the Dutch highways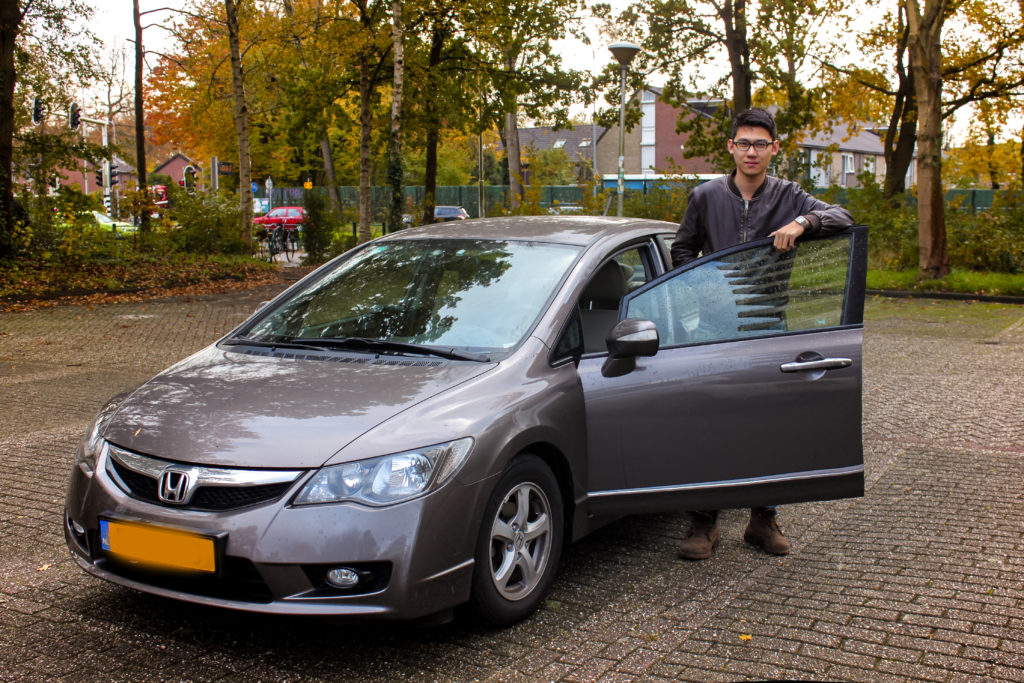 William Xing Fu
Masterstudent Biotechnology uit China, rijdt in een HondaWilliam Xing Fu is currently doing his second Master's in Wageningen. He passed a Dutch driving test when he was doing his first Master's degree here. He bought his first car right after he got his license. He needed it, because of the part-time job he found outside of town. 'Some companies require you to have a car. Owning a car is definitely an advantage for finding part-time or holiday jobs. The income you earn can help to balance out the expense of a car.'
Xing Fu has married a classmate who is now doing a PhD at WUR. Their parents provided them with the means to buy a new car earlier this year, when their son was born. Having a car makes family life enjoyable, says Xing Fu. 'It is much easier to go out and about by car. We often drive to The Hague or Amsterdam to have a family meal at the weekend.'
They used to join other Chinese students on the trips organized by CASSAW, the Chinese Student Union. These trips usually go to popular touristy destinations. Now that he has a car, Xing Fu can take his family and close friends to more unusual places. 'We went to a very nice cherry farm in July this year; the cherries were cheap and tasty. We could even pick the cherries from the trees ourselves. But, it was quite tucked away, and very hard to reach without a car.' He highly recommends students who can afford it to buy a car. 'Otherwise you will miss out on a lot of nice local places in the Netherlands.'
Without a car yuo miss out on a lot of nice places