Carus animal housing. Photo: Roelof KleisThe proposed road would run from Mansholtlaan along Kielekampsteeg and Plassteeg, then turn left along Dijkgraaf. On reaching Noordwest, it would veer off through the WUR trial fields, past the Carus animal housing, through Dassenbos and on to Mondriaanlaan, where a new entrance to the campus would be built.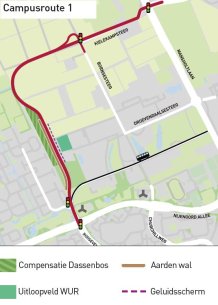 Illustration: Wageningen municipality
The new plan is largely in line with the old campus ring road concept. That had not been politically feasible until now. However, the municipal executive says the ring road is the only option that is both affordable and a solution for the traffic issues. In recent months, various ring road options have been compared with solutions based on widening Nijenoord Allee while leaving the Binnenveld as it is. But the municipal executive says these variants would not put an end to the congestion in Mansholtlaan and Nijenoord Allee, and they are too expensive. Wageningen has 20 million euros available, 14 million of which is from the provincial authority. The current proposal would cost 14 million euros.
'It's fine for the road to cross our grounds,' says spokesman Simon Vink on behalf of the executive board, although he notes that the road must not get too close to the Carus buildings. 'The fish can't cope with the vibrations.'
This decision by the municipal executive is not the final word. A majority of the municipal council have been bitterly opposed to the ring road so far. The council will be discussing the new proposal for the first time on Monday 15 May.