'Bolivia is the poorest country in South America, but it has a lot of scope for development, including in agriculture. I did research on farmers' experience of a sprinkler irrigation system. The government installed this system near Cochabamba and I studied how it works, whether the farmers are satisfied with it, and whether it is doing what it is supposed to do. It turned out the farmers were proud of their system.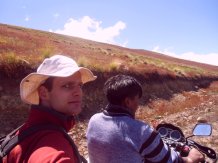 I did a lot of interviews and field trips, and spent a lot of time looking for literature I could only get hold of through contacts. I have never had a problem making phone calls but having to speak Spanish was an obstacle. Sometimes after a phone call I had no idea what we had agreed, and then I just went to the place I thought we'd agreed on at the time I'd understood, and hoped for the best.
It was also difficult to talk to farmers who didn't speak Spanish but a local dialect. I didn't have a professional interpreter but a farmer the same age as me. He tended to do lot of interpreting, for example by summing up a long story in two sentences. He didn't see why he should translate everything literally. Luckily the farmers gesticulated a lot, so I could infer a lot from that.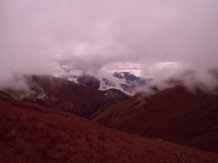 There is a very different work mentality in Bolivia. People don't stick to agreements and you have to chase them up a lot about appointments. Sometimes I had an appointment to go into the field at six o'clock in the morning and the other person didn't show up. So I had got out of bed for nothing. But okay, that way I gained some time.
What amazed me was people's strong faith in Mother Earth, even though Bolivians also just chuck their garbage away in the countryside and burn all sorts of environmentally unfriendly materials during rituals. I talked to a colleague about it and he said, "I always do that." Really thoughtless, and a pity.'