A group of eleven WUR employees of the Meteorology and Air Quality group participated in the Climate Classic on Monday.
The Climate Classic is a cycling course along an imaginary coastline of the Netherlands that is said to become a reality if climate change persists at its current rate. The route leads along the Ordnance Datum of Amsterdam (Normaal Amsterdams Peil NAP) from Breda to Groningen. This is where the Dutch coast would be located without human interventions such as dykes and pumps.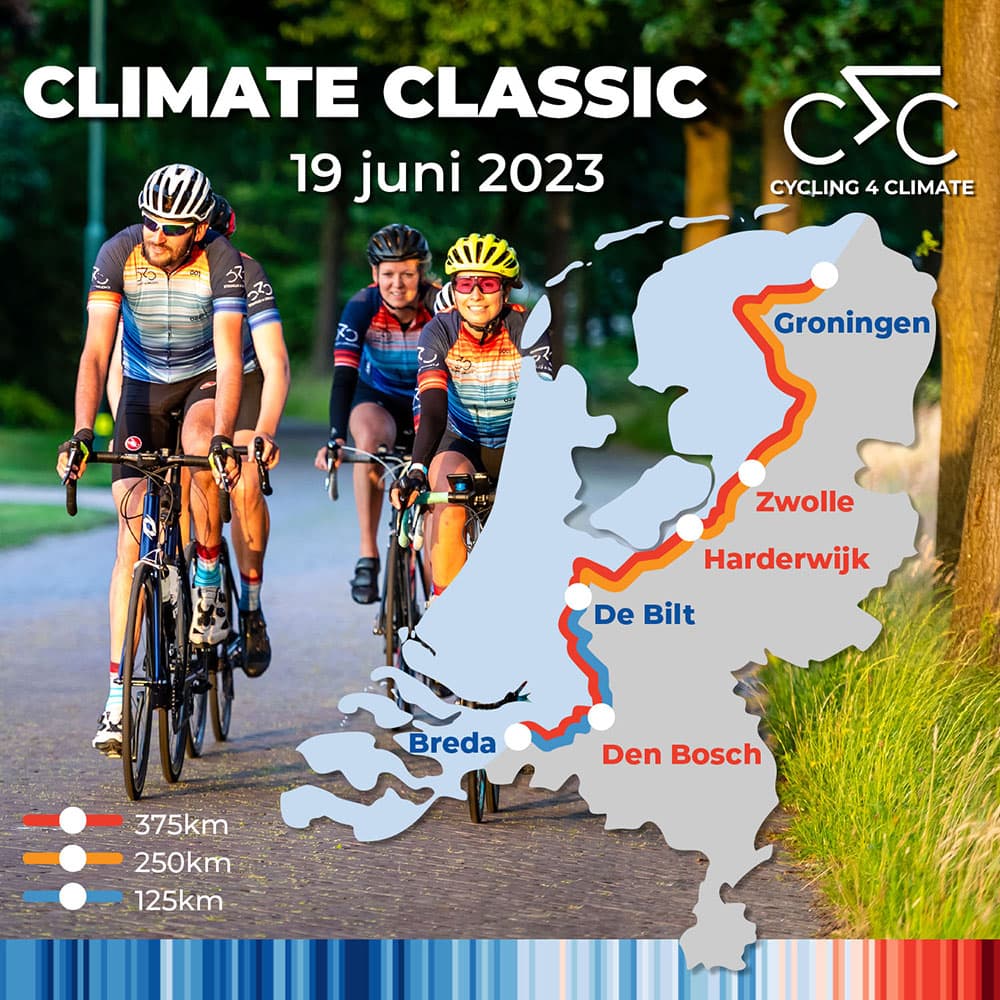 The Wageningen team cycled part of the 375-kilometre route. The cyclists covered 128 kilometres from the Brabant Delta Water Authority in Breda to the KNMI location in De Bilt. WUR researcher and participant Bert Heusinkveld: 'Doing this with colleagues was fantastic. The cloud cover made for nice cycling circumstances.'
Climate-neutral
Not nearly all WUR cyclists are experienced. 'One colleague had only recently acquired a racing bike and was slightly nervous at the start.' That tension was uncalled-for: 'It went so well that said colleague decided to cycle back to Wageningen afterwards. An extra 45 kilometres.'
At the end of the event, Heusinkveld had logged even more kilometres. In the spirit of staying climate neutral, he cycled 110 kilometres from Wageningen to the start. He spent the night camping with the gear he had brought on his bike. He covered well over 280 kilometres in two days.
zijn kampeerspullen meegenomen op de fiets. Hij legde in twee dagen dus ruim 280 kilometer af.
Submerged
'Globally, there are quite a few hotspots around river estuaries that are at ordnance datum level. The port of Rotterdam, for example.' Along the way, Heusinkveld considered what might happen should sea levels rise. 'Without dykes and pumps, all of Zeeland and the Westland would be submerged. That does get you thinking.'
And now for the full course next year? Heusinkveld laughs. 'Who knows? But in that case, I don't think I would cycle to the starting point.'
Also read: