WUR organises the Great Dutch Student Championships (GNSK) for the second time within a short timeframe. In the centennial year of 2018, Wageningen also hosted the event. The sports competition was to be hosted by Nijmegen this year, but they retracted. Henri ten Klooster answered the call.
Ten Klooster, together with the sports associations and Student Sports Netherlands (SSN), succeeded in bringing 1300 student-athletes to Wageningen this weekend to compete in 14 different disciplines. In addition to the traditional GSNK team sports such as basketball, handball and volleyball, the programme also includes gymnastics and, for the first time, e-sports.
Why did you volunteer to organise the GNSK?
'Last December, when I heard that the event would not take place in Nijmegen, I thought: we must not allow that to happen. Covid already caused the 2020 and 2021 editions to be cancelled, and last year the event was split between Delft and The Hague. Out of the nine people on the organising committee, only one had actually experienced a GNSK. If the event is cancelled again, no one will know what a GNSK is in the future. So, I asked the EB whether we would be permitted to organise it in our facility.'
Without a committee and with few resources?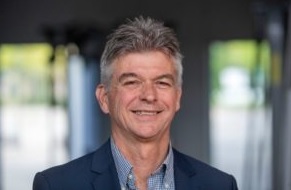 'Yes, there was not enough time to form a committee. We consulted with SSN and the decision was made to outsource the job. The student sports associations are responsible for the tournaments. We only have a small fraction of the funding we had in 2018, which was 40,000 euros. However, lacking funds makes you inventive. We developed smart solutions, and the losses will be shared with colleagues from the other universities. However, we will try to break even.'
Could you give an example of a smart solution?
'Last time, we rented a large tent for the powerlifting competition, which set us back 12,000 euros. In this edition, we can use our gym. The gym is being renovated and will be emptied of all equipment. Smart planning has resulted in the availability of the gym as of tomorrow, which means we can save expenses because we don't need to rent a tent.'
There are 14 different sports on the programme. However, no athletics?
'There are eight sports that are always part of the GSNK: badminton, basketball, volleyball, handball, football, fencing, squash and tennis. There is a separate NSK for some sports. We organised the NSK Combined Track and Field events here last weekend. Optional sports may be added to the eight fixed sports. In 2018, a triathlon was added. As this required many volunteers, we decided against it for this GNSK. But we added cycling. Gymnastics, table tennis, beach volleyball, powerlifting and e-sports.'
Is e-sports a sport?
'There is some debate on the issue. SCB defines sports as a physical activity, which means that chess, bridge and checkers are not included in our sports programme. Neither are e-sports. But there is no denying that e-sports are on the rise, particularly at the technical universities in Eindhoven and Delft. A completely new target group. Hence, we decided to add it to the programme.'
It may be the start of e-sports in Wageningen

Henri ten Klooster, director Sports Centre De Bongerd
Could this lead to a new direction?
'Perhaps it is the start of e-sports in Wageningen. A platform for a number of new sports in our range may emerge as a result. However, that would mean changing our definition of sports, and we are not there yet.'
How many students from Wageningen will participate?
'Between 180 and 200 students is my estimate. Quite a few, in view of the total of 1300 participants. The focus lies on team sports. Basketball, volleyball and beach volleyball, in particular, attract many competitors.'
A temperature of 28 degrees has been forecast for this weekend. Is that a problem?
'28 degrees is a bit much for football, which is to be played on the VV Bennekom field. We will have a heat protocol with extra drinking breaks. Cycling, which will take place on the track in Ede, is not an issue at these temperatures. All other sports take place indoors. The temperatures will start to rise significantly on Friday. It will take until Sunday for the indoor temperatures to follow. Which is great, as we will be done by then. And for the camping and the party at Ceres, the temperatures ate a blessing.'
Also read: