PhD candidates are the university's foot soldiers. WUR has 2428 of these toilers, according to November figures. Between them, they account for a big proportion of WUR's scientific output. But not all the PhD candidates are well paid for their work. In fact, hundreds of them earn less than the minimum wage in the Netherlands.
Most of the low earners are international scholarship PhDs, who do their PhD research on a grant. The majority of these scholarship PhDs are Chinese and are paid by the Chinese Scholarship Council (CSC). A scholarship from the CSC amounts to 1350 euros a month, which comes to 8.5 euros an hour based on a 40-hour working week. Not only is that below the minimum wage in the Netherlands, but with the soaring inflation of the past few years, it is also below the qualifying level for a residence permit used by the IND (the Dutch Immigration and Naturalization Service).
Work pressure
'Bizarre,' says lecturer Lennart Beun. 'I only found this out recently in conversation with some colleagues. This makes no sense. They do the same work as PhD students who are salaried and they get less than the Dutch minimum wage for it. The work pressure and stress are bad enough and then you have this financial stress on top of it. That is going to take its toll.' Beun raised the matter with the management of his Physical Chemistry & Soft Matter chair group. They acknowledged the problem, says Beun, but couldn't do anything about it. 'Helping out seems complicated, legally. That's partly to do with tenure track; they were honest about that. You can't always attract a PhD candidate any other way. But you need to do that research because you've got to publish, so you just go for a cheap CSC-funded researcher.'
They do the same work as PhD students who are salaried and get less than the minimum wage for it

Lecturer Lennart Beun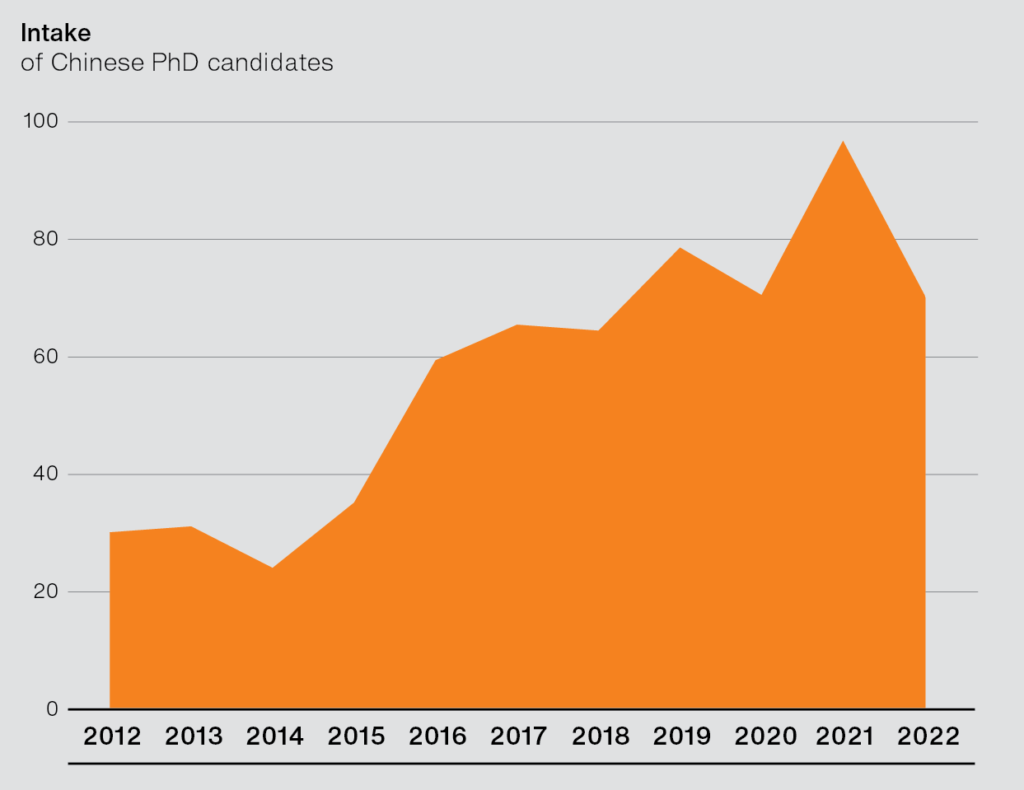 The number of Chinese PhD students starting at WUR each year has more than doubled over the past decade to 71 last year. There are a total of 401 Chinese PhD candidates at WUR (as of last November). That is 17 per cent of the overall total and a quarter of the international PhD candidates. Only the Dutch outnumber the Chinese at 35 per cent. This growth is partly due to a couple of large joint research programmes WUR has entered into with CAAS (China Academy of Agricultural Sciences) and CAU (China Agricultural University).
China is a vast country with big agricultural issues. From the scientific point of view, there are many insights to be gained that are of interest to WUR. But most of the increase in Chinese PhD students is in those on individual scholarships provided by the CSC. This Chinese government agency gives about 9000 scholarships every year to citizens wanting to do a PhD at a foreign university. As the best agricultural university in the world, Wageningen is of interest to the CSC, and its Food and Plant Sciences research in particular attracts many Chinese PhD students.
The pressure to perform and deliver is high and so is the incentive to recruit a PhD candidate

An insider, who wishes to remain anonymous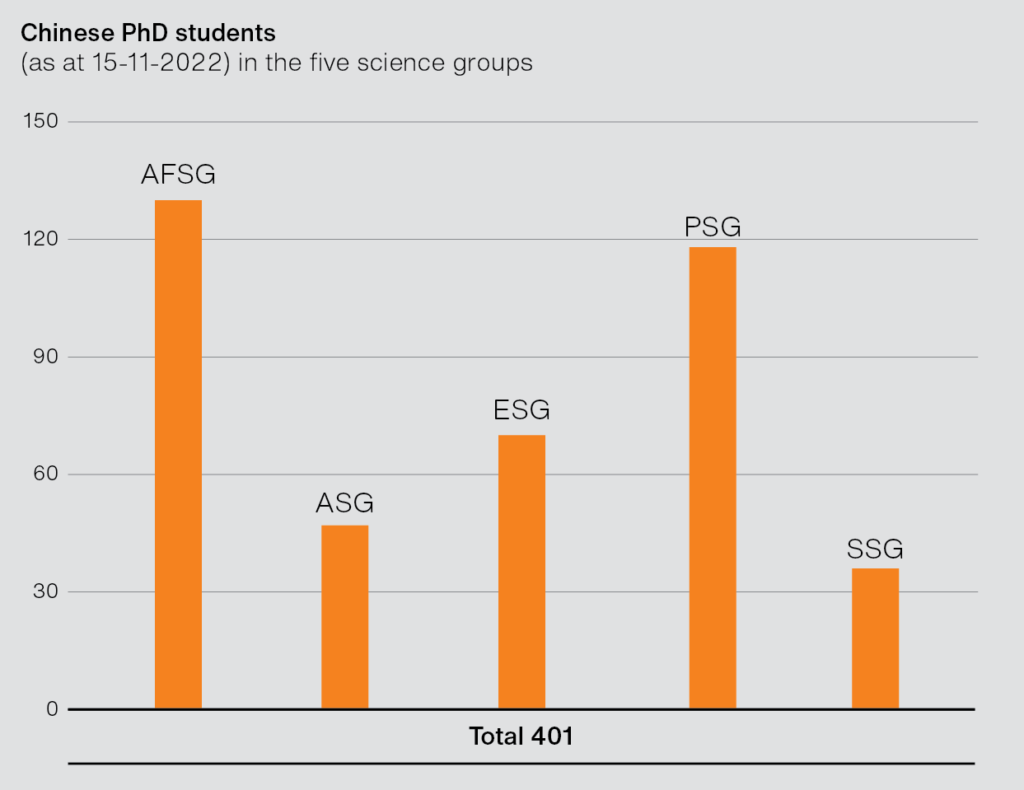 Another factor is that WUR receives about 80,000 euros from the Dutch state for each PhD completed. At Wageningen, most of that money goes directly to the PhD student's chair group. 'Wageningen has an output-driven model,' says an insider, who wishes to remain anonymous. 'The pressure to perform and deliver is high and so is the incentive to recruit a PhD candidate. A Chinese scholarship PhD is an easy way to do that. And that's how you get opportunism. The PhD business is a massive cash cow.' And that in spite of WUR accepting the fact that the CSC categorically refuses to pay the so-called bench fee in addition to the fellowship. A bench fee is a monthly sum (in this case 1000 euros) that PhDs not employed by WUR have to pay for their tuition. An estimated 80 per cent of Chinese PhDs do not pay a bench fee, which means that WUR misses out on hundreds of thousands in revenue every month.
Bench fee
This refusal to pay bench fees is a thorn in the side of the graduate schools, reveals an internal evaluation by the schools of their cooperation with China. 'China is a rich country,' says Johan Feenstra, secretary of WIMEK graduate school (Environmental Science) and one of the people behind the evaluation. 'Why should they get out of paying that money while others do pay – that's the objection.'
An estimated 80 per cent of Chinese PhDs do not pay a bench fee
This disparity is actually being addressed at the national level now. The assumption is that from next year, the CSC will pay an annual bench fee of 10,000 euros per PhD student. But it remains to be seen whether that will happen: China is notoriously difficult to get to pay up. But the payment of bench fees within the CAAS and CAU programmes has been agreed through tough negotiations.
Strong growth
Money matters aside, cooperation with China is problematic for other reasons too, the evaluation notes. Due to strong growth, the proportion of Chinese PhD candidates is becoming very large. Feenstra: 'Concerns have been raised about maintaining a balanced mix of nationalities and the total number of Chinese PhD candidates. Views differ on this, though. In most chair groups and PhD classes, there is a good mix, but not everywhere. A good balance is crucial for integration and collaboration, and provides the basis for a diverse and inclusive academic environment.' The evaluation therefore calls for the establishment of criteria on what constitutes a healthy mix.
China is the elephant in the room

Esther Roquas of the WASS (social science) graduate school
The evaluation also points out the presence of China's long arm, mentioning rumours, incidents and stories from the graduate schools about peer control and the role played by the Chinese embassy. 'Such control mechanisms may exist, but they're hard to identify and understand as long as PhD students are not free to share their experiences,' write Feenstra and his colleague Esther Roquas of the WASS (social science) graduate school. In recent months, there have been regular reports in the media about that control and the obligation Chinese PhD students have to report on each other and those they interact with.
'We in the graduate schools can tell when something isn't right,' Roquas says. 'But we don't want to talk about it. I think that's terrible. That's what motivated me to conduct this evaluation. China is the elephant in the room. I am wondering how long Wageningen is going to carry on hosting a very large group of students and PhD candidates who lack academic and social freedom. Who are scared and can't speak out. If there are incidents, we can't investigate them so we can't talk about them. Things go on in expat communities that we shouldn't ignore. Having said that, let me emphasize that we have very nice, intelligent Chinese PhD candidates. They are fine, and many of them do well and produce nice dissertations. But there are so many incidents that you mustn't ignore. Yet that is often what happens.'
Evaluation
The evaluation – based on interviews with all the graduate school directors as well as others – concludes that there can be no ducking out of an open discussion on the cooperation with China. Other relevant issues include WUR's (excessive) financial dependence on CSC, geopolitics and the political debate on China in the Netherlands. Internally, that discussion has already taken place, actually – as reflected in the revised China strategy adopted by the Executive Board in December. The Board sees no need to tinker with the existing academic cooperation. 'Our attitude towards China is not fundamentally different from that to other countries with value systems that are very different to ours.'
The control of PhD candidates and other students by the Chinese government is not seen as a big issue. It is considered important, however, to ensure that scientific data are accessible and freely available to all. But precisely that accessibility is sometimes particularly lacking in social science research, say the graduate schools. For certain topics, for example, it is hard to get hold of reliable and verifiable data, or some data are not accessible to supervisors.
A good balance is crucial and provides the basis for a diverse and inclusive academic environment

Johan Feenstra, secretary of WIMEK graduate school (Environmental Science)
But for the Chinese fellowship PhDs, there is now a glimmer of hope that their financial situation may improve. WUR is looking into whether financial support for them is possible and affordable. That is not enough for Lennart Beun. He has decided to resign anyway. 'I have always enjoyed working here. There is mutual respect other and open and honest communication. My work has always been appreciated. But my chair group has CSC PhD students too, so it is part of the system. And I am very disappointed by that. Cheap scholarship PhDs are a business model. The idea behind the PhD bonus is to help make the Netherlands a knowledge economy. Universities are misusing the PhD bonus to train Chinese scientists. In this way, Dutch taxpayers are helping to fund the education of Chinese people. Strictly speaking, it's legal but I consider it an abuse of the system.'
Back Burner
According to its revised China strategy, Wageningen Research has put cooperation with China on the back burner. The updated document states that a lot of knowledge has been shared with China over recent years, but the promised collaborations did not get off the ground. 'We had higher expectations,' says Director of Strategy and Accounts Ron Mazier. 'That is partly related to the complexity of doing business with China. The effort you have to put into drawing up contracts and obtaining the money involved in that is not proportional to the return you get.'
In practical terms, this means that Wageningen Research has scaled down its efforts in China. Mazier: 'We are not going to invest any more time in it proactively. You can sometimes get the same return elsewhere in Asia for half the investment of time required by a project in China.' For WUR's in-country China office, the cutbacks will mean a halving of the staff.
---
Also read: