Late February, a cyclist was hit by a bus on campus near Orion. That raises the question of how safe the campus is for cyclists.
There is nothing more irritating than useless posts, says Leo van den Berg, an active member of Wageningen Cyclists' Union and a former researcher at Alterra. 'There are so many accidents due to cyclists hitting posts, they just don't make the news.' He points to a post close to the crossing point between Atlas and Gaia/Lumen, on the bike path on Droevendaalsesteeg. 'You could easily cycle into it if you aren't on the lookout. That post is completely pointless. Just get rid of it.'
Van den Berg has joined Resource on a cycling tour of campus to take a critical look at the traffic safety situation. He has plenty of comments about the layout of the WUR grounds. About the aforementioned crossing, for example. 'There are dragon's teeth stopping the cyclists and a zebra crossing for pedestrians. So cars have priority over cyclists but not over pedestrians. That's crazy. You should really say cyclists and pedestrians have priority over cars everywhere on campus. But now they do in some places but not in others.' Further along Droevendaalsesteeg, opposite Helix, he says, 'Look, this bike path is a "main route" from Mansholtlaan to here, meaning that the cyclist always has priority. But that changes suddenly at Helix, without any clear signposting of the change. That's confusing.'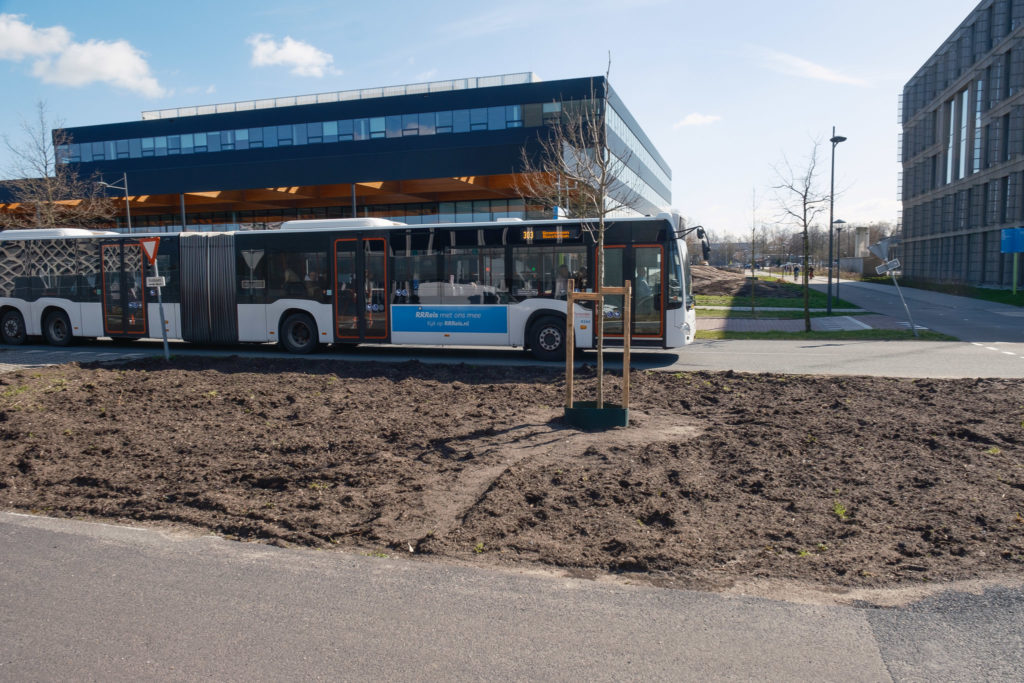 Warning lights
Van den Berg sets off towards Bronland and the intersection behind Orion where buses, cars, cyclists and pedestrians converge. On 28 February, a 22-year-old woman was hit by a bus here. She survived but suffered injuries, according to De Gelderlander newspaper.
'In principle it's a clear situation,' says Van den Berg. 'You can see the bus coming. But buses are getting quieter, so if you're having a conversation or not paying attention, you can still be caught out.'
Van den Berg sees two options for improving road safety at this intersection. 'You can restrict bus speeds. At the moment, buses are allowed to go at up to 50 kilometres an hour. You get the impression they tear along sometimes, and they're up to full speed when they reach the crossing.' He doesn't expect the provincial authority, which is responsible for the bus lane, to do that though. 'They would get into an argument with the bus company.' The second option is to have warning lights that flash when a bus is coming. 'Preferably with an acoustic signal that is loud enough to give a warning but not so loud that it disturbs people in Orion. And do that for every crossing on the bus lane.'
Crossing attendant
We get back on our bikes and cycle west on the path along Bronland. When we reach Campus Plaza — which does have warning lights for the bus — we turn right down Bornsesteeg and take an immediate left past Impulse, cycling parallel to the Akkermaalse wood towards Aurora. 'That has a very dangerous crossing,' says Van den Berg. 'They even employ a student to stop cyclists if a bus is approaching.'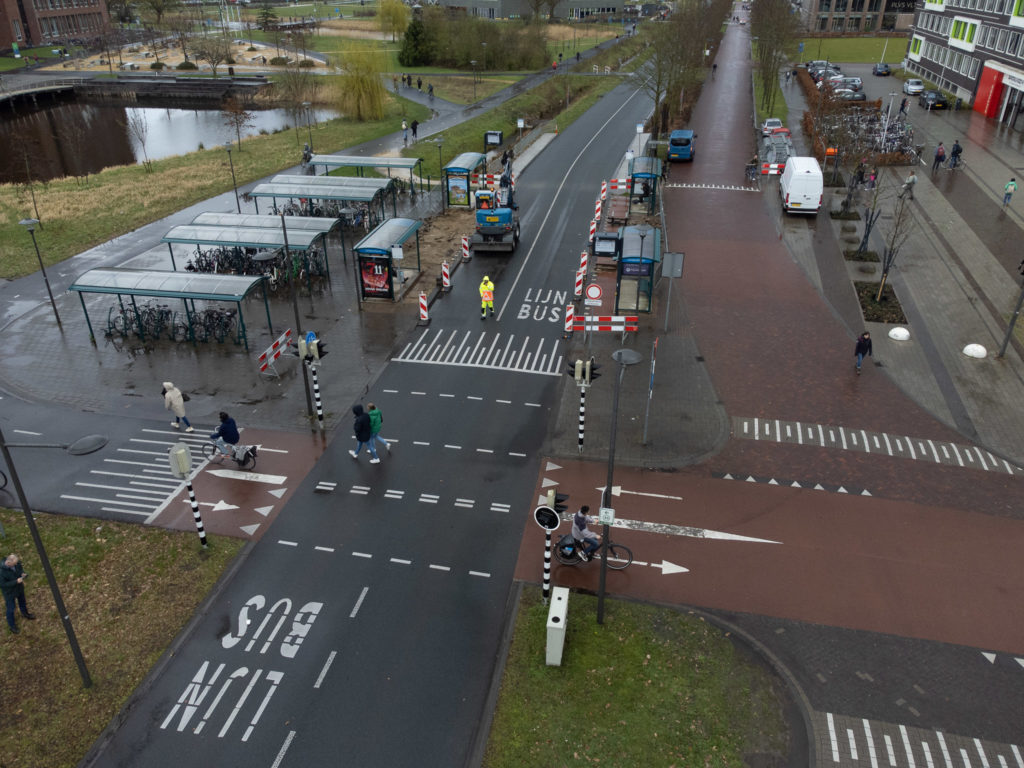 Bit of a pathetic job, but it's important

Jasper de Graaf
When we get to the crossing, we find student Jasper de Graaf at work as the traffic warden. 'Bit of a pathetic job really, but it's important,' says De Graaf. 'There have already been a couple of near-accidents. The bicycle path slopes downwards and you don't always have a good view as a cyclist. The buses tend to speed up here and the cyclists often brake too late. I once had to grab a cyclist's handlebars to stop them just in time. Fortunately, most of the people who cycle along here are used to the situation now, but we'll have to be extra alert again in period 1 after the summer.'
The Cyclists' Union is cynical about the Aurora crossing, says Van den Berg. 'There used to be a perfectly good crossing opposite the main entrance to Aurora, 50 metres back. It was much safer than the current crossing, but it was closed.' WUR wants to extend the bicycle path past Aurora to the north of the bus lane as far as Mondriaanlaan, but is facing opposition from the nature and landscape society Mooi Wageningen because it felled 14 trees in Dassenbos wood that were on the proposed bike route. The province of Gelderland has ruled that the trees have to be replaced, but it is not clear whether that has to be in the same spot. Van den Berg: 'WUR has deliberately created an unsafe situation here to exert pressure on the politicians. They hope that will speed up the bike path process.* (At the end of the article, Facilities & Services respond to Van den Berg's statement, red.) Anyway, there was no need to fell trees illegally for that bike path. You could have created a "bicycle boulevard" that cars are allowed on too, but only at slow speeds.'
Nijenoord
A little later, Van den Berg exits the campus and cycles towards Nijenoord Allee at Hoevestein. This is the crossing near the campus where an 18-year-old student suffered a fatal collision in January. 'They used to have barriers cyclists had to get round first. They were removed to improve traffic flows. We – the Cyclists' Union – helped do that to make this crossing more attractive to cyclists. But the downside is that the situation has become a lot more dangerous because you are no longer forced to slow down.'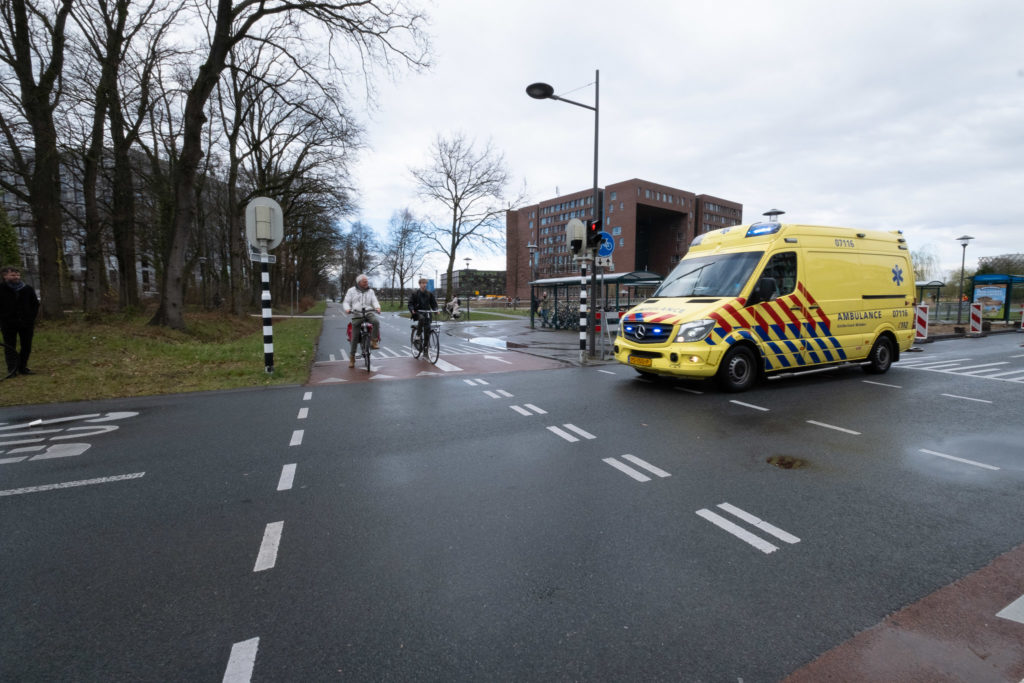 Something needs to be done to make the situation safer, says Van den Berg. In Gelderland province's More Accessible Wageningen plan (aimed at smoother traffic flows in Nijenoord Allee and Mansholtlaan, ed.), the crossing where the fatal accident occurred will get traffic lights. 'Implementation of that project is scheduled to start in 2024,' says Van den Berg. 'The Cyclists' Union thinks they should order those traffic lights and set them up now. You can always move them when you start on the project in two years' time, but at least it will be safer now.'
Finally, we visit the campus entrance from the roundabout on Mansholtlaan. 'In theory that is incredibly safe,' says Van den Berg. 'Everyone is forced to go slowly. The cyclist has to look the car driver in the eye, show they're waiting and hope the driver says "OK, you can cross". It's safe and you communicate with other road users. I think the roundabout should stay.' However, in the More Accessible Wageningen plan, the roundabout is replaced by traffic lights because Mansholtlaan is set to be widened. WUR and the municipality are also considering eventually building an underpass for bikes and pedestrians.
Final report
Time for the final report. What mark does the campus get for traffic safety? '7 out of 10,' says Van den Berg. He sums up the main points for improvement one last time. 'Install warning lights with sounds at every crossing of the bus lane. Change roads for cars into "bicycle boulevards" that cars share with bikes, which also means you need less asphalt. Force cars to drive slowly. Make things clearer by giving cyclists and pedestrians priority over cars at all times.'
And finally: 'As few posts as possible'.
WUR: 'Campus is safe for traffic in principle'
Lex Roders of Facilities & Services is responsible for the infrastructure on campus. 'The campus is an unusual environment: most of the land is owned by WUR, but it is open to the public. That means you have not only the 13,000 students and 7,000 staff but other people too using the roads, paths and cycle tracks, and public transport on campus. We monitor the infrastructure and work continually to make it safer.'
The tricky spots are where several traffic flows converge, says Roders. One of those places is the crossing at Aurora, where cyclists don't have a good view of the bus lane. Crossing attendants have been appointed for now for safety reasons. 'Eventually we want to create a cycle path north of the bus lane. Once that is in place, the situation will be safer. Cyclists will also then be on the correct side of the bus lane.'
In principle the campus is safe for traffic, says Roders. 'But unfortunately you can still have accidents even in a place with good traffic safety. Luckily it doesn't happen often. If people feel a situation is unsafe and report it, or if an accident happens like recently, we review the traffic situation and investigate whether changes are needed and if so, what.'
The accident on the bus lane near Orion came as a surprise, says Roders. 'As it happens, that crossing was changed last year. We put in separate crossings for cyclists and pedestrians, and we added dragon's teeth and a zebra crossing to make it clearer who has priority. According to the article in De Gelderlander newspaper, the cyclist was hit by the bus on the bus lane. Buses always have priority on campus; that is shown clearly by signs and dragon's teeth. At that crossing, you also have a good view of the bus lane. It nearly always goes fine. Thousands of cyclists pass every day and this is the first time I've heard of an accident there.'
* In response to Van den Berg's comment, Facilities & Services says WUR is not pleased with the bike path situation either. Spokesperson Inge Buitink: 'It's really important for the campus to be safe. WUR does everything it can within the current possibilities to ensure safety at this crossing, for example by employing crossing attendants during peak hours. Suggestions on how to improve campus safety further still are always welcome.'
Also read: