Scientific name: Rosa canina
Local name: English: Dog rose
Location on campus: near the roundabout on Droevendaalsesteeg
Flowering time: June to July
Fruiting time: late summer to late autumn
There are 17 rose species native to the Netherlands. One of these is the Rosa canina, which is present on WUR campus. This species is commonly known as the dog rose. There are several explanations for this name. Some see it as a derogatory term because this rose is so common and (slightly) less spectacular than other rose species such as the sweetbriar rose (Rosa rubiginosa or egelantier in Dutch). Other meanings, however, are quite ancient and come from the Roman times where it was believed that the root of this rose could heal bites from a mad dog. Roses are typically associated with love and romance, so it comes as no surprise that the rose was believed to be a source of love, luck and protection in Ireland.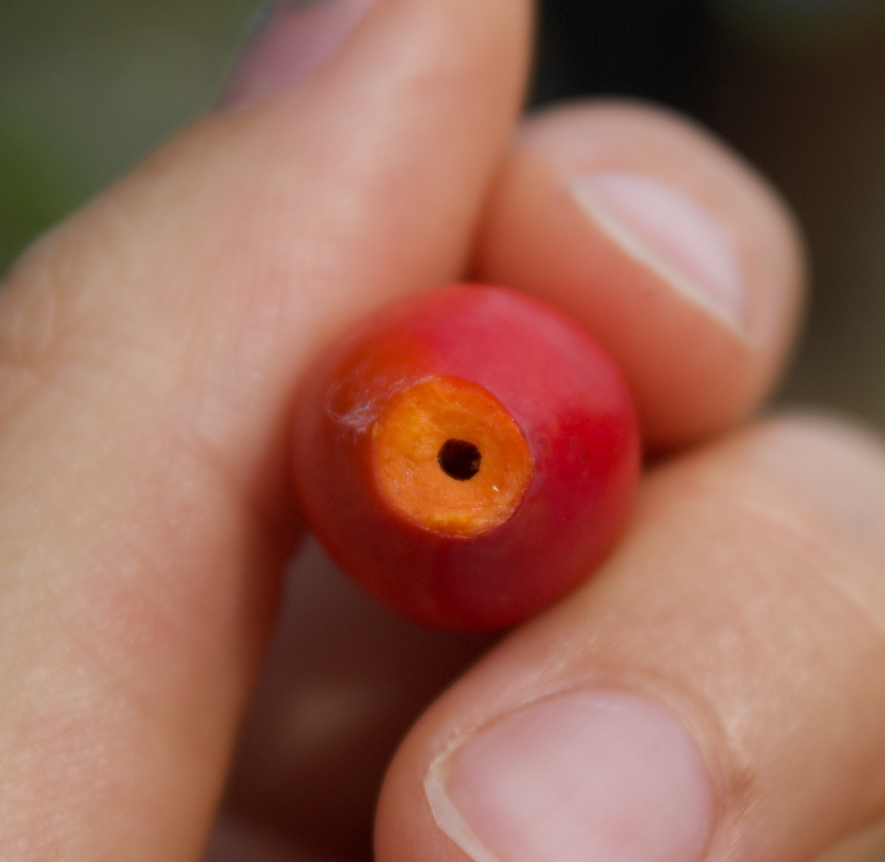 One of the key ways to identify a rose species is by looking at the size of the hollow once the female remnants at the fruit are removed (in this case the blackish-brown tip on the fruit).
Tea
Pictured here is the fruit formed from the pinkish flowers. This fruit is called 'rose hip', rozenbottel in Dutch, and is made into oil, syrup and tea to treat a range of ailments from stomach problems to arthritis. Although production of garden roses in the Netherlands has somewhat declined, the country still plays a major role in providing one of the largest points of entry for roses imported to Europe from all around the world.
Text and photo Julia van der Westhuyzen | story Joop Schaminée
Also read: