Schiphol was the scene of a 'Reduce Aviation' demonstration and a protest organised by Greenpeace and Extinction Rebellion on Saturday. During the latter, parked private jets were blocked. There were dozens of protesters from Wageningen, as became clear ahead of the event. Resource interviewed two of the students who protested: demonstrator Djordi Soet and a member of the protest 'Priscilla' (fictitious name).
Some one thousand people joined the demonstration. They gathered outside the entrance to the airport and started a protest march after listening to several speeches. Chanting slogans such as 'reduce aviation' and 'time for solidarity', the procession made its way to Schiphol's lower floor. The demonstration culminated in a spontaneous sit-in at Schiphol Plaza. One of the demonstrators was Djordi Soet, a bachelor student of International Development studies.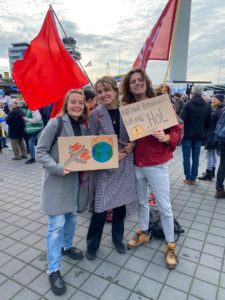 'I think all this air travel is nonsense; it is against the climate goals', he explains. 'Every day, planes take off for destinations in Europe, which can also be reached by train. Flying is subsidised, for example, by waiving sales tax on air tickets and on kerosene. The demonstration is also a protest against the construction of a new terminal at Schiphol. We must move towards far fewer flights, and that is at odds with these construction plans. That is why my sign reads: New terminal? Lick my Schiphol (hol in Dutch means ass, ed.).
Next to an 81-year-old
Although Soet limited himself to the demonstration, he applauds the Extinction Rebellion's disruptive action. 'Both these protests are needed. Our demonstration was focused on broad societal support. The atmosphere was excellent, and the fact that you all support the same goal is easily felt. All ages were represented. During the sit-in, I sat next to someone aged 81. I could offer them some support by letting them lean against me. We chanted each other's slogans. It was a nice moment of togetherness. And a little surrealistic: such a special atmosphere while you smell the kerosene and hear the roar of the aircraft. The reactions were almost entirely positive. Bus drivers, for example, honked at us with enthusiasm.'
Human barricade
Master's student Priscilla (fictitious name; her true identity is known to the editors) joined the Extinction Rebellion and Greenpeace protest. She blocked a private jet for two hours on Saturday until the Military Constabularies dragged her away. Priscilla: 'I was looking forward to the protest, although I felt some tension. With the exception of a few coordinators, no one knew what the protest would entail. We were in the process of forming a human barricade when I heard the sound of a saw cutting a hole in the fence so that we could access the location where the private jets were parked. Meanwhile, the constabularies began arresting people, so we had to run!'
She continues: 'With my group, I blocked a plane for over two hours. The protest against private jets was a fantastic choice. It is a terribly polluting elitist hobby with even higher CO2 emissions per person than commercial flights.' What about the risk of getting arrested? 'I was willing to take that chance. We are heading for a climate catastrophe, which worries me more than getting arrested.'
False name
The authorities did not restrain themselves when it came to arresting protesters; some two hundred protesters were arrested on Saturday, half of the protesters present. Among them was 'Priscilla'. 'We were removed by the constabularies one by one. Two constabularies lifted me up and dragged me to a bus, where I was formally placed under arrest. I refused to reveal my identity and gave them a false name. I had no documents or phone with me. This way, many protesters managed to remain anonymous. The constabulary did not seem to know what to do with so many people, as it was very difficult to get everyone's identity, and there were six busses full of detainees!'
Priscilla and her fellow detainees remained in the dark about what would happen for a long time. After hours of waiting, they were released. 'I was not fined, and no information was recorded. The fact that there were so many detainees is what makes the protest effective. We managed to generate plenty of attention for our position, and I feel the protest was as successful as it could be.'
Also read: