After two years of the pandemic, during which we had to celebrate Liberation Day with two friends and a sixpack, we can finally rock out in Wageningen this year. What the Liberation Festival will have to offer is not yet known, but the first names of performers have been announced (including Son Mieux, Dool, Rondé and Wageningen's very own Wagastorm). Prefer electronic music? Behind the Heerenstraat Theatre, the student DJ collective MiniCulture will provide a solid twelve hours of beats ranging from 'disco to trance'.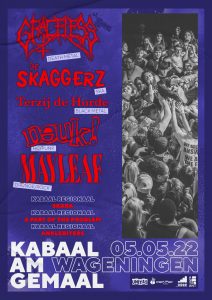 The festival will differ slightly from what we were accustomed to. Some changes have been made to locations and styles. The organisation of the Salverdaplein will be handled by café Daniëls, and they have not yet revealed their plans. The blues stage on the Beuningplein seems to have disappeared, and we have not yet heard anything about the major attraction, DanceSquare. Kabaal am Gemaal will return to DanceSquare's former location and will be organised by youth association Unitas and pop podium Astrant, among others.
Liederlijk Square is one of the newcomers. Liederlijk means debauched. This stage will be located in the parking lot behind the Lidl and has been adopted by Café Jojo's. We interviewed organiser and WUR-alumnus bio-informatics Melanie van den Bosch about this new party.
First of all, why "Liederlijk"?
'Well, because it is near the Lidl, of course. One of the boys at Jojo's is good with languages and came up with the name. Those who are debauched like to cross lines, act crazy, and do things considered unacceptable. That matched our plans.'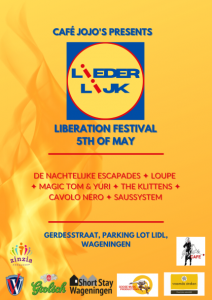 What can we expect?
'There will be various bands, quite a diverse line-up, from rock to reggae. The hosts of the stage are Magic Tom en Yuri, who will entertain the crowd with sketches and satirical magic tricks. And we conclude with a DJ team: Saus System.'
Okay, sounds interesting. Where does the Lidl fit in?
'We adopted Lidl's house style in our logo. We are still thinking of ideas to use the Lidl house brand Delicieux. Too bad they are not sponsoring us, by the way. Perhaps next year.'
Finally: how did you move from bio-informatics to organising festivals?
'Well, organising festivals is not my job. I work as a software developer. But I organise many concerts in my spare time, for example, the "Popronde" and musical evenings in Café Jojo's. That's why they asked me to contribute to the organisation.'
Also read: