When you bite the dust, you are defeated. So, don't. But, taking a bite of soil can also be tasty or useful. To prove this, a soil-tasting took place in the Isric Soil Museum on the campus today. Just after lunch, ironically. The soils were made available by the Museum of Edible Earth.
No, this is not a new branch of the World Soil Museum. But museum director Stephan Mantel is quite delighted to have Russian artist masharu's exhibition on display for a month. Over 400 samples of edible earth from 35 countries all over the world.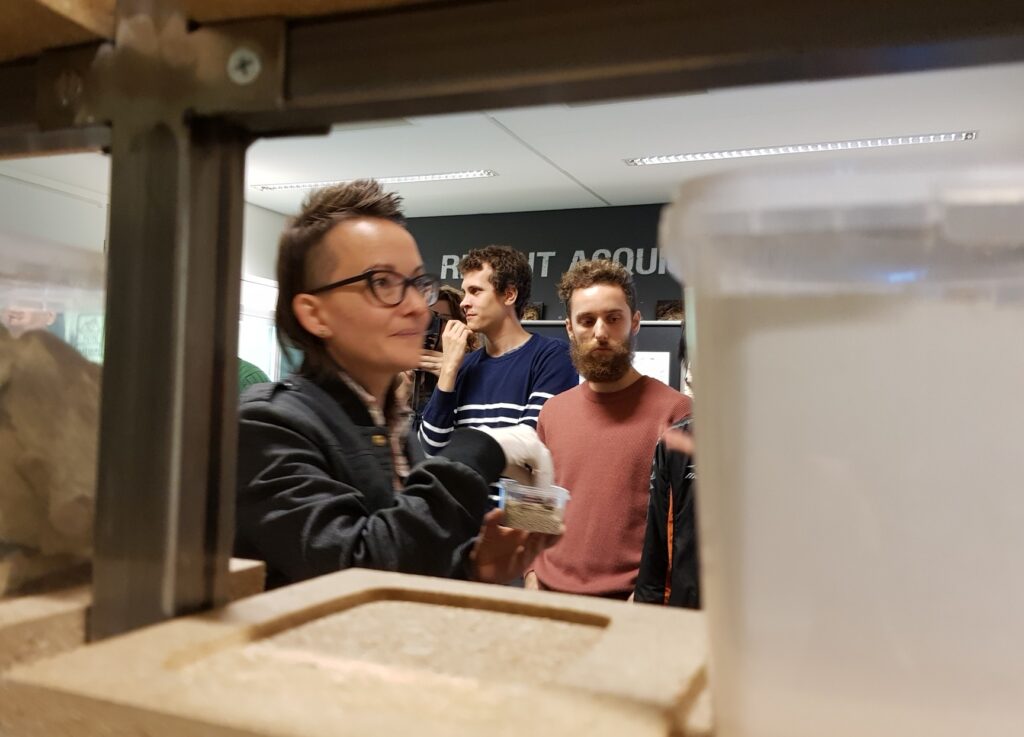 Soil is the foundation of the food chain. But, soil itself can also be consumed. This is called geophagia and occurs in many ancient cultures. Being a child in hometown Moscow masharustarted this habit and continued doing so during a mathematics PhD in the Netherlands. Starting out with chalk, one thing led to another. And so, a museum was born in 2017, which is on tour now.
Liable
The hundreds of plastic containers with soil samples are neatly displayed at the World Soil Museum. But that is irrelevant today. Today is about tasting. First, a document acknowledging that WUR is not liable for any damages must be signed. 'Well, that's the requirement', Mantel apologises.
Your reporter starts out with a small green tablet that could easily be mistaken for a sweet. It is pure Russian Cambrian clay—an appetiser. The tablet melts on the tongue. It has a faintly familiar flavour and is not at all unsavoury. A majority of the collection consists of clay; some three-quarters of the samples are clay soils.
The collection will remain in Wageningen until mid-December and is part of the Earth as a Superfood exhibition in Impulse, showing photographs related to geophagia. A symposium on this subject is to take place in Impulse on 16 December.
Also read: