Previously, over the past few weeks, the group of forty students learnt other survival skills such as tracking and identifying edible plants. This is all part of the pilot for the course Anthropology of Basic Nature Skills. Academic scouting, so to speak.
This idea about the course was swiftly debunked by initiator, and lecturer Forest and Nature Conservation Policy, Koen Arts. What we are witnessing here are the basic skills students acquire. But this is coupled with profound theoretical knowledge on how different peoples consider nature from a completely different perspective than we do.
In this course, we aim to help students change their perspective on nature

Koen Arts, lecturer Forest and Nature Conservation Policy
'We aim to make students aware of the existence of these other worlds,' Arts explains. An example: 'The students have read an article on how bushmen in Namibia practice interpretive tracking. They immerse themselves in the animal they track to find it when it's lost. This is something I have my students do. Become the animal you are searching for.'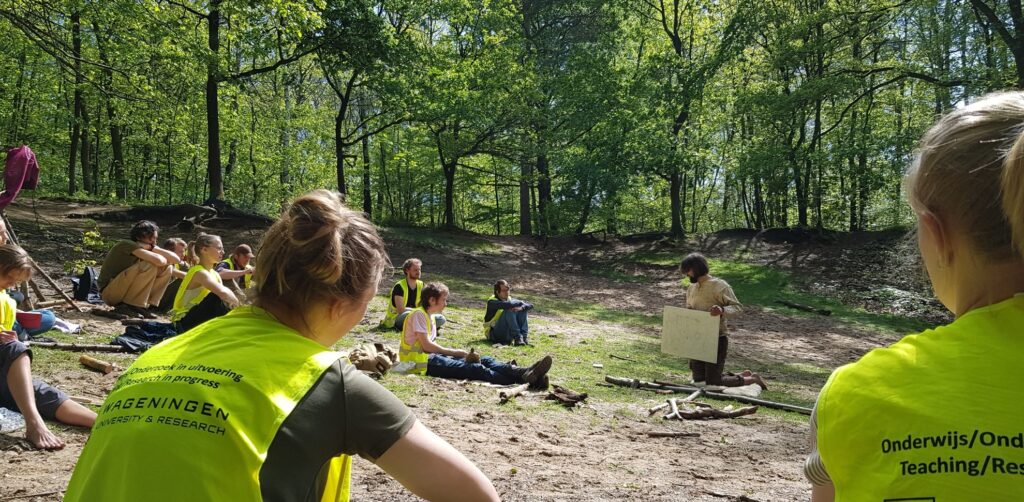 The students are in luck today. The past weeks were cold and wet in the Leemkuil, a clearing in the woods near Wageningen Hoog. This Friday morning, the sun is out. They carve the necessary tools from the wood of Douglas firs. However, using them to spark a fire is no mean feat. Nonetheless, smoke plumes arise here and there.
'This course is designed to help students develop a different perspective on nature', Arts continues. 'Nature is more than a resource or a museum in which biodiversity is conserved. That is part of the study of traditional ecological knowledge. This traditional approach to nature includes aspects we would do well to adopt.'
Senses
Theoretical insight is key, says Arts. However, he is convinced that studying outdoors improves the learning itself. 'Here, you learn and experience with all of your senses and body, Students absorb the subject matter much better and more intensively than in a lecture hall.' The latter is being studied by Reineke Tol, one of Arts' colleagues.
'I hope that using their hands and heart, the students will change their perspective on their relationship with nature', Arts says. Arts made a name for himself by exploring this relationship by sleeping outdoors for a full year. He wrote an exciting book about it. He would have liked to include outdoor sleeping in his course, but this was in times of corona a bridge too far..
Also read: