These are difficult times but the Covid pandemic is also bringing people together. As in these three student houses. 'With the coronavirus, your house becomes the main place for your social activities.'
'You have breakfast, drink tea and watch TV together'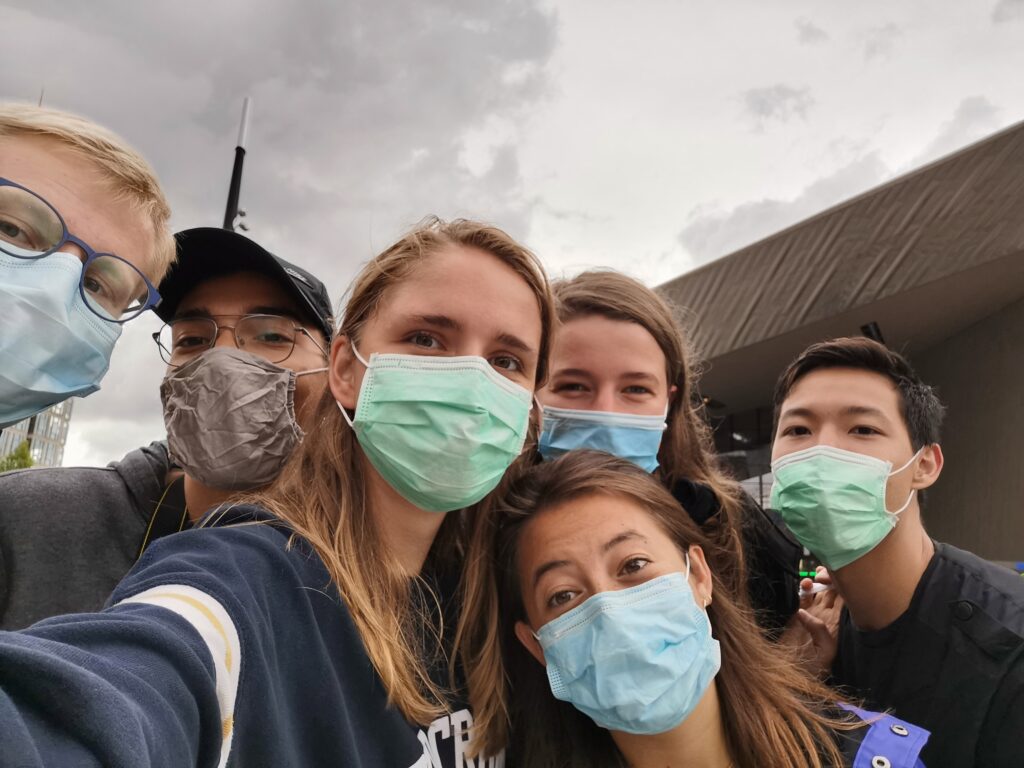 Animal Sciences Master's student Monica van Leeuwen (23) and Environmental Sciences Bachelor's student Konrad Peckolt Fordal (23) both live in Huize 12 Hoog in the centre of Wageningen.
Van Leeuwen: 'There's six of us: three guys and three girls. It was quite a bustling place before Covid. Everyone is in a student society or study association in addition to their degree studies. It meant we sometimes led quite separate lives. But with the coronavirus, your house becomes the main place for your social activities. That's a big difference.'
Peckolt Fordal: 'We've been spending a lot more time together since the coronavirus. We eat together more often. We'd do that occasionally before but not often as a whole group. We also talk to one another much more. So you really get to know one another.'
Van Leeuwen: 'I actually like that aspect of the coronavirus crisis: we've become a kind of family. We also have all sorts of activities we'd never have done without the pandemic, such as a Tour de Chambre: everyone decorated their room with a certain theme and thought up an appropriate activity. One housemate even put on a pool party in his bedroom!'
Van Leeuwen: 'We also organized a treasure hunt through Wageningen and in the summer we went on "home holiday". We were planning to visit Konrad's family in Norway but of course we couldn't because of Covid. So we changed the plan and visited all the parents of housemates who live in the Netherlands instead.'
Peckolt Fordal: 'But it's also the little things. Breakfast together, lunch together, cups of tea together. Watching Lubach on TV. Doing things like that together makes you closer as a group.'
'It feels like we've become a family'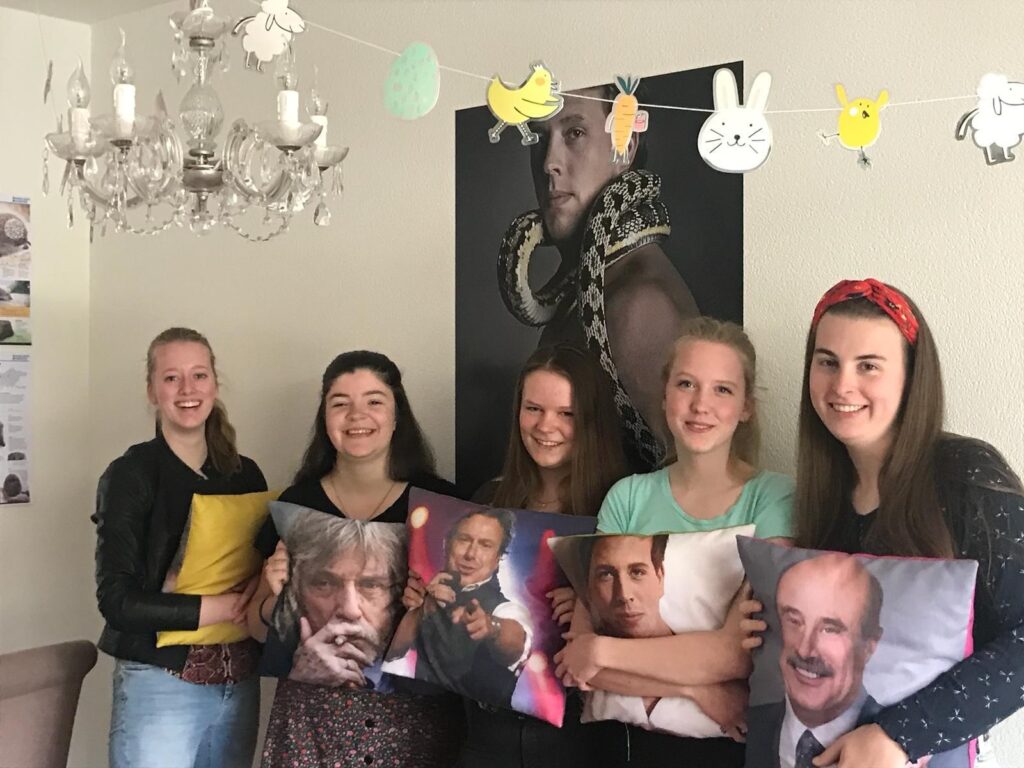 Annebelle Jonker (22) is an Aquaculture and Marine Research Management Master's student and lives in the Big Five student house.
'For the past two and a half years, I've been living in a close-knit house in Tarthorst with four other girls and a cat called Eevee. Before Covid, everyone led busy lives: going to uni every day and with something on every evening. Often a few of us would eat together or go out on the town, but rarely the whole group. In other words, it was sociable but we had our own active lives.
'We've all been at home much more since the pandemic. We eat breakfast, lunch and dinner together, we watch TV together all evening and we hang out together. At one point we started buying books of Japanese puzzles and doing them together. We watch Formula 1 and Ajax matches together. Often in the evening, someone will ask "Who fancies a beer?" and before you know it it's four in the morning and we've spent the whole evening chatting. We were already friends before we moved in together. But if you spend a lot of evenings together like that and have really deep conversations, it brings you closer.
'After the gym closed the first time, we started fanatically exercising in the living room. We put on an exercise class on YouTube and join in. At Christmas, we had a Christmas dinner: we decorated the living room, everyone wore something special and made one dish. Afterwards, we played games.
'Before Covid, we would often study together in the library. Now everyone studies in their own rooms, but we often drop in on one another to relax a bit. It really feels like we've become a family.'
'Music brought us closer together'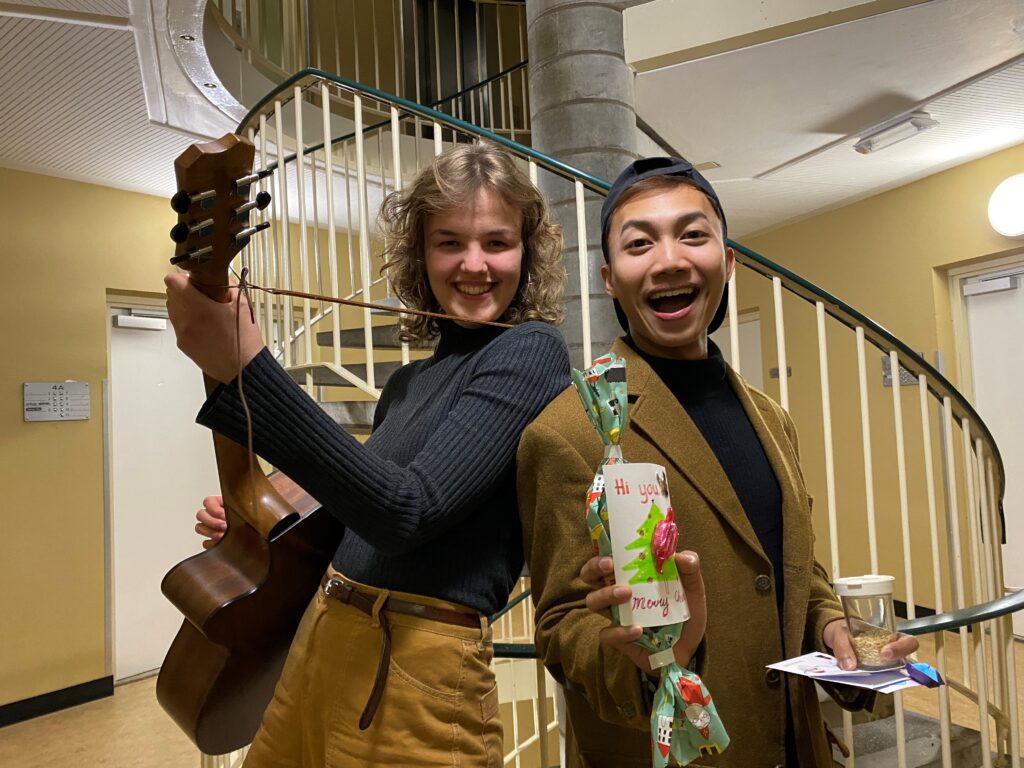 Stefanus Mega Prabawa (26), Food Technology Master's student, has a corridor of fellow students in Bornsesteeg rather than housemates.
'There are nine of us living on a multicultural corridor in Bornsesteeg. We have Dutch, Chinese, Vietnamese, Italian and Indonesian students. We eat together more often since the pandemic started. At one point we came up with the idea of organizing a karaoke night after dinner. Hannah, one of my Dutch friends, brought her guitar. She was nervous but I could see she had talent, could play the guitar well and could sing. I also enjoy singing and it all clicked very nicely.
'After many evenings rehearsing, we performed for the first time during one of our corridor dinners. We played the song "Best Part" by H.E.R. for the people on our corridor. It was an emotional moment, also because it was the final evening for Flavio on our corridor. He was returning to Italy the next day as he had finished his studies at WUR. The music brought us closer together.
'Since the farewell performance for Flavio, Hannah and I have continued rehearsing. Sometimes we knock on friends' doors in the flat and give a mini concert. Of course we're not perfect but it's a nice distraction and a little surprise for friends who miss live music.'
You may also like: