'This traditional Norwegian dish comes in endless varieties and with different names across Norway. This version is served in my family. The kløbb (potato dumplings) are similar to the German Knödel. The duppe is a béchamel sauce with Norwegian brown cheese in it. The brown cheese is sweet and also delicious on bread. It can be found in some Dutch cheese shops, some Jumbo supermarkets and the Norwegian Seamen's Church in Rotterdam.'
Konrad Peckolt Fordal, Bachelor's student doing Environmental Sciences
Ingredients for approximately four portions:
Kløbb
• 10 large potatoes
• Approx. 200 ml of barley flour, coarsely ground (available at the windmill in Wageningen)
• Approx. 200 ml of wheat flour
• 1 tablespoon of salt
• 2 stock cubes

Duppe
• 3 tablespoons of butter
• 4-5 tablespoons of wheat flour
• 750 ml of milk
• 1 teaspoon of salt
• ½ teaspoon of pepper
• Some slices of brown cheese
• Optional: bacon for on the side, preferably thick slices
Preparation
Rinse, peel and grate the potatoes. Remove the water if there is some left in the bowl with the grated potatoes.
Bring a pan of water with the stock cubes to a simmer.
Add some of the flour (equal amounts of wheat and barley) to the grated potatoes. Mix and check that the dough isn't too dry or too wet. Add more flour if necessary. Make a test kløbb by wetting your hand and forming a ball with some of the dough. If it is not possible to make a nice round ball, you need to add more flour.
Add salt.
When the dough is finished, you test-simmer one kløbb. If the kløbb still looks like a ball after 10-15 minutes, the dough is good to go.
Form balls of the dough and let them simmer for about 45 minutes.
Make a plain béchamel sauce with all the ingredients except the brown cheese, which you add at the very end.
Fry the bacon if you like.
Pour the duppe over the kløbb and enjoy!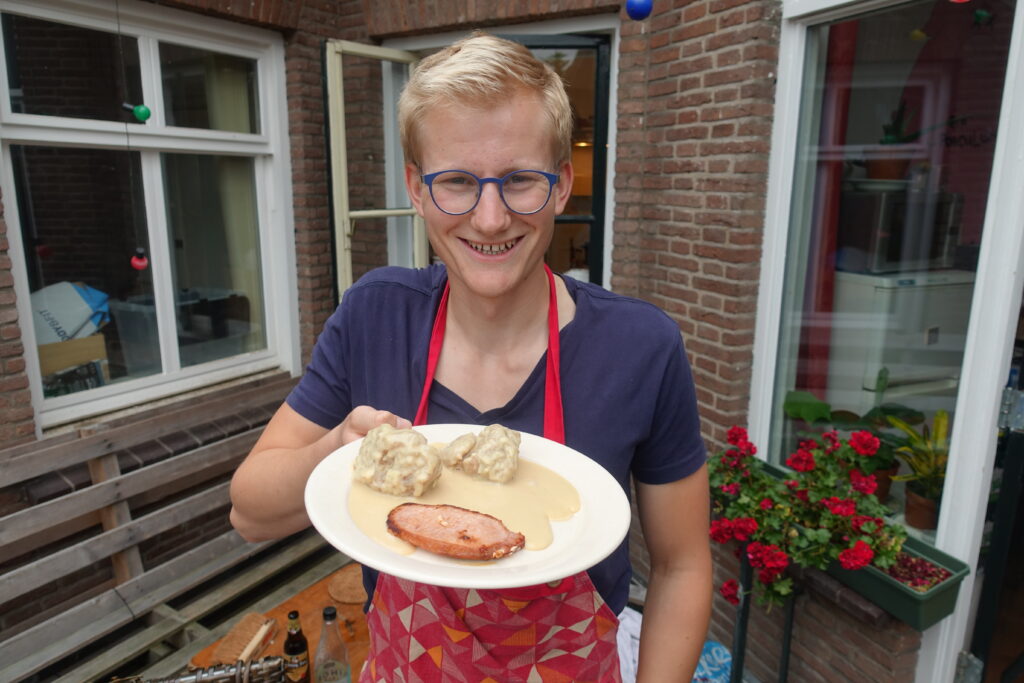 Enjoy!
What dish reminds you of home? Share it in Resource and let the whole WUR-community enjoy it! Send your recipes to resource@wur.nl.
You may also like: