It is as if you discover a lost Inca ruin beneath the invasive foliage. A comparison that isn't even far from the truth. The winter garden in Lumen has lush Mediterranean vegetation that has removed the architectural structures from sight for many years. For decades, rather than centuries.
The surprise is still the same. The ponds, in particular, are monumental, with textured pond flooring designed by Michael Singer. The ponds, flagstone paths and pergolas are all part of a gigantic work of art, Elike Wijnheimer of Facilities and Services explains. 'The entire garden was designed as a natural work of art, similar to the Roman gardens. Each tile is a work of art in itself.'
And, now that the gardens from 1998 are under renovation, their former glory is being restored. The renovation was much needed, as very little still functioned as it was originally designed to do. 'The ventilation and irrigation systems were broken', Wijnheimer says. 'The link between the indoor and outdoor ponds is broken, and a substantial amount of the Mediterranean vegetation has perished. Mice invaded the offices.'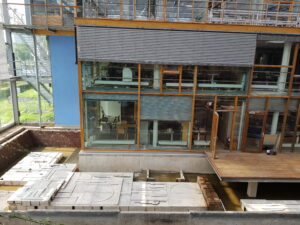 The gardens, designed by landscape architect Hyco Verhaagen, are a key part of Lumen. In the design of the building by architect Stefan Benish, the gardens are considered the building's lungs. They provide cooling in the summer, and warmth in the winter. However, this never functioned as intended. The temperature in the gardens was tropical rather than temperate, causing people to keep their office windows closed when the sun is out. At the same time, ventilation in the building is essential to the concept.
Lumen's interior climate is notorious. In the summer, temperatures are above tropical. This renovation will not change this. 'The original lung-purpose will not be restored', Wijnheimer says. 'The interior climate will improve, however, as Lumen will be linked to the heat/cold storage system on Campus. The gardens will continue as an autonomous unit, to be enjoyed by all.'
Several plants will remain—particularly the surviving large shrubs and hanging plants. But the Mediterranean concept is no longer leading; plants that require shade will be added this fall. At present, the main focus is on restoring the hardware. The fact that there are few people in the building due to the corona crisis is helpful.
You may also like: