© Park Hoge Veluwe
In the Hoge Veluwe National park, an experiment with camera traps has been going on since 2013. There are now 70 cameras ready day and night to capture the movements of wild animals. Ecologist Patrick Jansen, with his colleagues and the park, aim to use the photos obtained to answer questions about the wildlife population, the movements of animals, and how they are influenced by humans. And suddenly, there is an opportunity to give the experiment a major new twist.
Fantasy
Of course, Jansen has sometimes fantasized about what would happen if there were no people at all in the park. But of course that ecological ideal is far from the reality. Until now, at least. The coronavirus crisis has caused a big drop in the number of visitors to the Hoge Veluwe park. 'There are far fewer people and the opening times have been changed, partly in response to that,' says Jansen. 'That means more foraging time by daylight and it is a lot quieter during the day.'
Jansen is very curious to see the effect of that peace and quiet on wild boar, red deer, mouflons and other animals. But he will have to wait a while. The park ranger is collecting the photos once every six weeks, and then they have to be analysed. And there are a lot of them, explains Jansen. Something passes in front of each of the 70 cameras one and a half times a day on average. ken of everything that happens'
Series of dozens of sometimes 100 photos are taken of everything that happens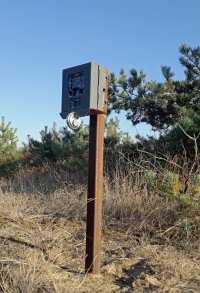 'That might not sound like many, but series of dozens or sometimes 100 photos are taken of everything that happens. Over a year that means more than a million photos. And that is a lot.' Luckily Jansen doesn't have to process all those images himself. In collaboration with the park management, that has been turned into a citizen science project called Snapshot Hoge Veluwe. Anyone who "can tell a mouse from a mouflon" can join in.
Rock powder
The long-term experiment with the cameras is due to enter a new phase soon, anyway. In front of half of the cameras, the soil will be enriched with rock powder. Nitrogen pollution has badly impoverished the soil on the Veluwe plateau. Rock powder (aka stonemeal) should improve the mineral balance in the soil, which is expected to impact not just the vegetation but also the way it is grazed by wildlife.
You may also like: