Through the WUR study 'Insects for Peace', former FARC fighters are being trained to be able to build a new life as insect breeders. The soldier flies grown can serve as animal feed and provide a sustainable source of income for the former guerrillas.
The peace agreement between the FARC and the Colombian government that was signed three years ago led to some 60,000 FARC fighters becoming unemployed. Many of them returned to small-scale agriculture, but it has proven difficult to make ends meet. The Colombian Karol Barragán studied black soldier flies during her PhD in Wageningen and now intends to use that knowledge to aid the new farmers. Insects for Peace is a collaborative project between the Universidad Nacional de Colombia and the Wageningen Lab of Entomology.
Nutrient-rich
Soldier flies are rich in nutrients and therefore well-suited for use as protein source in animal feed. In addition, they are easy and cheap to grow. The latter is essential, as Colombian farmers are unable to make large investments. Barragán: 'Poverty is the reason these people once joined the FARC. A war was raging, and there were no opportunities for education nor work. For most, it wasn't a voluntary choice to fight. Now they have to start anew, and breeding soldier flies is an inexpensive and innovative way to build an independent life. If the farmers grow insects, they won't have to buy expensive import products for their business.' The project is initially aimed at the former fighters, but "normal" farmers can also participate, emphasises Marcel Dicke, who is involved in the project from the side of WUR. 'We want to stimulate a local, sustainable economy.'
The soldier flies can be grown on the farmers' own organic waste, which makes it a circular process.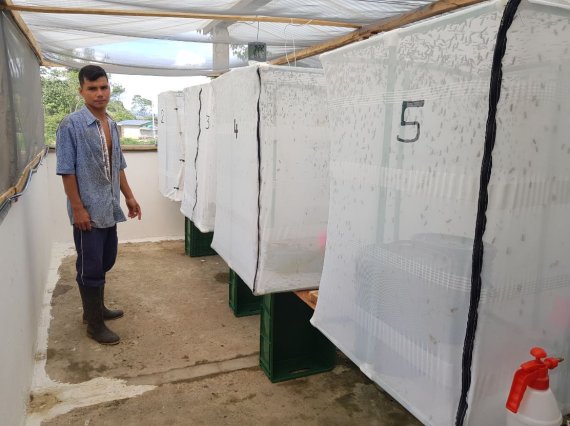 Circular
Sustainable, because another major advantage of soldier flies is that the larvae can be grown on local residual flows. Manure or plant remains that remain after harvest; the larvae are not finicky. 'The soldier flies can be grown on the farmers' own organic waste, which makes it a circular process', Barragán explains. 'We are now investigating which mix of residual flows is ideal for the larvae. If we can improve the efficiency of the process, the farmers will be able to not only produce good feed for their own animals, but also earn money by selling the excess production.'
Wonderful moment
The first proud insect farmer is Ricardo Arciniegas Cárdenas. He joined the FARC at the age of thirteen and was a commander for over twenty years. He now breeds insects and works together with five students who are investigating soldier flies. The results of this study will be used to start insect breeding projects in additional regions. Last November, Ricardo gave a presentation about the Insects for Peace project at the Universidad Nacional. Barragán: 'That was a wonderful moment. He had never been to a university. It is extremely important that a respected institution like the university helps these people. They were always seen as the enemy, and we hope we can change that. The collaboration between the former guerrillas and the rest of the population will ensure that they can reintegrate.'