Text Luuk Zegers, illustration Alfred Heikamp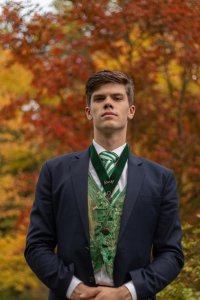 Argo-chairman Joris Bergman, photo W.S.R. Argo
W.S.R. Argo's last Olympic medal dates back to 1964, when Argonaut Jan Just Bos got a bronze at the Games in Tokyo as the cox in the coxed pair event. That performance has never been surpassed. One of the reasons is the poor rowing water, says Argo chair Joris Bergman. 'Ever since Argo was founded, there have been problems with Wageningen's rowing water. We issue a rowing ban about 80 times a year. Two times out of three, that's because there's too much wind, strong currents and waves in the Rhine. Our normal boats sink in such conditions. Sometimes we can use the harbour canal instead but that is one of the busiest harbour canals in the Netherlands, so we try to avoid this.' The Argonauts want to turn that disadvantage into an advantage by focusing on coastal rowing, an up-and-coming variant of the sport in which wind, currents and waves are in fact crucial elements. 'If we use a coastal boat, we can still row on the Rhine even when it's very windy and choppy,' explains Bergman. 'Boats like that don't sink when the waves get bigger. It's an interesting option for us for that reason alone.'
Rowing meets sailing
'A coastal boat is heavier and much more manoeuvrable,' explains Bergman. 'Rowing feels different too compared with a normal rowing boat. Normally you feel what the other crew members are doing but you get that less in a coastal boat, especially in strong currents and waves. So you need a different way of working together in the boat.' The races are different too. More spectacular for spectators, says Bergman. 'An ordinary race means rowing as hard as you can in a straight line for two kilometres. A coastal race is more like a yacht race: there is a route with buoys, everyone starts en masse and the distances are greater. So the coxes become much more important. As in sailing, you have to allow for the wind and waves, so your tactics can make much more difference.'
Coastal Ferrari
The Argonauts are not alone in their enthusiasm for coastal rowing. They recently won the Aegon Committee Cup, an annual competition for pitches aimed at improving student rowing clubs. The cup comes with 3500 euros for implementing that plan. A nice start, but a long way short of the money needed to buy a good coastal boat, says Bergman. 'It varies between manufacturers, but the Ferrari among the coastal boats costs about 26,000 euros. There isn't a second-hand market as yet because the sport is still so small. That's why we are now looking to see whether we can arrange a boat with regional partners.'
Olympics
There is a big chance that coastal rowing will be a demonstration sport in the 2024 Olympic Games, says Bergman. 'That decision will be made in 2020. If that happens, the sport could grow fast. And we will have a head start.'
Olympics
There is a big chance that coastal rowing will be a demonstration sport in the 2024 Olympic Games, says Bergman. 'That decision will be made in 2020. If that happens, the sport could grow fast. And we will have a head start.'
The boat Argo has its eyes on is the LiteRace4x plus.
The boat is manufactured using vacuum infusion technology. The core material, consisting of several layers of carbon fibre and fibreglass, plus the watertight outer layer are pressed together in a mould. Resin is added to make sure the hull polymerizes and therefore keeps its shape.
Characteristics:
Length: 10.7m
Width: 1.31m
Weight: 135kg
Max. capacity: 500kg
The benches are 100% carbon fibre.
Coastal boats have a retractable dagger so that they can achieve maximum speeds on straight sections and still have maximum manoeuvrability when turning, for example.
The hydrodynamic design ensures stability so that rowers can use the same technique that they are used to in river races.