For years, Wamelink has been working steadily on his project to grow plants in a completely closed system on Mars. He has already shown that simulated Mars and moon soil is suitable for horticulture. He takes the new experiment a step further by using struvite taken from human urine for fertilisation.
The Martian
Struvite (magnesium ammonium phosphate) is a nitrogen- and phosphorus-containing salt that can be extracted from urine. The substance is very suitable for use as fertiliser. It would be a waste not to use it. Especially on Mars, where there is a lack of nitrogen in the soil, let alone nitrogen being a problem. On the WUR crowdfunding site, Wamelink makes it seem as if it was the movie The Martian that gave him the idea of growing plants using human manure.
I knew from the start that we should utilise human excrements.

Wieger Wamelink
But that is not true. 'I knew from the start that we should utilise human excrements. We'd be crazy not to do that.' On Earth, this practice is not allowed. Due to contaminants and the presence of pathogens, it is not permitted to use human waste to grow food for human consumption. But on Mars, that kind of rules does not yet apply. Wamelink: 'So I'm not bothered by those.'
Wamelink uses struvite from various sources. Part of his manure comes from visitors to Amsterdam festivals, where urine is collected separately. The West-Poort waste water treatment plant in Amsterdam has an installation that produces struvite from urine (article in Dutch). Three kilos of struvite can be extracted from one cubic metre of urine. Struvite was named after 19th-century German scientist Von Struve, who discovered it during research into the Hamburg sewerage.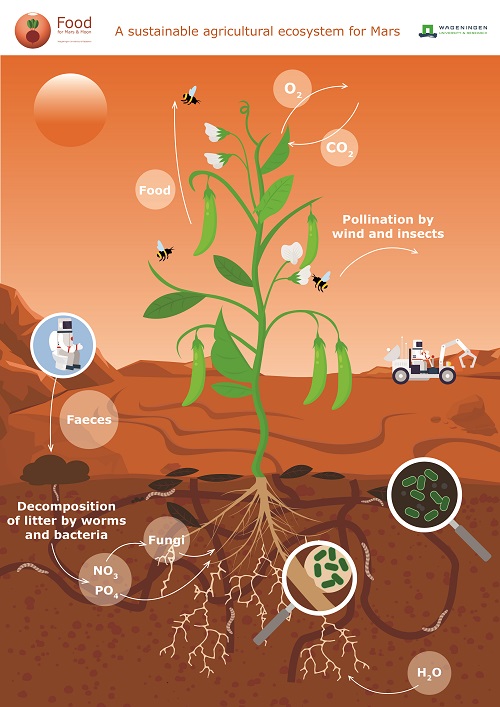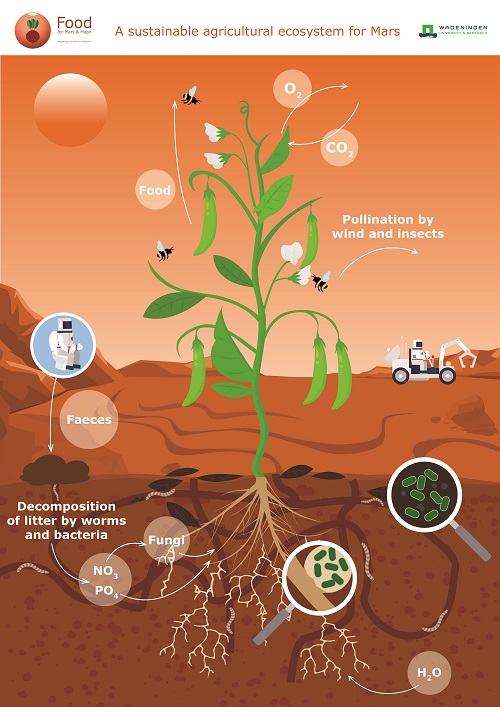 Vlogging
Wamelink is going to grow beans on his Martian, moon and Earth soils, to some of which he will add struvite. 'I will use 60 pots and do everything tenfold, to eliminate any statistical uncertainties from the experiment.' The experiment will last four months, during which he will regularly vlog about the progress. He hopes to gather the 15,000 euros needed for the experiment through crowdfunding.
The money is required for materials, the rent for the greenhouse and the measurements and analyses. The time that Wamelink devotes to his space farming is pro bono. His work mainly draws attention internationally. But secondary school students also know where to find him. His experiments have been recreated in numerous school experiments.
Also read: