AID groups pick up lunch to eat on the yard. © Luuk Zegers
On the first day of the AID new students were primarily busy getting acquainted. With one another, with the campus and with the various clubs. The groups were differentiated by gadgets. There was a smurf group with smurf caps, a bandana group and a tie group. Introductory games were played across the campus.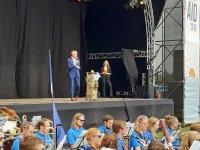 Arthur Mol addresses the new students.
At about 12:30 all of the groups convened on the festival terrain, the yard between Orion, Atlas and Forum. Each group picked up lunch at one of the stalls and then sat in the grass in front of the podium to eat. The Student Orchestra, de Ontzetting, played a medley by Ennio Morricone, and then rector Mol addressed the groups. 'You are here to make new friends, to learn, and to contribute to finding solutions for the big challenges of this world. All the best for the coming days, and all the best for building up a new life here in Wageningen.'
Introduction
Instead of the opening party that had been part of the AID programme in previous years, introductory games were played this year. So that party was replaced by a Game Night on the first evening at the AID papa's and mama's houses.
AID-crew passes out lunches. © Luuk Zegers
Lunch on the festival terrain. © Luuk Zegers
Programme
The AID week will continue from Friday 16 August to Wednesday 21 August. The programme can be viewed here. The weather forecast wasn't especially optimistic, so an alternative rain programme has been drawn up for most of the activities.
Read more: