The most recent figures, for 2017, show a decrease of 20 per cent compared with the previous year.
The figures come from Zo doende 2017, the Netherlands Food and Consumer Product Safety Authority's annual overview of lab animals, and from WUR's own statistics. In that year WUR used a total of 24,284 lab animals, three-quarters of which were used by Wageningen Research.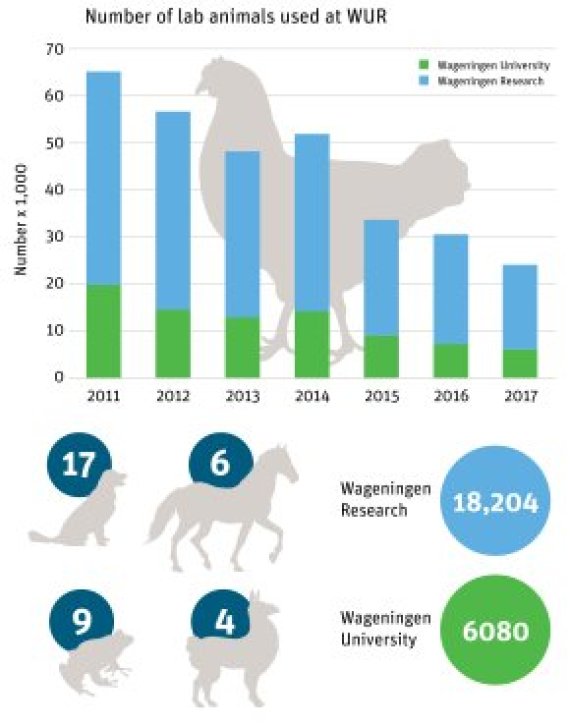 The university is one of the smaller users among Dutch universities, accounting for 6080 animals. WUR as a whole, on the other hand, is the second biggest user of lab animals after the University of Leiden. If the fish that Wageningen Marine Research catches for monitoring fish reserves are included, WUR is the biggest user of animals for scientific research and education in the Netherlands. The fish monitoring is a statutory research task.
The animals that WUR uses most for its research are chickens, followed by rodents (mainly mice), fish and pigs. The list also includes 46 goats, 17 dogs, 9 frogs, 6 horses and 4 lamas.
The list includes 17 dogs, 9 frogs, 6 horses and 4 lamas.
The downward trend in the university's numbers probably reversed in 2018. Preliminary figures for that year are higher than those for 2017, according to lab animal expert Rob Steenmans. But this doesn't mean the start of a rising trend. 'There happened to be slightly more projects last year, several of which involved large numbers of animals.'
In the country as a whole the use of lab animals rose by 18 per cent in 2017, to 530,568. The increase is mainly due to the use of genetically modified mice and zebra fish for cancer research.
Also read: