Members of parliament come to blows in Sri Lanka.
At least the civil war is over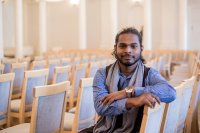 Jayaruwan Gunathilake is a PhD student in Organic Chemistry, from Sri Lanka. He reflects on the situation in his home country.
'Political drama like this is not new to me; it has been happening for years in Sri Lanka. I think it is getting international attention now because the president dismissed the prime minister and appointed a new one. I am not surprised about that, and I feel like anything is possible in Sri Lanka. For example, it is common for members of parliament to change sides. I think people tolerate a lot because of the civil war that ended only nine years ago. Despite the political situation, people are grateful that at least the war is over. So I don't think much will change in the coming time.
When I discuss politics with my friends, we usually do it online. I try not to get involved in the current discussions, though. I think it is pointless and I often get the comment: "You don't live here anymore. Why do you care?"
I usually use international sources to follow the news from Sri Lanka. The sources from the country itself are mostly biased. I am interested in what's going on at home but I don't think about it all the time. It has been eight years since I left Sri Lanka. As I am living abroad, I cannot vote. Going back to Sri Lanka would probably be a bad choice in terms of career for me. I do not think there would be suitable jobs for me back home. A lot of young people are leaving the country to get higher education and work abroad.'
Weekly news updates about studying and working at WUR? Subscribe to thenewsletternow!