Text and photos Albert Sikkema
Addis Ababa is booming. New blocks of flats and hotels are going up everywhere in this metropolis with a population of four million. The Ethiopian economy has been growing by 10 percent annually for years, and foreign investors are queuing up. On the street outside my hotel, the SUVs of foreign consultants and NGOs come and go, and fashionably dressed Ethiopians walk to work in the morning. And then suddenly a couple of goats appear on the street as well. With no one guiding them they head calmly towards… yes, where are they heading actually? Even in this modern capital, the traditional Ethiopia is never far away.
Ethiopia is one of the 15 partner countries to which the Netherlands allocates part of its development aid budget. Over the past 15 years, Wageningen University & Research has set up a number of projects in the country (see inset). In the Integrated Seed Sector Development programme (ISSD), Wageningen Centre for Development Innovation (CDI) has been working for nearly 10 years on making improvements in the seed sector. And in the Cascape programme, the CDI and Wageningen Environmental Research work with farmers to identify best practices for boosting food production. I am going to visiting a few projects to see whether these programmes really are making a difference to Ethiopian food production. Because political unrest has led to a state of emergency being declared, the WUR office in Addis Ababa sends me off with a driver.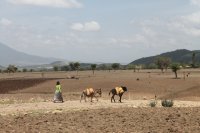 In the Kolbe Seed Producers Cooperative in Bishoftu farmers grow chick pea, teff and lentil seed.
Chick peas and lentils
We leave Addis Ababa and drive along the new highway to Bishoftu, where we turn off onto a bumpy unmade road. On our way to a farmers' cooperative, we have to avoid hundreds of donkeys carrying food and firewood from the village to the market. We are going to visit Kolbe Seed Producers Cooperative, a participant in the ISSD programme. The cooperative consists of 70 farmers, 11 of them women, who work 362 hectares of land between them. They mainly produce seed for chick peas, lentils, teff and a little bit of wheat. The cooperative provides storage for the seed, which it also packages and sells. The farmers also share a tractor for ploughing their land.
In former times, such things were unheard-of, explains extension officer Aleka Argachew of the ISSD programme. In those days, all seed came from a government institute, and was not very good quality. With the help of ISSD, the farmers have tested and selected new varieties, significantly increasing production. What is more, they no longer have to return the seed they produce to the government, but are free to sell it to other farmers. This has enabled them to more than double their incomes. All the members of the cooperative send their children to school, says Argachew. 'The chairperson of the cooperative could even build a house in Bishoftu.'
On our way to the farmers' cooperative we have to give way to 100 donkeys
Until quite recently, all seed in Ethiopia belonged to the state. This was a legacy of the communist era (1974-1991). If seed was bad or was delivered too late, nobody was held responsible, says Amsalu Ayana, manager of ISSD. The programme organized farmers' cooperatives which started to look at seed as business and a source of income. The regional government was resistant – afraid of losing control – but there are now 34 seed cooperatives in Oromia region. And direct seed marketing by farmers is now permitted in 200 of the 600 municipalities in Oromia.
| WUR and Ethiopia | Wageningen University & Research has close links with Ethiopia. WUR researchers are working on about 80 projects in the field of livestock, fisheries, irrigation, the environmental impact of migration, food quality, and the strengthening of food market chains. Most of the funding comes from the Dutch Ministry of Foreign Affairs, which has a long-term aid relationship with Ethiopia. An average of 65 Ethiopians are working on their PhD research in Wageningen every year. The number of Ethiopian Master's students at WUR has gone down from over 100 in the academic year 2012-2013 to 12 in 2016-2017. This is because of a fall in the number of scholarships available. |
| --- | --- |
New house
We travel on to Hawassa, a regional capital in the south of Ethiopia. The landscape changes along the way. The savanna becomes greener, with more and more trees. In Hawassa, WUR works with local farmers on agricultural development in the Cascape programme: Capacity building for scaling-up of evidence-based best practices in agricultural production in Ethiopia. Behind this long name is an interesting project related to the supply chain for beer production. We visit a farmers' cooperative in the mountain village of Guguma, one and a half hours over bumpy mountain tracks from Hawassa. Here, 2600 metres above sea level, farmers have started growing malt barley for an Ethiopian brewery which has a malt factory 150 kilometres away. They started with five hectares in 2011, and now use 72 hectares.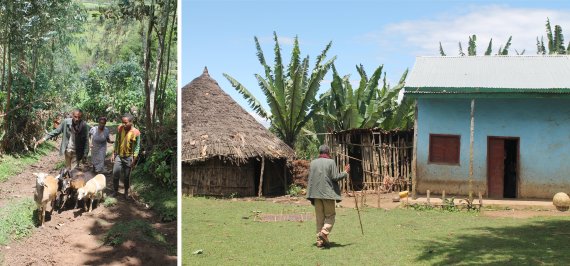 Farmer Mikonnen has used his extra earnings from malt barley to buy improved cattle and build a new house.
The three farmers I talk to each have one hectare of land on which they grow enset (false banana), maize, potatoes and vegetables. They reserve more than half a hectare for malt barley, a cash crop they were not familiar with until Cascape suggested it, but which they now know is twice as lucrative as ordinary barley. With the extra money, farmer Mikonnen has built a new house. He can also send his children to a good school now, and he has bought improved cattle.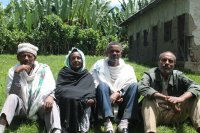 These farmers have discovered the cash crop malt barley, thanks to WUR project Cascape.
This programme's strong point is that it both improved the harvest and organized the marketing of the barley, says Tewodros Tefera, Cascape cluster manager in this region. Together with the ISSD seed project, his team selected the two best varieties of malt barley. Cascape optimized the fertilizer regime and cultivation method, increasing production from 1.4 to 3.7 tons per hectare. The farmers, united in a cooperative, now supply the neighbouring farmers with barley seed.
Heineken
Cascape brought those neighbouring farmers together in a cooperative too, and facilitated the contract between farmers and the brewery for the barley supply. The brewery gave the farmers an advance so they could buy artificial fertilizer. Finally, Cascape arranged for the licenses to produce seed, and the necessary checks at the regional agriculture office.
WUR is now trying to upscale the brewer's barley project with the help of the Agricultural Growth Programme (AGP). This is a Ministry of Agriculture programme for improving food production with the support of the World Bank (700 million dollars) and the Dutch embassy. The aim is to train staff at regional agriculture offices to replicate WUR's successful projects in other villages.
Beer brewer Heineken might well benefit from the brewer's barley project too. At present the multinational imports the malt for its Ethiopian brands of beer, but it wants to start using locally produced malt. The brewer has asked Cascape for advice on this. If it is successful, it will be good for the farmers and for Ethiopia's trade balance.
State capitalism
Ethiopia is not an easy country for foreign investors. Like China, the government is trying to introduce a form of state-led capitalism, but there are divergent views on the role of the state and the private sector. This creates a lot of ambiguity and confusion, says Hussein Mohammed, ISSD scientific coordinator in the southern region. ISSD brings all relevant parties together – government, state seed companies, private seed companies, farmers' unions and independent farmers – and identifies the problems frankly. In this process, ISSD is not afraid to speak the truth, and this partly explains the programme's success.
As well as being ISSD scientific coordinator, Hussein Mohammed is also associate professor of Plant Breeding at Hawassa University. His colleague in the Cascape programme Tewodros Tefera works there too. WUR has established collaborative relationships with five Ethiopian universities, thereby forging links between scientists and farmers. WUR works in the northern region of Amhara with the university of Bahir Dar, for instance. Having travelled there by car and plane, I meet Yihenew Silassie, Cascape manager and associate professor at Bahir Dar University.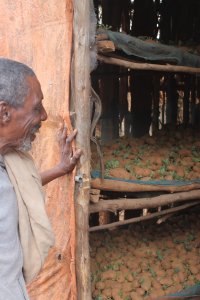 Cascape is helping farmers produced their own disease-free seed potatoes.
Bacterial wilt and phytophthora
Yihenew and I visit several potato projects where farmers are now producing their own seed potatoes. That required agricultural research because Ethiopian potato production is hampered by two diseases: bacterial wilt and phytophthora. Cascape tested six potato varieties for their yield, cooking quality and resistance to these diseases. The Belete came out of the tests as the best potato, and about 3000 farmers are now using it.
What makes things difficult is that the seed potatoes multiply slowly, says Yihenew. You need two tons of seed potatoes per hectare to produce eight tons of seed potatoes. But the ISSD seed project in this region has a solution. To find out what it is, we drive out of Bahir Dar and along the shores of Lake Tana, the highest altitude lake in Africa (1788 metres) and the source of the Blue Nile. Although we are at the latitude of the Sahel, the climate here is mild. We even pass rice fields. We are driving on Chinese roads: China has asphalted a lot of main roads in Ethiopia. That is good for the economy, but it is not a gift. Ethiopia must pay for the roads, my fellow passengers tell me.
At Debre Tabor, at 2400 metres, we visit a farmers' cooperative which built the first seed potato greenhouse in Ethiopia. The greenhouse is expected to produce 10,000 kilos of disease-free seed potatoes. Next year a second greenhouse will go up and that quantity will be doubled. The more than 400 farmers in the cooperative are going to multiply the seed potatoes on their own land. They have no more than one hectare of land and use an average of two thirds of that for subsistence farming. So there is only one third left for their cash crop, seed potatoes. Nevertheless, they are not doing badly. Our conversations are often punctuated by ringtones – they all have mobile phones.
Ringtones are heard regularly; the farmers all have mobile phones
The farmers currently produce an average of eight tons of potatoes per hectare, but ISSD's tests with disease-free seed potatoes show that a yield of 37 tons per hectare is possible, says scientific coordinator Dereje Ayalew. So this innovation by ISSD will now be shared more widely among farming communities. The Wageningen project recently received 45,000 euros from the Dutch government to do this.
Change agent
The Wageningen programmes ISSD and Cascape really are leading to higher production and better incomes for Ethiopian farmers, show evaluations by the Dutch ministry of Foreign Affairs. 'Amongst other things, we saw that ISSD gave farmers access to good seed material, thus improving their food security,' says Jan Willem Nibbering, food security specialist at the Dutch embassy in Addis Ababa. What is more, says Nibbering, the programmes are leading to systemic change, with farmers getting better access to sowing seed and markets. In the words of the chair of the Ethiopian Seed Association Melaku Admassu: 'By talking about the problems in the Ethiopian seed sector, ISSD became the agent of change in agriculture.'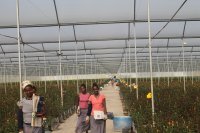 | Dutch rose growers | The Netherlands is the third biggest investor in Ethiopia, after China and Turkey. Dutch horticulturalists have particularly strong connections with the country. Among them is Wageningen alumnus Wim Ammerlaan, who runs the large rose nursery AQ Roses. The 1100-odd Ethiopian workers at the company pick and pack about two million roses a week for the global market. Criticism of the low wages the company pays has sometimes been heard in the Netherlands. The greenhouse workers earn just over 40 euros a month – the going rate for unskilled labour in Ethiopia but not enough to support a family. Company manager Ron van der Hoorn points out that the workers also get free night school and health care, and stresses that AQ Roses creates employment. That is important in a country with a population of 100 million, 70 percent of whom are under 20 years old. All the Dutch horticulturalists between them create 15,000 jobs in Ethiopia. Companies such as AQ Roses do not contribute directly to the development of the Ethiopian horticulture sector, in the opinion of Dawit Alemu, manager of four WUR projects in Ethiopia. They are islands of large-scale efficiency in a sea of small-scale nurseries. But there are indirect effects. Some Ethiopian workers have watched how the management does things and started their own businesses. |
| --- | --- |