9 March 1918 was a day of celebration in Wageningen. It was the day that academic agricultural education took off in the Netherlands. Prince Hendrik was there to represent the royal family. Queen Wilhelmina was absent because of the First World War. Otherwise, everyone was present who you might expect at the opening of the new Agricultural College. Minister of Agriculture, Industry and Trade Folkert Posthuma presided over the official ceremony. In the evening the minister, who stayed at De Wereld hotel, was serenaded by the residents of Wageningen by torchlight. It was not the right time for big celebrations.
Big fish
Things had been different 30 years earlier, though. The official opening of the National Agriculture School on 11 September 1877 was celebrated in style. For two days there were 'matinees and soirees musicales, an agricultural exhibition, a procession and a big firework display laid on by the municipality,' writes J. van der Haar in part one of his History of Wageningen Agricultural University. In acquiring the National Agricultural School, the highest level of agricultural education available at the time, Wageningen had caught a big fish.
The school built on the start made by the provincial agricultural school launched four years previously. Inspector of Agricultural Education Matthijs Salverda was closely involved in the setting up of both schools. As a result, a square in the town centre is named after him, a gesture of Wageningen's respect for the man who has gone down in history as the founder of agricultural education in Wageningen. But is he really?
The first geological map
As professor of Soil Chemistry and Chemical Soil Quality, Rob Comans has a busy job. But most evenings he reserves 10 minutes for a scan of secondhand bookshops and secondhand trading website Marktplaats. Looking for Staring. A book, a notebook, an article, anything at all… He is fascinated by Staring. Not the nineteenth century poet Anthoni Staring, but his son Winand, the geologist, who was Inspector of Agricultural Education before Salverda.
This fascinating grew up when Comans came across the first geological map of the Netherlands while studying for his Earth Sciences degree in Utrecht, and found out that it had been made by Staring. 'A beautiful work which took him years. Very detailed,' says Comans, sitting at his desk in Atlas. 'Then I found out more about him and was very impressed by the tremendous progress he made in the nineteenth century in the geological and agricultural sciences. For Staring, those two field were very closely interlinked.'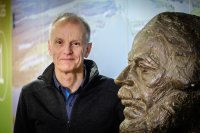 A collector's passion
Comans' interest in Staring developed into a passion, with a collector's passion to go with it. Staring wrote a lot, on the most diverse subjects. 'I've got an entire library of Staring. I think my collection can compete with that of the Royal Library or the Special Collections in the Forum Library.' One of his most prized treasures is Staring's original thesis from 1833, written in Latin.
Then there was the evening, a few years ago, when on his daily trawl Comans stumbled upon a collection of papers on agricultural education. Including, according to the description, 'an original letter from WCH Staring about the National Agriculture School'. 'Well, then the adrenaline starts coming out of your ears,' says Comans, remembering his initial excitement. 'I can still remember when I found the first publications in which there were a few annotations in Staring's hand. Then you get very close. And now suddenly I could get hold of an original letter. That makes your heart beat faster. Well, it does mine at least. Maybe there aren't too many idiots like me.'
Lobbyist
A few days later, the set of letters fell through his letterbox. His excitement grew even greater, if that was possible, when it became clear what the letter was about: the establishment of the National Agricultural School. In the letter, addressed to an MP, Staring lobbies for funding in the 1872 budget for the establishment of a National Agricultural School. He says he 'happens to know' that 'people' have plans for such a school.
The letter is dated 2 October 1871, just before the debate on the budget for the following year. 'And please note,' says Comans, 'that is therefore just three months before Staring wrote his famous letter to the mayor and aldermen of Wageningen about the establishment of a provincial agricultural school in the town' (see inset). It takes a little historical background to understand Comans' excitement about this, and the significance of his find. Staring was a key lobbyist for agricultural education, which he saw as the only way to raise farming to a higher level. According to Staring, Dutch agriculture was the laughing stock of Europe. Thorbecke's Education Act of 1863 provided for lower, secondary and higher agricultural education at municipal, provincial and national levels. And there would only be one National Agricultural School.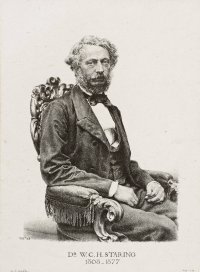 Founding father
But how did that one agricultural school end up in Wageningen? As mentioned, historians have credited this to Salverda, under whose jurisdiction as Inspector of Agricultural Education the immediate forerunner of Wageningen University was established. Staring was dead by then. But, according to Comans, Staring had played an important role in the establishment of both the provincial and the national agricultural schools in Wageningen. Comans: 'The prevailing view is that if it had been up to Staring, the National Agricultural School wouldn't have ended up here, but in Utrecht with the veterinary college.'
That idea about Staring must now be revised, believes Comans. In fact, Staring may well be the only true founding father of Wageningen University. The letter Comans got hold of is key to this hypothesis. The letter is addressed to MP Willem Jonckbloet, later professor of literature in Leiden. Like Staring, Jonckbloet was a liberal and probably a personal friend of the Staring family. Staring addresses him as 'Honourable friend' and asks him a favour. Comans: 'Staring has seen the budget for 1872 and has noticed that, yet again, no funding has been allocated to a National Agricultural School. Thorbecke's Education Act was passed eight years ago and nothing has happened yet.' Then he gets to the point. 'People' are working, without consulting Staring, on a plan for such an agricultural school 'entirely in my spirit'. And would Jonckbloet, an education specialist, please propose an amendment to ensure that funding is included in the budget?'
Beyond his remit
By lobbying actively like this, Staring goes beyond his remit as an inspector and thus a civil servant. He therefore impresses on Jonckbloet that 'my name should not be mentioned in connection with this business, so that no one notices I have got involved'. Three months later, on 20 January 1872, Staring writes the oft-cited letter to the mayor and council members of Wageningen, revealing what a provincial agricultural school should look like as part of an existing secondary school (see inset).
For Comans, this all looks a bit too coincidental. He suspects a preconceived plan to establish the National Agricultural School in Wageningen, with the provincial school as an interim phase. Historian Van der Haar already suspected a preconceived plan, but had not found any incontrovertible evidence. Comans thinks that the letter does constitute significant evidence, but he stresses that this is still only a hypothesis. There is no incontrovertible evidence at this point. 'I interpret this letter and the timing of it, namely the moment when he was in consultation with Wageningen about establishing a provincial agricultural school here, as a strong indication that it was a joint strategy to establish the National Agricultural School in Wageningen.' Comans does not rule out the possibility that Staring passed on that strategy to his successor Salverda. 'Salverda took very much the same line as Staring as far as agricultural education was concerned.'
Family archive
There is still no smoking gun, though. No document or letter that sets out the strategy in black and white. A month ago, his search brought Comans to De Wildenborch estate near Vorden, where Staring was born. The estate is once again in the hands of the Staring family, and houses the family archive. Comans: 'I approached them with this letter, my hypothesis, and the request to be allowed to search the archive. With the WUR centenary in mind, it would be wonderful to be able to reveal that Staring's role in the establishment of the National Agricultural School was much greater than has always been assumed. They liked that idea very much.'
Comans was cordially welcomed by Jennine Staring, a distant descendant of Winand's, spent a day going through a fat pile of incoming correspondence from 1870 to 1871, but didn't find what he was looking for. 'Actually I found nothing at all about agricultural education, and yet Staring was inspector at the time. So I think that part of the work archive must be somewhere else. 'The establishment of agricultural education in the Netherlands was pretty much Staring's life's work. A work with which, all things considered, he did not get anywhere, in terms of the Wageningen plans.
The only provincial agricultural school to get off the ground during his time as inspector was the one in Warffum, in Groningen. But that school, started in 1870, did not take off. It seems likely that Staring, enthused by the better prospects in Wageningen, put all his eggs in this basket. He personally saw to it, for instance, that the German Otto Pitsch, the only qualified teacher of agriculture at the time, was transferred from Warffum to Wageningen. That transfer was a deathblow for the school in Warffum.
Staringplein
If Comans is right, the history books can be rewritten. 'Next year we are celebrating 100 years of higher agricultural education in Wageningen. But that Agricultural College of 1918 would never have come here, of course, if the National Agricultural School wasn't already here. In that sense, I see Staring as the founding father of higher agricultural education.' And yes, Comans confirms that in that case the Salverdaplein (Salverda Square) is wrongly named.
In any case, there is very little commemoration of Staring in Wageningen – only the Staringlaan in the Sahara neighbourhood. 'But that is considerably less prominent than the Salverdaplein,' thinks Comans. The Staring Centre (later Alterra) building on the Haarweg made way a few years ago for insurance company Menzis's new building. There is a bust of Staring in Atlas, on campus. But you have to know who it is, because his name is barely legible. If it is up to Comans, his hero will finally get the recognition he deserves in Wageningen's centenary year. He is working on a publication about the letter and its significance. Staring himself did not live to see the opening of 'his' National Agricultural School. He died at the age of 68 on 4 June 1877, just three months before the opening.
No 'city appetites' in Wageningen
In a famous letter of 20 January 1872, Inspector of Agricultural Education Winand Staring sets out exactly why Wageningen is the best place for a (provincial) agricultural school. Farmers could send their sons there with no worries, because Wageningen is not such a bit city that they would develop 'city appetites and urban inclinations'. And they could go home every Sunday, possibly by train. The National Agricultural School that was established later attracted a completely different clientele: the sons of landowners and prosperous citizens.